Pengaruh Loyalitas terhadap Komitmen dan Keinginan Bertahan Berobat pada Pasien Rawat Jalan
Keywords:
Keinginan bertahan berobat, komitmen, loyalitas
Abstract
Keberlanjutan pelayanan pada rawat jalan menjadi aspek penting untuk keberhasilan program pengobatan pasien. Rumah sakit perlu mengembangkan strategi untuk meningkatkan kepatuhan berobat kembali yang dicerminkan dengan loyalitas dan keinginan bertahan.   Penelitian dilakukan untuk mengetahui pengaruh loyalitas pasien terhadap komitmen dan  keinginan bertahan berobat di pelayanan rawat jalan RSI Gondanglegi.  Penelitian menggunakan desain kuantitatif cross sectional dengan membagikan kuesioner selama dua  minggu pada bulan Januari dan Februari 2016.  Pengambilan sampel melalui metode consecutive sampling pada 255 pasien.  Hasil penelitian menunjukkan bahwa sebagian besar pasien yang berkunjung di pelayanan rawat jalan RSI Gondanglegi memiliki loyalitas yang tinggi, dan memiliki komitmen untuk tetap bertahan berobat saat mereka berpindah kepesertaan menjadi peserta BPJS. Loyalitas dan komitmen membentuk keinginan bertahan dengan faktor komitmen normatif sebagai indikator yang palin akurat. Rumah sakit perlu membangun strategi mengelola switching barrier dan rasa memiliki untuk meningkatkan keinginan bertahan.
Downloads
Download data is not yet available.
References
Hayes BE. Lessons in Loyalty. Quality Progress. 2011; 44(3): 24-31.
Sembiring MG. Pengaruh Harapan, Reputasi Universitas, dan Kepuasan Terhadap Loyalitas Mahasiswa Program Sarjana Non-Kependidikan Unversitas Terbuka (2012). [Tesis]. Universitas Terbuka, Jakarta. 2013.
Devece C, Marques D, and Alquacil MP. Organizational Commitment and Its Effects on Organizational Citizenship Behaviour in a High-Unemplyment Environment. Journal of Business Research. 2016; 69(5): 1857-1861.
Premkumar G and Rajan J. Customer Retention in Mobile Telecom Service Market in India: Opportunities and Challenges. Ushus-Journal of Business Management. 2017; 12(2): 17-29.
Al-Hawari MA. How The Personality of Retail Bank Customers Interferes with the Relationship Between Service Quality and Loyalty. International Journal of Bank Marketing. 2015; 33(1): 41-57.
Sanjaya W, Rahyuda IK, dan Wardana IM. Pengaruh Kualitas Produk dan Reputasi Merek terhadap Kepuasan dan Loyalitas Pelanggan Mie Instant Merek Indomie di Kota Denpasar. E-Jurnal Ekonomi dan Bisnis Universitas Udayana. 2016; 5(4): 877-904.
Putri NA, Arifin Z, dan Wilopo. Pengaruh Citra Merek, Kepercayaan Merek, dan Switching Barrier terhadap Kepuasan Pelanggan dan Dampaknya pada Loyalitas Pelanggan. Jurnal Administrasi Bisnis. 2016; 32(1): 128-134.
Rahman I and Reynolds D. Predicting Green Hotel Behavioral Intentions using A Theory of Enviromental Commitment and Sacrifice for The Environment. International Journal of Hospitality Management. 2016; 52(1): 107-116.
Shukla P, Banerjee M, and Singh J. Customer Commitment to Luxury Brands: Antecedents and Consequences. Journal of Business Research. 2016; 69(1): 323-331.
Khan I, Nawaz A, and Qureshi Q. The Impact of Burnout, Absenteeism and Commitment on Intention to Leave. Journal of Education and Practice. 2016; 7(1): 5-9.
Wang W, Wang Y, and Liu E. The Stickness Intention of Group-Buying Website: The Integration of The Commitment-Trust Theory and e–Commerce Success Model. Journal of Information and Management. 2016; 53(5): 625-642.
Juana IMP, Sukaatmadja IPG, dan Yasa NNK. Peran Persepsi Switching Cost Memoderasi Customer Satisfaction terhadap Customer Loyalty Studi Pelanggan PT Bank Mandiri (Persero), Tbk. E-Jurnal Ekonomi dan Bisnis Universitas Udayana. 2016; 6(2): 593-618.
Fatima JK, Razzaque MA, and Mascio RD. Modelling Satisfaction-Commitment Relationship in Developing Country Context. International Journal of Quality and Reliability Management. 2016; 33(7): 985-1001.
Barron K and Chou S. Developing Normative Commitment as a Consequence of Receiving Help-The Moderated Mediating Roles of Team-Member Exchange and Individualism? Collectivism: A Multi-level Model. Journal of Management Sciences. 2016; 3(2): 141-158.
Leng GE and Chin MLC. Person-Job Fit, Personality, Organizational Commitment and Intention to Stay among Employees in Marketing Departments. Jurnal Psikologi Malaysia. 2016; 30(1): 80-89.
Rini dan Setiawan H. Determinan Kepuasan Kerja dan Implikasinya terhadap Komitmen Organisasi (Studi pada Karyawan Biro Perjalanan Wisata di Kota Palembang). Jurnal Manajemen dan Bisnis Sriwijaya. 2016; 14(2): 169-182.
Luo Z and Qu H. Guest-Defined Hotel Service Quality and Its Impacts on Guest Loyalty. Journal of Quality Assurance in Hospitally and Tourism. 2016; 17(3): 311-332.
Chen H. Structural Interrelationships of Group Service Quality, Customer Satisfaction, and Behavioral Intention for Bus Passanger. International Journal of Sustainable Transportation. 2016; 10(5): 418-429.
Ariani A, Rahyuda K, dan Suprapti NWS. Pengaruh Anteseden Kepuasan dan Loyalitas Pasien Rawat Inap di Rumah Sakit Dharma Kerti Tabanan. E-Jurnal Ekonomi dan Bisnis Universitas Udayana. 2016; 5(10): 3113-3140.
Rahmayanti, F David D, dan Sarwiyata T. Pengukuran Kinerja Unit Pemasaran RSI Unisma Malang Menggunakan Balanced Scorecard. Jurnal Kedokteran Brawijaya. 2016; 29(3): 310-316.
Leppäniemi M, Jayawardhena C, and Karjaluoto H. Unlocking Behaviors of Long-Term Service Consumers: The Role of Action Inertia. Journal of Service Theory and Practice. 2017; 27(1): 270-291.
Cifci S and Erdogan B. Antecedents and Measurement of Brand Commitment and Behavioral Loyalty. Journal of Customer Behaviour. 2016; 15(4): 321-336.
Pandit A and –Vilches Montero S. Are Reward Cards Just a Business Deal? The Role of Calculative Versus Emotional Card Commitment in Driving Store Loyalty. Journal of Retailling and Consumer Services. 2016; 31(4): 355-360.
Noori AS, Hashim KF, and Yusof SAM. The Conceptual Relation of Electronic Word-of-Mouth, Commitment and Trust in Influencing Continuous Usage oaf Social Commerce. International Review of Mangement and Marketing. 2016; 6(S7): 226-230.
Widarjono A. Analisis Multivariat Terapan. Yogyakarta: UPP STIM YKPN; 2015.
Anggraini F. Upaya Peningkatan Kualitas Pelayanan Kesehatan Puskesmas Sidomulyo Kecamatan Samarinda Ilir Kota Samarinda. eJournal Administrasi Publik. 2015; 3(4): 1172-1182.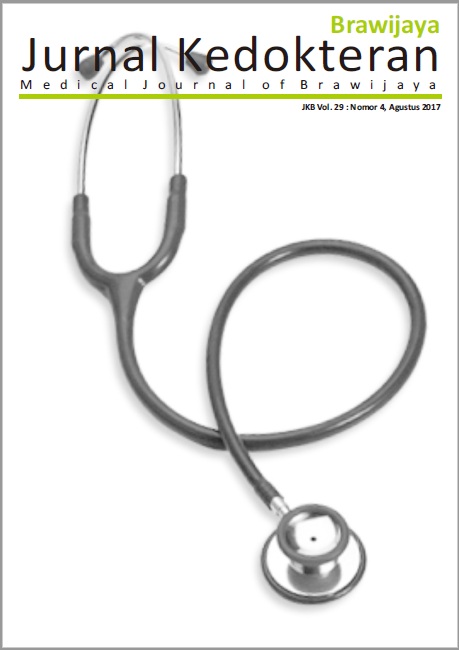 Downloads
License
Authors who publish with this journal agree to the following terms:
Authors retain copyright and grant the journal right of first publication with the work simultaneously licensed under a Creative Commons Attribution License that allows others to share the work with an acknowledgement of the work's authorship and initial publication in this journal.
Authors are able to enter into separate, additional contractual arrangements for the non-exclusive distribution of the journal's published version of the work (e.g., post it to an institutional repository or publish it in a book), with an acknowledgement of its initial publication in this journal.
Authors are permitted and encouraged to post their work online (e.g., in institutional repositories or on their website) prior to and during the submission process, as it can lead to productive exchanges, as well as earlier and greater citation of published work (See The Effect of Open Access).