Faktor yang Mempengaruhi Waktu Tunggu Pelayanan Kesehatan kaitannya dengan Kepuasan Pasien Rawat Jalan Klinik penyakit dalam RSUD Dr. Iskak Tulungagung
Abstract
Waktu tunggu pelayanan pasien merupakan salah satu indikator kepuasaan pasien dan mutu pelayanan rumah sakit. Laporan capaian kinerja tahun 2014 pada RSUD Dr. Iskak Tulungagung menyebutkan bahwa rata-rata waktu tunggu pelayanan pasien rawat jalan adalah 70 menit, yang melebihi standar pelayanan minimal (SPM) nasional adalah 60 menit. Tujuan penelitian ini adalah untuk mengetahui faktor-faktor yang mempengaruhi waktu tunggu pelayanan kesehatan kaitannya dengan kepuasan pasien rawat jalan dengan menggunakan desain penelitian analisis deskriptif. Data penelitian diperoleh dengan menggunakan pendekatan cross-sectional, yaitu Time and Motion Study dan Survei. Total sampel pada penelitian ini adalah 101 responden yang terdiri dari 101 pasien rawat jalan di Klinik penyakit dalam RSUD Dr. Iskak Tulungagung. Teknik pengumpulan data menggunakan observasi dan kuesioner. Data menunjukkan bahwa total rata-rata waktu tunggu pelayanan rawat jalan penyakit dalam adalah 157,13 menit. Waktu tunggu terpanjang adalah rata-rata rentang waktu tunggu pasien yang telah mendapatkan pelayanan paramedis serta akan dilayani oleh dokter, yaitu 120,07 menit. Hasil analisis regresi berganda menunjukkan bahwa kepuasan pasien dipengaruhi oleh waktu tunggu yang sebenarnya dirasakan pasien, dan kecepatan pelayanan yang diterima pasien (P<0,05). Kesimpulannya, faktor utama yang memperpanjang waktu tunggu pelayanan dan menurunkan kepuasan pasien, adalah kurang optimalnya jadwal dokter bertugas.
Kata Kunci: Kepuasan pasien, waktu tunggu pelayanan rawat jalan
 
Downloads
Download data is not yet available.
References
McCarthy K, McGee HM, and O'Boyle C. Outpatient Clinic Waiting Times and Non-Attendance as Indicators of Quality. Psychology, Health, & Medicine. 2000; 5(3): 287-293.
Ryan G and Valverde M. Waiting Online: A Review and Research Agenda. Internet Research. 2003; 13(3): 195-205.
Maxwell RJ. Quality Assessment in Health. British Medical Journal (Clinical Research Ed.). 1984; 288(6428): 1470-1472.
Huang X-M. Patient Attitude Towards Waiting In An Outpatient Clinic And Its Applications. Health Services Management Research. 1994; 7(1): 2-8.
Nabbuye-Sekandi J, Makumbi FE, Kasangaki A, et al. Patient Satisfaction with Services in Outpatient Clinics at Mulago Hospital, Uganda. International Journal for Quality in Health Care. 2011; 23(5): 516-523.
Toh LS and Sern CW. Patient Waiting Time as a Key Performance Indicator at Orthodontic Specialist Clinics in Selangor. Malaysian Journal of Public Health Medicine. 2011; 11(1): 60-69.
Menteri Kesehatan Republik Indonesia. Kepmenkes Nomor: 128/Menkes/SK/II/2008 tentang Standar Pelayanan Minimal Rumah Sakit. Jakarta: Menteri Kesehatan RI: 2008.
Edward GM, Preckel B, Martijn BS, Oort FJ, de Haes HC, and Hollmann MW. The Effects of Implementing a New Schedule at the Preoperative Assessment Clinic. European Journal of Anaesthesiology (EJA). 2010; 27(2): 209-213.
Dexter F. Design of Appointment Systems for Preanesthesia Evaluation Clinics to Minimize Patient Waiting Times: A Review of Computer Simulation and Patient Survey Studies. Anesthesia and Analgesia. 1999; 89(4): 925-931.
Padma P, Rajendran C, and Sai LP. A Conceptual Framework of Service Quality in Healthcare: Perspectives of Indian Patients and Their Attendants. Benchmarking: An International Journal. 2009; 16(2): 157-91.
Kapustiak J and Ling H. Evaluation of Patient Waiting Times at an Academic Ophthalmology Clinic. The Journal of Medical Practice Management: MPM. 2000; 15(5): 228-33.
Reidenbach RE and Sandifer-Smallwood B. Exploring Perceptions of Hospital Operations by a Modified SERVQUAL Approach. Journal of Health Care Marketing. 1990; 10(4): 47-55.
Rose RC, Uli J, Abdul M, and Ng KL. Hospital Service Quality: A Managerial Challenge. International Journal of Health Care Quality Assurance Incorporating Leadership In Health Services. 2004; 17(2-3): 146-159.
Baldwin A and Sohal A. Service Quality Factors and Outcomes in Dental Care. Managing Service Quality: An International Journal. 2003; 13(3): 207-216.
Nurhayani S. Beberapa Faktor yang Berhubungan dengan Kepuasan Kerja Dokter Spesialis di Poliklinik Rawat Jalan RSU Dr. Kanujoso Djatiwibowo Kota Balikpapan Tahun 2006. [Tesis]. Universitas Diponegoro, Semarang. 2006.
Curry LA1, Krumholz HM, O'Cathain A, Plano Clark VL, Cherlin E, and Bradley EH. Mixed Methods in Biomedical and Health Services Research. Circulation. Cardiovascular Quality and Outcomes. 2013; 6(1): 119-123.
Herjunianto H, Wardhani V, dan Prihastuty J. Faktor yang Mempengaruhi Cakupan Layanan Farmasi di Instalasi Rawat Jalan Rumah Sakit. Jurnal Kedokteran Brawijaya. 2014; 28(1): 8-14.
Lopetegui M, Yen PY, Lai A, Jeffries J, Embi P, and Payne P. Time Motion Studies in Healthcare: What are We Talking About? Journal of Biomedical Informatics. 2014; 49: 292-299.
Pratiwi AH, Hariyanti T and Susilo S. Pengembangan Alur Pasien dan Berkas Rekam Medis sebagai Optimalisasi Sistem Informasi Rekam Medis. Jurnal Kedokteran Brawijaya. 2015; 28(2): 129-135.
Thorne S. Waiting. Waiting. Waiting. The 'Patient' Experience. The Canadian Nurse. 1985; 81(6): 48-49.
Hart M. Improving the Quality of Out-Patient Services in NHS Hospitals: Some Policy Considerations. International Journal of Health Care Quality Assurance. 1996; 9(7): 28-38.
David D, Hariyanti T, dan Lestari EW. Hubungan Keterlambatan Kedatangan Dokter terhadap Kepuasan Pasien di Instalasi Rawat Jalan. Jurnal Kedokteran Brawijaya. 2014; 28(1): 31-35.
Thompson DA, Yarnold PR, Williams DR, and Adams SL. Effects of Actual Waiting Time, Perceived Waiting Time, Information Delivery, and Expressive Quality on Patient Satisfaction in the Emergency Department. Annals of Emergency Medicine. 1996; 28(6): 657-665.
Kartikasari D, Dewanto A, dan Saleh MS. Pengembangan Instrumen Penilaian Kualitas Layanan Rumah Sakit. Jurnal Kedokteran Brawijaya. 2014; 28(1): 1-7.
Duggirala M, Rajendran C, and Anantharaman RN. Patient-Perceived Dimensions of Total Quality Service in Healthcare. Benchmarking: An International Journal. 2008; 15(5): 560-583.
Harper PR and Gamlin H. Reduced Outpatient Waiting Times with Improved Appointment Scheduling: A Simulation Modelling Approach. OR Spectrum. 2003; 25(2): 207-222.
Kim Y-M, Fiqueroa ME, Martin A, et al. Impact of Supervision and Self-Assessment on Doctor–Patient Communication in Rural Mexico. International Journal for Quality in Health Care. 2002; 14(5): 359-367.
Erawati F. Pengaruh Supervisi, Lingkungan Kerja dan Insentive terhadap Kinerja Pegawai (Studi terhadap Account Representative (AR) pada KPP Madya DKI Jakarta). Jurnal Bisnis dan Manajemen Eksekutif. 2014; 1(1): 10.
Bosch-Capblanch X and Garner P. Primary Health Care Supervision In Developing Countries. Tropical Medicine & International Health. 2008; 13(3): 369-383.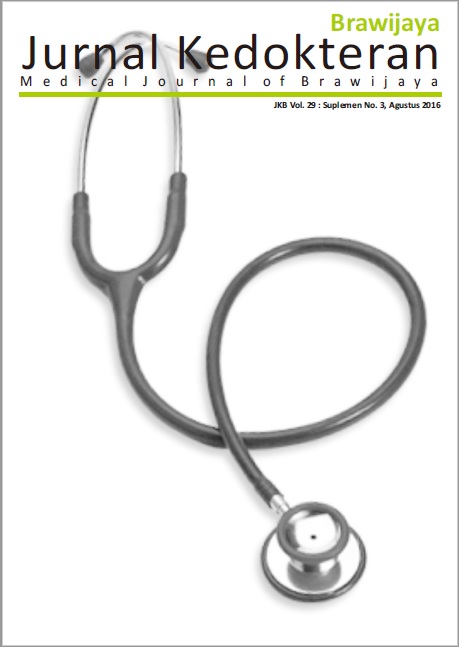 Downloads
License
Authors who publish with this journal agree to the following terms:
Authors retain copyright and grant the journal right of first publication with the work simultaneously licensed under a Creative Commons Attribution License that allows others to share the work with an acknowledgement of the work's authorship and initial publication in this journal.
Authors are able to enter into separate, additional contractual arrangements for the non-exclusive distribution of the journal's published version of the work (e.g., post it to an institutional repository or publish it in a book), with an acknowledgement of its initial publication in this journal.
Authors are permitted and encouraged to post their work online (e.g., in institutional repositories or on their website) prior to and during the submission process, as it can lead to productive exchanges, as well as earlier and greater citation of published work (See The Effect of Open Access).