Faktor Penyebab Penurunan Pelaporan Insiden Keselamatan Pasien Rumah Sakit
Abstract
Pelaporan insiden keselamatan pasien (IKP) adalah jantung dari mutu layanan sebagai dasar proses belajar dan revisi dari kebijakan serta perbaikan berkelanjutan. Studi pendahuluan menunjukkan angka IKP yang lebih rendah dari internasional dan cenderung menurun yang mengindikasikan "under reportingâ€. Tujuan dari penelitian ini adalah untuk mengidentifikasi, menganalisis dan menentukan solusi faktor penyebab penurunan pelaporan IKP di RS X. Penelitian dilakukan dengan pendekatan kualitatif menggunakan Focus Group Discussion dengan peserta adalah 26 kepala ruang rawat inap/kepala instalasi RS X. IKP sebenarnya tinggi tetapi tidak dilaporkan, penyebabnya adalah takut disalahkan jika melapor sebab budaya patient safety yaitu no blaming masih belum tumbuh secara merata di seluruh RS, kurangnya pengetahuan tentang pelaporan IKP, keengganan melaporkan karena komitmen kurang dari pihak manajemen atau unit terkait, tidak ada reward dari RS jika melaporkan dan kurangnya keaktifan dari KKPRS. Perlu menumbuhkan budaya patient safety secara merata di RS dengan mengaktifkan kembali Patient Safety Champion (PSC). Dibutuhkan komitmen yang tinggi dari pihak direksi dan manajemen dalam program keselamatan pasien. Perlu monitoring dan evaluasi dari KPRS tentang pelaporan IKP dengan cara ronde keselamatan pasien dan visitasi secara periodik ke unit dan instalasi di rumah sakit.
Kata Kunci: Budaya keselamatan pasien, kemauan melaporkan, pelaporan insiden keselamatan pasien
Downloads
Download data is not yet available.
References
World Health Organization. Patient Safety, About Us. (Online). http://www.who.int/patientsafety/about/ en/index.html [diakses tanggal 29 Mei 2013].
Swensen SJ, Dilling JA, Mc Carty PM, Bolton JW, and Harper CMJ. The Business Case for Health-Care Quality Improvement. Journal of Patient Safety. 2013; 9(1): 44-52.
Davis P, Lay-Yee R, Briant R, et al. Adverse Events in New Zealand Public Hospitals: Principal Findings from a National Survey. Wellington, New Zealand: The Ministry of Health; 2001.
Vincent C, Neale G, and Woloshynowych M. Adverse Events in British Hospitals: Preliminary Retrospective Record Review. British Medical Journal. 2001; 322(7285): 517-519.
Baker GR, Norton PG, Flintoft V, et al. The Canadian Adverse Events Study: The Incidence of Adverse Events Among Hospital Patients in Canada. Canadian Medical Association Journal. 2004; 170(11): 1678-1686.
World Health Organization. 10 Facts on Patient Safety. (Online). http://www.who.int/features/factfiles/ patient_safety/patient_safety_facts/en/index1.html [diakses tanggal 29 Mei 2013].
Tim RS RK Charitas Palembang. Menuju Pelayanan Kesehatan yang Aman, Kapita Selekta Keselamatan Pasien di Rumah Sakit. Yogyakarta: Kanisius; 2007.
RS X. Laporan tahunan RSD X Jawa Timur tahun 2012. Jawa Timur: RS X; 2013.
RS X. Profil RSD X Jawa Timur tahun 2012. Jawa Timur: RS X; 2013.
Joint Commission Center for Transforming Healthcare. Creating a Safety Culture. Joint Commission Center for Transforming Healthcare. (Online.) http://www.centerfortransforming healthcare.org/multimedia/creating-a-safety-culture/ [diakses tanggal 29 Mei 2013].
Mahajan RP. Critical Incident Reporting and Learning. British Journal of Anaesthesia. 2010; 105(1): 69-75.
Sorra J, Khanna K, Dyer N, Mardon R, and Famolaro T. Exploring Relationships between Patient Safety Culture and Patients' Assessments of Hospital Care. Journal of Patient Safety. 2012; 8(3): 131-139.
Akins RB and Cole BR. Barriers to Implementation of Patient Safety Systems in Healthcare Institutions: Leadership and Policy Implications. Journal of Patient Safety. 2005;1(1):9-16.
Levey S, Vaughn T, Koepke M, Moore D, Lehrman W, and Sinha S. Hospital Leadership and Quality Improvement: Rhetoric Versus Reality. Journal of Patient Safety. 2007; 3(1): 9-15.
Rijanto NE. Analisis Kepuasan Kerja Tenaga Medis di Unit Rawat Jalan RSI Darul Istiqomah Kaliwungu Kendal Tahun 2009. Semarang: Universitas Diponegoro; 2011.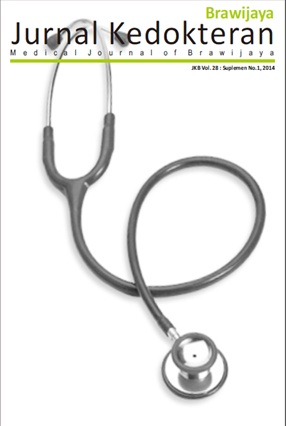 Downloads
License
Authors who publish with this journal agree to the following terms:
Authors retain copyright and grant the journal right of first publication with the work simultaneously licensed under a Creative Commons Attribution License that allows others to share the work with an acknowledgement of the work's authorship and initial publication in this journal.
Authors are able to enter into separate, additional contractual arrangements for the non-exclusive distribution of the journal's published version of the work (e.g., post it to an institutional repository or publish it in a book), with an acknowledgement of its initial publication in this journal.
Authors are permitted and encouraged to post their work online (e.g., in institutional repositories or on their website) prior to and during the submission process, as it can lead to productive exchanges, as well as earlier and greater citation of published work (See The Effect of Open Access).