Relationship between Knowledge and Preparedness Levels of ER Staff on Pre-Triage System Implementation
Keywords:
Implementation, knowledge, preparedness, pre-triage
Abstract
The Emergency Department (ED), as the main entrance of health service access in hospitals, faces the highest infection risk and high service load due to the increasing number of patients during the Covid-19 pandemic. Implementing a pre-triage system offers a solution to deal with a surge in the number of patients who demand staff preparedness. This study aimed to determine the knowledge level on the pre-triage system and its relationship with the preparedness of emergency room staff in implementing the pre-triage system. The study was conducted with a cross-sectional approach in a private type C hospital in Malang District on all 30 ER staff as respondents. The research instrument used were questionnaires. Data analysis was done using descriptive analysis and the Fisher exact test. The results show that although 76.7% of respondents have insufficient knowledge, 86.7% of respondents are ready to implement the pre-triage system. The test results prove that there is no relationship between the knowledge and the preparedness levels of the emergency room staff in implementing the pre-triage system.
Downloads
Download data is not yet available.
References
Chirico F, Nucera G, and Magnavita N. COVID-19: Protecting Healthcare Workers is a Priority. Infection Control & Hospital Epidemiology. 2020; 41(9): 1116–1117.
Eryando T, Sipahutar T, and Rahardiantoro S. The Risk Distribution of COVID-19 in Indonesia: A Spatial Analysis. Asia Pacific Journal Public Health. 2020; 32(8): 450–452.
Farcas A, Ko J, Chan J, Malik S, Nono L, and Chiampas G. Use of Incident Command System for Disaster Preparedness: A Model for an Emergency Department COVID-19 Response. Disaster Medicine and Public Health Preparedness. 2021; 15(3): 1-17.
Mathew R, Sinha TP, Sahu AK, Bhoi S, and Galwankar S. Coronavirus‑19 Pandemic: A Two-step Triage Protocol for Emergency Department. Journal of Emergencies, Trauma, and Shock. 2020; 13(2): 169–171.
Turcato G, Zaboli A, and Pfeifer N. The COVID-19 Epidemic and Reorganization of Triage, an Observational Study. Internal and Emergency Medicine. 2020; 15: 1517-1524.
Turangan TWS, Kumaat LT, and Malara R. Faktor-faktor yang Berhubungan dengan Pengetahuan Perawat dalam Menghadapi Cardiac Arrest di RSUP Prof R. D. Kandou Manado. Jurnal Keperawatan UNSRAT. 2017; 5(1): 1-8.
Setiawati I, Utami GT, and Sabrian F. Gambaran Pengetahuan dan Sikap Perawat tentang Kesiapsiagaan Pelayanan Kesehatan dalam Menghadapi Bencana Banjir. Jurnal Ners Indonesia. 2020; 10(2): 158-169.
Tzeng WC, Feng HP, Cheng WT, et al. Readiness of Hospital Nurses for Disaster Responses in Taiwan: A Cross-Sectional Study. Nurse Education Today. 2016; 47: 37–42.
Havwina T, Maryani E, and Nandi N. Pengaruh Pengalaman Bencana terhadap Kesiapsiagaan Peserta Didik dalam Menghadapi Ancaman Gempa Bumi dan Tsunami. Jurnal Geografi Gea. 2017; 16(2): 124-131.
Yusroni NH. Pengaruh Pelatihan BHD Dengan Media Simulasi terhadap Keterampilan Memberikan Pertolongan Pertama pada KLL. [Thesis]. Stikes Ngudia Husada Madura, Madura. 2020.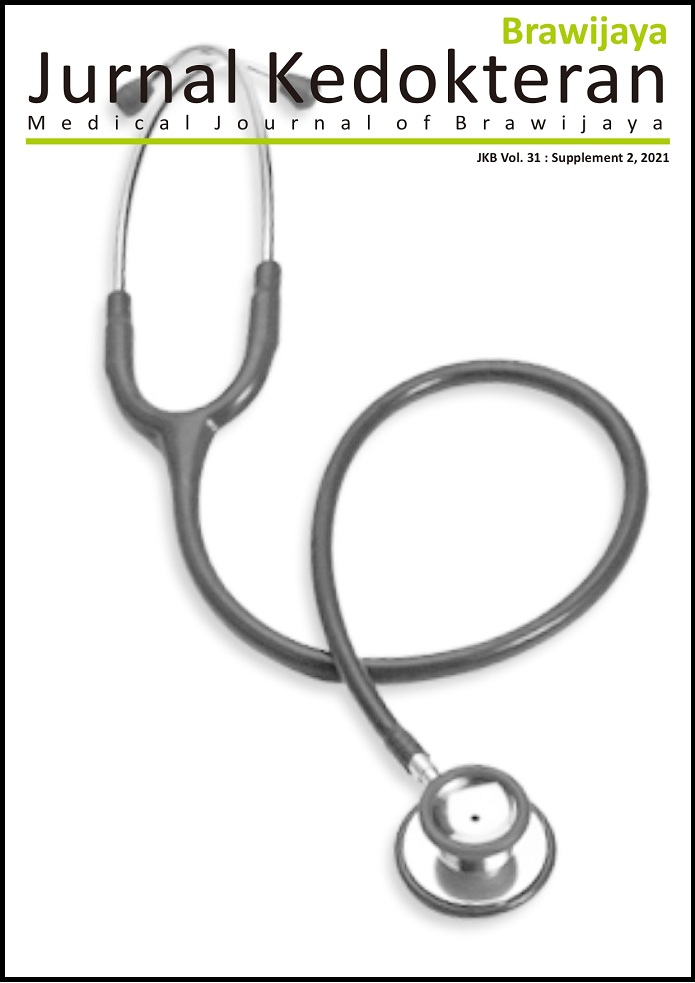 Downloads
Published
2021-09-23 — Updated on 2022-07-11
License
Authors who publish with this journal agree to the following terms:
Authors retain copyright and grant the journal right of first publication with the work simultaneously licensed under a Creative Commons Attribution License that allows others to share the work with an acknowledgement of the work's authorship and initial publication in this journal.
Authors are able to enter into separate, additional contractual arrangements for the non-exclusive distribution of the journal's published version of the work (e.g., post it to an institutional repository or publish it in a book), with an acknowledgement of its initial publication in this journal.
Authors are permitted and encouraged to post their work online (e.g., in institutional repositories or on their website) prior to and during the submission process, as it can lead to productive exchanges, as well as earlier and greater citation of published work (See The Effect of Open Access).