Seven Rights of Medication Administration: Nurses' Knowledge, Attitude, and Compliance
Keywords:
Medication administration, nurses' compliance, patient safety
Abstract
Medication error becomes one of the main concerns in ensuring patient safety. In 2020, X Hospital reported medication error incidents. Although categorized near miss, the incidents should have been prevented. One of the methods to prevent medication errors is by applying the seven rights of medication administration. This study aimed to identify the inhibiting factors in the implementation of the seven rights of medication administration in X Hospital and obtain alternative solutions to those obstacles. This study used an analytic observational design with a cross-sectional design. Data were collected from observations and a survey. Observations and a survey through questionnaires to 20 nurses at X Hospital were made to see the implementation of the procedure. At the end of the data collection, interviews were conducted to find out the obstacles in the inpatient installation in applying the seven rights of medication administration. The results show that the main root causes of medication administration errors were the standard operating procedure (SOP) that has not been standardized and nurses' non-compliance behavior on the seven rights procedure. To resolve medication administration errors, the hospital manager should revise the SOP, conduct internal workshops, and perform scheduled supervision to the nurses.
Downloads
Download data is not yet available.
References
Suranto D, Suryawati C, and Setyaningsih Y. Analisis Budaya Keselamatan Pasien pada Berbagai Tenaga Kesehatan di RSUD dr. Soediran Mangun Sumarso Kabupaten Wonogiri. Jurnal Manajemen Kesehatan Indonesia. 2020; 8(1): 49–54.
Pham JC, Story JL, Hicks RW, et al. National Study on the Frequency, Types, Causes, and Consequences of Voluntarily Reported Emergency Department Medication Errors. The Journal of Emergency Medicine. 2011; 40(5): 485–492.
Ehsani SR, Cheraghi MA, Nejati A, Salari A, Esmaeilpoor AH, and Nejad EM. Medication Errors of Nurses in the Emergency Department. Journal of Medical Ethics and History of Medicine. 2013; 6: 1-7.
World Health Organization. WHO Launches Global Effort to Halve Medication-Related Errors in 5 Years. Saudi Medical Journal. 2017; 38(5): 566-567.
Hines S, Kynoch K, and Khalil H. Effectiveness of Interventions to Prevent Medication Errors: An Umbrella Systematic Review Protocol. JBI Database of Systematic Reviews and Implementation Reports. 2018; 16(2): 291–296.
Djasri H and Utarini A. Keselamatan Pasien dan Mutu Pelayanan Kesehatan: Menuju Kemana? Jurnal Manajemen Pelayanan Kesehatan. 2012; 15(4): 159-160.
Muladi A. Faktor-faktor Penyebab Medication Errors. Akademi Keperawatan Tujuhbelas Karanganyar. 2012; 11: 1-12.
Elliott M and Liu Y. The Nine Rights of Medication Administration: An Overview. British Journal of Nursing. 2010; 19(5): 300–305.
Kim PC, Shen JJ, Angosta AD, Frakes K, and Li C. Errors Associated with the Rights of Medication Administration at Hospital Settings. Journal of Hospital Healthcare Administration. 2018; 1: 1–7.
di Muzio M, de Vito C, Tartaglini D, and Villari P. Knowledge, Behaviours, Training and Attitudes of Nurses During Preparation and Administration of Intravenous Medications in Intensive Care Units (ICU). A Multicenter Italian Study. Applied Nursing Research. 2017; 38: 129–33.
Dyab E, Elkalmi R, Bux S, and Jamshed SQ. Exploration of Nurses' Knowledge, Attitudes, and Perceived Barriers towards Medication Error Reporting in a Tertiary Health Care Facility: A Qualitative Approach. Pharmacy. 2018; 6(4): 1-14.
Sthephani P, Dewanto A, and Widijati I C. Faktor Penghambat Pelaksanaan SPO 7 Benar dalam Pemberian Obat di Ruang Rawat Inap Rumah Sakit Panti Nirmala. Jurnal Kedokteran Brawijaya. 2015; 28(2): 228–234.
Arikunto S. Prosedur Penelitian Suatu Pendekatan Praktik. Jakarta: Rineka Cipta; 2013.
Mattox EA. Strategies For Improving Patient Safety: Linking Task Type To Error Type. Critical Care Nurse. 2012; 32(1): 52-78.
Latif A, Rawat N, A. Pustavoitau A, Pronovost PJ, and Cham JC. National Study on the Distribution, Causes, and Consequences of Voluntarily Reported Medication Errors between the ICU and Non-ICU Settings. Critical Care Nurse 2013; 41(2): 389–398.
Rothschild JM, Landrigan CP, Cronin JW, et al. The Critical Care Safety Study: The Incidence and Nature of Adverse Events and Serious Medical Errors in Intensive Care. Critical Care Medicine. 2005; 33(8): 1694–700.
Mansour M, James V, and Edgley A. Investigating the Safety of Medication Administration in Adult Critical Care Settings. Nursing in Critical Care. 2012; 17(4): 189–197.
Yung HP, Yu S, Chu C, Hou IC, and Tang FI. Nurses' Attitudes and Perceived Barriers to the Reporting of Medication Administration Errors. Journal of Nursing Management. 2016; 24(5): 580–588.
Hung CC, Chu TP, Lee BO, and Hsiao CC. Nurses' Attitude and Intention of Medication Administration Error Reporting. Journal of Clinical Nursing. 2016; 25(3–4): 445-453.
Dewi RRK. Faktor Determinan Kepatuhan Perawat dalam Melakukan Praktik Cuci Tangan di RSUD Ade Muhammad Djoen Sintang. Jurnal Kesmas (Kesehatan Masyarakat) Khatulistiwa. 2017; 4(3): 232.
Pranasari R. Gambaran Pemberian Obat dengan Prinsip 7 Benar oleh Perawat di RSU PKU Muhammadiyah Bantul. [Essay]. Universitas Muhammadiyah, Yogyakarta. 2016.
Ulum MM and Wulandari RD. Faktor yang Mempengaruhi Kepatuhan Pendokumentasian Asuhan Keperawatan Berdasarkan. Jurnal Administrasi Kesehatan Indonesia. 2016; 1(3): 252-262.
Nursalam and Efendi F. Pendidikan dalam Keperawatan Nursalam. Jakarta: Salemba Medika; 2008: p. 62.
Anwar A, Rochadi KR, Daulay W, and Yuswardi. Hubungan Fungsi Manajemen Kepala Ruang Dengan Penerapan Patient Safety Culture Di Rumah Sakit Umum Dr. Zainoel Abidin Banda Aceh. Idea Nursing Journal. 2016; 7(1): 26–34.
Jelinek GA, Weiland TJ, and MacKinlay C. Supervision and Feedback for Junior Medical Staff in Australian Emergency Departments: Findings from the Emergency Medicine Capacity Assessment Study. BioMed Central Medical Education. 2010; 10(1): 1-9.
Cruz S, Carvalho L, and Sousa P. Clinical Supervision in Nursing: the (un)Known Phenomenon. Procedia - Social and Behavioral Sciences. 2012; 69: 864–873.
Komisi Akreditasi Rumah Sakit. Panduan Penyusunan Dokumen Akreditasi Rumah Sakit. Jakarta: KARS; 2012; p. 29–30.
Natasia N, Loekqijana A, and Kurniawati J. Faktor yang Mempengaruhi Kepatuhan Pelaksanaan SOP Asuhan Keperawatan di ICU-ICCU RSUD Gambiran Kota Kediri. Jurnal Kedokteran Brawijaya. 2014; 28(1): 21–25.
Pirinen H, Kauhanen L, Danielsson-Ojala R, et al. Registered Nurses' Experiences with the Medication Administration Process. Advances in Nursing. 2015; 2015: 1–10.
Sari RY, Suprapti E, and Solechan A. Pengaruh Sosialisasi SOP APD dengan Perilaku Perawat. Jurnal Keperawatan dan Kebidanan. 2014; 3: 1–10.
Setianingsih S and Septiyana R. Studi Deskriptif Penerapan Prinsip "Enam Tepat" dalam Pemberian Obat. NURSCOPE: Jurnal Penelitian dan Pemikiran Ilmu Keperawatan. 2020; 6(2): 88-95.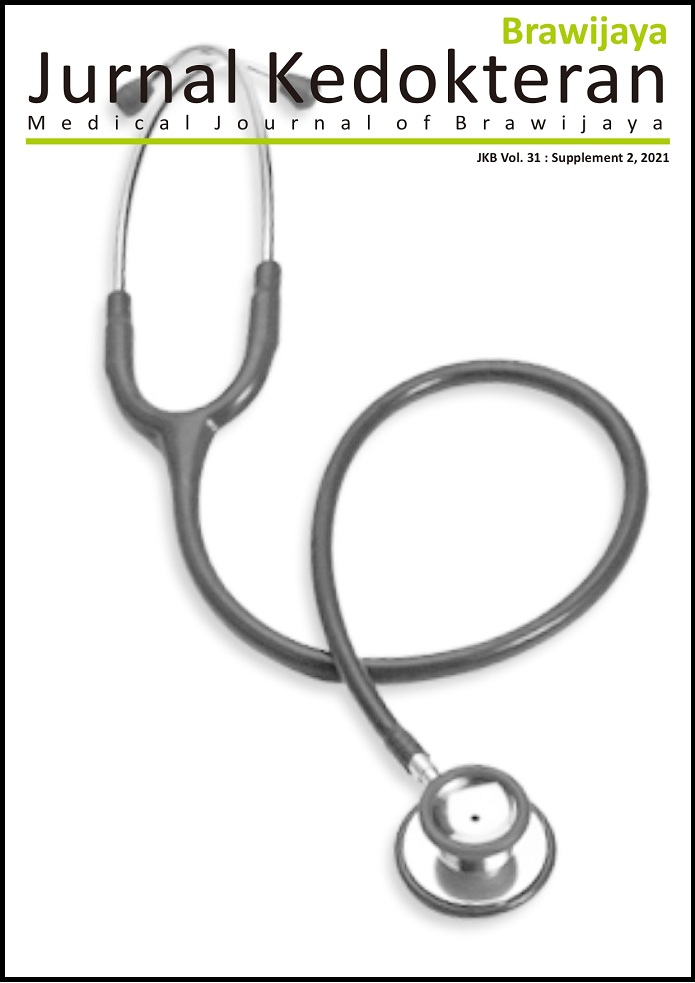 Downloads
Published
2021-09-23 — Updated on 2022-07-15
License
Authors who publish with this journal agree to the following terms:
Authors retain copyright and grant the journal right of first publication with the work simultaneously licensed under a Creative Commons Attribution License that allows others to share the work with an acknowledgement of the work's authorship and initial publication in this journal.
Authors are able to enter into separate, additional contractual arrangements for the non-exclusive distribution of the journal's published version of the work (e.g., post it to an institutional repository or publish it in a book), with an acknowledgement of its initial publication in this journal.
Authors are permitted and encouraged to post their work online (e.g., in institutional repositories or on their website) prior to and during the submission process, as it can lead to productive exchanges, as well as earlier and greater citation of published work (See The Effect of Open Access).