Penyampaian Informasi oleh Perawat dalam Persetujuan Tindakan Medis di Rumah Sakit: Permasalahan dan Solusi
Abstract
Tuntutan hukum di bidang kesehatan menjadi perhatian utama rumah sakit di Indonesia karena menghabiskan waktu, biaya dan mencemarkan citra rumah sakit. Banyak kasus dugaan malpraktik terjadi karena kurang baiknya penyampaian informasi yang berisiko terhadap tuntutan hukum dan mutu rumah sakit. Penelitian dilakukan dengan cara observasi di ruang rawat inap dan UGD, untuk mengamati proses penyampaian  tiap tindakan medis yang dilakukan oleh perawat. Observasi dilakukan berdasarkan PERMENKES Nomor 290/MENKES/PER/III/2008 tentang Persetujuan Tindakan Medis. Untuk mencari akar dari penyebab masalah dilakukan brainstorming dengan peserta 6 orang terdiri dari kepala perawat dan tim mutu dilanjutkan dengan pembuatan fishbone dan teknik "5 Whys†untuk mencari akar masalah. Dari hasil penelitian didapatkan hanya 50% tindakan yang ada formulir tindakan dilakukan persetujuan informasi medis sebelum tindakan dan 100% tindakan yang tidak ada formulir, semua persetujuan informasi medis dilakukan sebelum tindakan. Penjelasan tindakan masih sangat rendah berkisar antara 0-30%. Dari hasil brainstorming didapatkan akar permasalahan adalah pemahaman cara menjelaskan informasi medis rendah, belum ada SK pendelegasian pada perawat untuk menyampaikan informasi medis, sistem pengawasan belum berjalan, SOP kurang jelas atau kurang spesifik, belum ada alat bantu untuk menjelaskan dan perawat tidak tahu cara komunikasi atau penyampaian yang benar. Hasil penentuan alternatif solusi dengan metode McNamara menemukan bahwa alternatif solusi terbaik adalah pembuatan leaflet terkait penjelasan informasi medis dan flyer untuk edukasi pasien.Kata Kunci: Flyer edukasi, Informasi medis, persetujuan tindakan medis
Downloads
Download data is not yet available.
References
Komalawati V. Hukum dan Etika dalam Praktek Dokter. Jakarta: Pustaka Sinar Harapan; 1989.
Kementerian Kesehatan Republik Indonesia. PERMENKES Nomor 290/MENKES/PER/III/2008. Jakarta: Kementerian Kesehatan RI; 2008.
Soelistyowatie T. Penerapan Hukum Informed Consent terhadap Pelayanan Keluarga Berencana di Rumah Sakit Tugurejo Semarang. Dinamika Kebidanan. 2011;1(1).
Schenk KD, Friedland BA, Sheehy M, Apicella L, and Hewett PC. Making the Cut: Evidence-Based Lessons for Improving the Informed Consent Process for Voluntary Medical Male Circumcision in Swaziland and Zambia. AIDS Education and Prevention. 2014; 26(2): 170-184.
Basuki E. Komunikasi antar Petugas Kesehatan. Majalah Kedokteran Indonesia. 2008; 58(9): 340-345.
Nur T. Hubungan Kelengkapan Penyampaian Isi Informed Consent Dengan Pemahaman Pasien Bedah Di Rumah Sakit Pertamina Cilacap Tahun 2011. [Skripsi]. Universitas Dian Nusantoro, Semarang. 2014.
Sutanto LB, Basuki E, and Bardosono S. Teknik Komunikasi untuk Mendapatkan Informed Consent pada Suatu Penelitian. Majalah Kedokteran Indonesia. 2009; 59(6): 272-276.
Fisher CB and Oransky M. Informed Consent to Psychoterapy: Protecting the Dignity and Respecting the Autonomy of Patients. Journal of Clinical Psychology. 2008; 64(5): 576-588.
Joffe S, Cook EF, Cleary PD, Clark JW, and Weeks JC. Quality of Informed Consent in Cancer Clinical Trials: A Cross-Sectional Survey. The Lancet. 2001; 358(9295): 1772-1777.
Gutheil TG, Bursztajn H, and Brodsky A. Malpractice Prevention Through The Sharing Of Uncertainty: Informed Consent And The Therapeutic Alliance. The New England Journal of Medicine. 1984; 11(1): 49-51.
Redley M, Prince E, Bateman N, et al. The Involvement of Parents in Healthcare Decisions Where Adult Children are at Risk of Lacking Decision-Making Capacity: A Qualitative Study of Treatment Decision In Epilepsy. Journal of Intellectual Disability Research. 2013; 57(6): 531-538.
Lynoe N, Sandlund M, Dahlqvist G, and Jacobsson L. Informed Consent: Study of Quality of Information Given to Participants in a Clinical Trial. British Medical Journal. 1991; 303(6803): 610-613.
Morrow G, Gootnick J, and Schmale A. A Simple Technique for Increasing Cancer Patients' Knowledge of Informed Consent to Treatment. Cancer. 1978; 42(2): 793-799.
Rahim IS. Implementsi Informed Consent di Rumah Sakit Prof. Dr. H. Aloei Saboe. Universitas Negeri Gorontalo, Gorontalo. 2003.
Downing BT, Bogoslaw LH, and Juntos H. Effective Patient-Provider Communication Across Language Barriers: A Focus on Methods of Translation. (Online) 2002. http://www.iberistica.unige.it/pdf/brucej_ en.pdf.
Supardi S, Sampurno OD, dan Notosiswoyo M. Pengaruh Metode Ceramah dan Media Leaflet terhadap Perilaku Pengobatan Sendiri yang Sesuai dengan Aturan. Bulletin of Health Research. 2002; 30(3): 128-138.
Kubba H. An Evidence-Based Patient Information Leaflet about Otitis Media with Effusion. Clinical Performance and Quality Healthcare. 2000; 8(2): 93-99.
Flory J and Emanuel E. Interventions to Improve Research Participants' Understanding in Informed Consent for Research: A Systematic Review. The Journal of the American Medical Association. 2004; 292(13): 1593-1601.
Jones R, Finlay F, Crouch V, and Anderson S. Drug Information Leaflets: Adolescent and Professional Perspectives. Child: Care, Health & Development. 2000; 26(1): 41-48.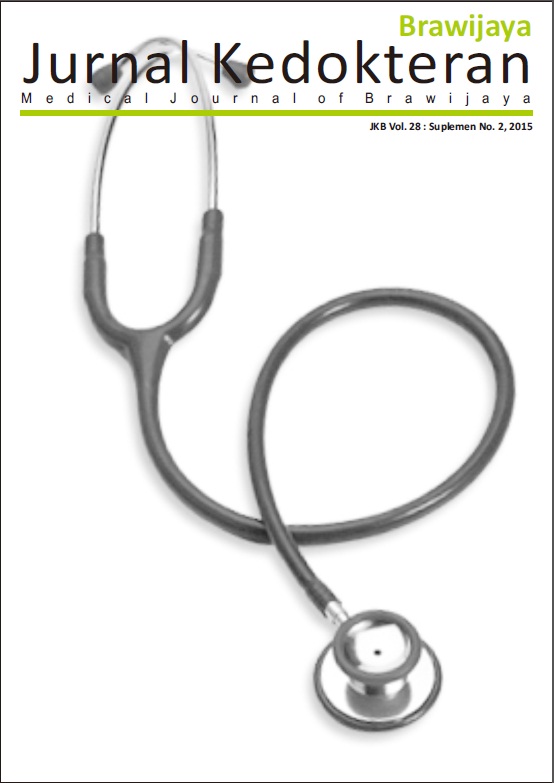 Downloads
License
Authors who publish with this journal agree to the following terms:
Authors retain copyright and grant the journal right of first publication with the work simultaneously licensed under a Creative Commons Attribution License that allows others to share the work with an acknowledgement of the work's authorship and initial publication in this journal.
Authors are able to enter into separate, additional contractual arrangements for the non-exclusive distribution of the journal's published version of the work (e.g., post it to an institutional repository or publish it in a book), with an acknowledgement of its initial publication in this journal.
Authors are permitted and encouraged to post their work online (e.g., in institutional repositories or on their website) prior to and during the submission process, as it can lead to productive exchanges, as well as earlier and greater citation of published work (See The Effect of Open Access).