How Do Hospital Staff Cope with Covid-19 at Work? A Phenomenological Study
Keywords:
Covid-19 pandemic, job demands, job resources, personal resources, tawakkal, work engagement
Abstract
The Covid-19 pandemic has brought negative consequences on hospital finances, the mental health of health care workers (HCWs), and even resulted in the deaths of several health workers at Hasta Brata Hospital (HBH). This study aimed to explore the experiences of HBH's staff in dealing with the pandemic in the hospital. This research is qualitative research with a phenomenological approach. Data were collected using in-depth interviews with two of HBH's staff and then followed by the theme analysis. Hospital staff experienced job demands including emotional and physical stress at work, fear of infection, repeated conflicts with patient visitors, different mindsets among staff, increased workload, and feelings of frustration towards people who do not comply with prevention protocols. Fortunately, they had adequate job resources, ranging from the provision of personal protective equipment, nutrition improvement, and regular Covid-19 screening; update knowledge and methods of handling Covid-19; to motivational and spiritual support from HBH leaders. The staff also had strong personal resources so that they could cope with stressful work situations, feel optimistic that they could win against Covid-19, and hoped that the pandemic would end. Spiritual support embodies tawakal, an Islamic concept that gives complete surrender to God after employing maximum effort. The presence of strong job and personal resources has moderated job demands and resulted in work engagement. Tawakal is an added value for personal resources staff who finally realize that Covid-19 cannot be avoided and must be fought before surrendering entirely to God.
Downloads
Download data is not yet available.
References
Amali Z. Menghitung Jumlah Nakes Yang Positif Dan Meninggal Akibat Corona. (Online) 2020. https://tirto.id/menghitung-jumlah-nakes-yang-positif-dan-meninggal-akibat-corona-f4Z4 [accessed 8 November 2020].
Balasubramanian A, Paleri V, Bennett R, and Paleri V. Impact of COVID-19 on the Mental Health of Surgeons and Coping Strategies. Head and Neck. 2020; 42(7): 1638–1644.
Walton M, Murray E, and Christian MD. Mental Health Care for Medical Staff and Affiliated Healthcare Workers During the COVID-19 Pandemic. European Heart Journal: Acute Cardiovascular Care. 2020; 9(3): 241–247.
Zhang WR, Wang K, Yin L, et al. Mental Health and Psychosocial Problems of Medical Health Workers During the COVID-19 Epidemic in China. Psychotherapy and Psychosomatics. 2020; 89(4): 242-250.
Bakker AB and Demerouti E. Job Demands-Resources Theory. Work and Wellbeing. 2014; 3: 1–28.
Lestari W and Zamralita Z. Gambaran Tuntutan Pekerjaan (Job Demands) dan Dukungan Pekerjaan (Job Resources) Pada Pegawai Institusi X DKI Jakarta. Jurnal Muara Ilmu Sosial, Humaniora, dan Seni. 2017; 1(2): 134-143.
Kim S, and Wang J. The Role of Job Demands–Resources (JDR) Between Service Workers' Emotional Labor and Burnout: New Directions for Labor Policy at Local Government. International Journal of Environmental Research and Public Health. 2018; 15(12): 1-31.
Tiete J, Guatteri M, Lachaux A, et al. Mental Health Outcomes In Healthcare Workers In COVID-19 And Non-COVID-19 Care Units: A Cross-Sectional Survey In Belgium. Frontiers in Psychology. 2021; 11: 1–10.
Shoja E, Aghamohammadi V, Bazyar H, et al. Covid-19 Effects On The Workload And Mental Health Of Iranian Healthcare Workers. BMC Public Health. 2020; 20(1): 1–7.
Hendarwan H, Syachroni S, Aryastami NK, et al. Assessing the COVID-19 Diagnostic Laboratory Capacity in Indonesia in the Early Phase of the Pandemic. WHO South-East Asia Journal of Public Health. 2020; 9(2): 134–140.
Sen-Crowe B, Sutherland M, McKenney M, and Elkbuli A. A Closer Look Into Global Hospital Beds Capacity and Resource Shortages During the COVID-19 Pandemic. The Journal of Surgical Research. 2021; 260: 56–63.
Amnesty International Indonesia. Terpapar, Dibungkam, Diserang: Kegagalan Melindungi Pekerja Kesehatan Dan Esensial Selama Pandemi Covid-19. (Online) 2020. https://www.amnesty.org/en/documents/pol40/2572/2020/id/
Ilpaj SM and Nurwati N. Analisis Pengaruh Tingkat Kematian Akibat Covid-19 terhadap Kesehatan Mental Masyarakat di Indonesia. Focus: Jurnal Pekerjaan Sosial. 2020; 3(1): 16–28.
Wang D, Hu B, Hu C, et al. Clinical Characteristics of 138 Hospitalized Patients with 2019 Novel Coronavirus-Infected Pneumonia in Wuhan, China. Journal of the American Medical Association. 2020; 323(11): 1061–1069.
World Health Organization. Criteria for Releasing COVID-19 Patients from Isolation. Scientific Brief. (Online) 2020. https://www.who.int/publications/i/item/criteria-for-releasing-covid-19-patients-from-isolation [accesed 17 June 2020].
Garzaro G, Clari M, Ciocan C, et al. COVID-19 Infection and Diffusion among the Healthcare Workforce in a Large University-Hospital in Northwest Italy. La Medicina del lavoro. 2020; 111(3): 184–194.
Lyu W and Wehby GL. Community Use of Face Masks and COVID-19: Evidence from a Natural Experiment of State Mandates in the US. Health Affairs. 2020; 39(8): 1419–1425.
Oster Y, Wolf DG, Olshtain-Pops K, Rotstein Z, Schwartz C, and Benenson S. Proactive Screening Approach for SARS-CoV-2 among Healthcare Workers. Clinical Microbiology and Infection. 2021; 27(1): 155–156.
Centers for Disease Control an Prevention. Public Attitudes, Behaviors, and Beliefs Related to COVID-19, Stay-At-Home Orders, Nonessential Business Closures, and Public Health Guidance — United States, New York City, and Los Angeles, May 5–12, 2020. (Online) 2020. https://www.cdc.gov/mmwr/volumes/69/wr/mm6924e1.htm?s_cid =mm6924e1_w
Cho H, Sagherian K, and Steege LM. Hospital Nursing Staff Perceptions of Resources Provided by Their Organizations During the COVID-19 Pandemic. Workplace Health and Safety. 2021; 69(4): 174–181.
Upadyaya K, Vartiainen M, and Salmela-Aro K. From Job Demands and Resources to Work Engagement, Burnout, Life Satisfaction, Depressive Symptoms, and Occupational Health. Burnout Research. 2016; 3(4): 101–108.
Blake H, Bermingham F, Johnson G, and Tabner A. Mitigating the Psychological Impact of Covid-19 on Healthcare Workers: A Digital Learning Package. International Journal of Environmental Research and Public Health. 2020; 17(9): 1–15.
Gómez-Salgado J, Domínguez-Salas S, Romero-Martín M, Romero A, Coronado-Vázquez V, and Ruiz-Frutos C. Work Engagement and Psychological Distress of Health Professionals During the COVID-19 Pandemic. Journal of Nursing Management. 2021; 29(5): 1016-1025.
Cotel A, Golu F, Stoian AP, et al. Predictors of Burnout in Healthcare Workers During the Covid-19 Pandemic. Healthcare (Switzerland). 2021; 9(3): 1–8.
Guo ZD, Wang ZY, Zhang SF, et al. Aerosol and Surface Distribution of Severe Acute Respiratory Syndrome Coronavirus 2 in Hospital Wards, Wuhan, China, 2020. Emerging Infectious Disease. 2020; 26(7): 1583-1591.
Meynaar IA, Ottens T, Zegers M, van Mol MMC, and van der Horst ICC. Burnout, Resilience and Work Engagement Among Dutch Intensivists in the Aftermath of The COVID-19 Crisis: A Nationwide Survey. Journal of Critical Care. 2021; 62: 1–5.
Chow SK, Francis B, Ng YH, et al. Religious Coping, Depression And Anxiety Among Healthcare Workers During The Covid-19 Pandemic: A Malaysian Perspective. Healthcare (Switzerland). 2021; 9(1): 1-6.
Ding Y, Yang Y, Yang X, et al. The Mediating Role of Coping Style in the Relationship between Psychological Capital and Burnout among Chinese Nurses. PLoS ONE. 2015; 10(4): 1–14.
Braun-Lewensohn O, Abu-Kaf S, and Kalagy T. Hope and Resilience during a Pandemic among Three Cultural Groups in Israel: The Second Wave of Covid-19. Frontiers in Psychology. 2021; 12: 1–12.
Prakoso AR, Susilo H, and Aini EK. Pengaruh Spiritualitas di Tempat Kerja (Workplace Spirituality) terhadap Komitmen Organisasional (Studi Pada Karyawan PT. Bank BRI Syariah Kantor Cabang Malang Soekarno Hatta). Jurnal Administrasi Bisnis. 2018; 65(1): 1–8.
Kamaluddin N and Manan SKA. The Conceptual Framework of Islamic Work Ethic (IWE). Malaysian Accounting Review. Special Issue. 2010; 9(2): 57-70.
Bakker AB and Leiter MP. Work Engagement a Handbook of Essential Theory and Research. New York: Psychology Press; 2010.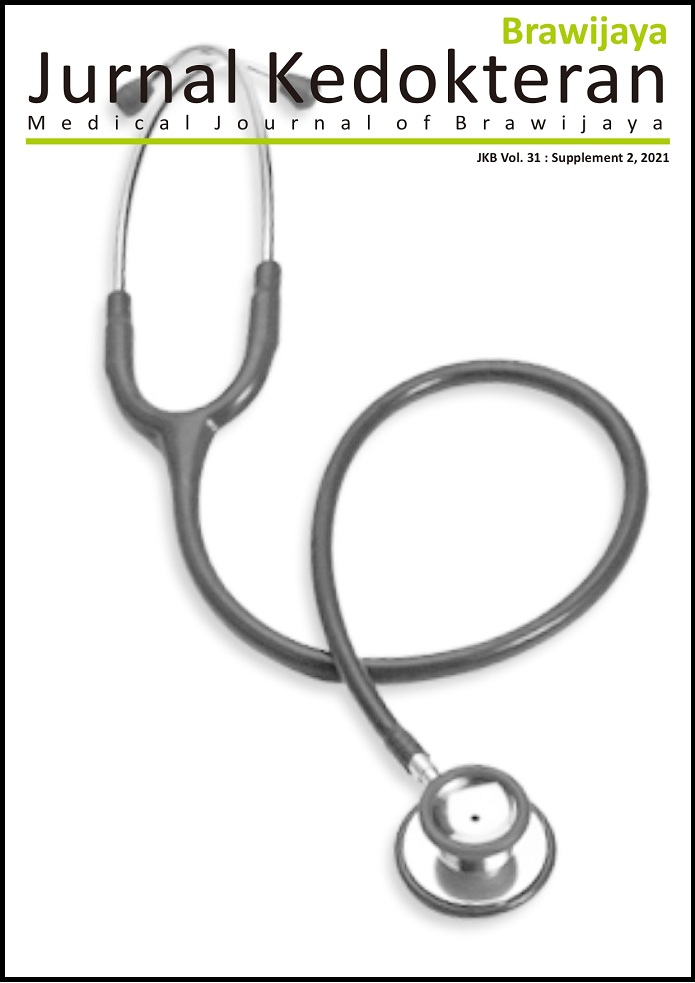 Downloads
Published
2021-09-23 — Updated on 2022-08-05
License
Authors who publish with this journal agree to the following terms:
Authors retain copyright and grant the journal right of first publication with the work simultaneously licensed under a Creative Commons Attribution License that allows others to share the work with an acknowledgement of the work's authorship and initial publication in this journal.
Authors are able to enter into separate, additional contractual arrangements for the non-exclusive distribution of the journal's published version of the work (e.g., post it to an institutional repository or publish it in a book), with an acknowledgement of its initial publication in this journal.
Authors are permitted and encouraged to post their work online (e.g., in institutional repositories or on their website) prior to and during the submission process, as it can lead to productive exchanges, as well as earlier and greater citation of published work (See The Effect of Open Access).