PRE-TRIAGE SYSTEM : A SOLUTION TO FACING SURGE OF PATIENT DURING OF COVID-19 PANDEMIC
Keywords:
pre-triage, knowledge, readiness, implementation
Abstract
It is difficult to predict the end of Covid-19 pandemic. The emergency department (ED) as the main access for health services in the hospital has the highest risk of infection and overwhelmed by surge of patients. Modification of the emergency service system by implementing a pre-triage system can be a solution to dealing with surge of patients. The results of the preliminary study succeeded in forming a pre-triage system model. The pre-triage system model was carried out by identifying patients with the risk of Covid-19 in ED and modification of the emergency service flow. The implementation of the pre-triage system requires the readiness of the emergency department's team. The sample used was all staff of emergency department of X Hospital which total 30. The results showed that 23,3% of respondents had good category knowledge, 56,67 % respondents had sufficient category knowledge, and 20% had less knowledge. The level of readiness found that 90% of respondents are ready for implementation of the pre-triage system. The Chi-Square test result show that the level of knowledge of the pre-triage system is not related to readiness to implement the pre-triage system.
Downloads
Download data is not yet available.
References
Keppres RI. Penetapan Bencana Non Alam Penyebaran Corona Virus Disease 2019 (Covid-19) Sebagai Bencana Nasional. 12 Indonesia; 2020.
Kemenkes RI. 2 Mekanisme Penanganan Covid-19 [Internet]. 2020 [cited 2020 Sep 15]. Available from: https://www.kemkes.go.id/article/view/20041900001/2-mekanisme-penanganan-covid-19.html
Satuan Tugas Penanganan Covid-19. Peta Sebaran Covid-19 [Internet]. 2020 [cited 2020 Sep 15]. Available from: https://covid19.go.id/peta-sebaran
Gregory RC. Ciottone's Disaster Medicine Second Edition. 2nd ed. Ciottone's Disaster Medicine. Philadelphia: Elsevier Inc; 2016. i–ii.
Mathew R. Coronavirus‑19 Pandemic: A Two‑step Triage Protocol for Emergency Department. J Emerg Trauma Shock. 2020;13(2):169–71.
Turcato G, Zaboli A, Pfeifer N. The COVID-19 epidemic and reorganisation of triage, an observational study. Intern Emerg Med [Internet]. 2020; Available from: https://doi.org/10.1007/s11739-020-02465-2
Kurniawati D, Suwito S. Pengaruh Pengetahuan Kebencanaan Terhadap Sikap Kesiapsiagaan Dalam Menghadapi Bencana Pada Mahasiswa Program Studi Pendidikan Geografi Universitas Kanjuruhan Malang. JPIG (Jurnal Pendidik dan Ilmu Geogr. 2019;2(2).
Journal A, Umur H, Wanita P, Subur U, Pap T, Hanifah L, et al. Hubungan Umur dengan Pengetahuan Wanita Usia Subur Tentang Pap Smear (Lilik Hanifah, Etik Sulistyorini) 113. 2019;2(1):113–20.
Chaplin J. Kamus Lengkap Psikologi. Jakarta: Raja Grafindo Persada; 2006.
Mirzaei S, Eftekhari A, Sadeghian M reza, Kazemi S, Nadjarzadeh A. The Effect of Disaster Management Training Program on Knowledge, Attitude, and Practice of Hospital Staffs in Natural Disasters. J Disaster Emerg Res. 2019;2(1):9–16.
Fakhrurrazi, Mulyadi, Ismail N. Pengetahuan Dan Sikap Tenaga Kesehatan Rumah Sakit Umum Daerah (Rsud) Pidie Jaya Terhadap Kesiapsiagaan Dalam Menghadapi Risiko Bencana Banjir. J Ilmu Kebencanaan Progr Pascasarj Unsyiah [Internet]. 2015;(Vol 2, No 4: November 2015):1–12. Available from: http://www.jurnal.unsyiah.ac.id/JIKA/article/view/8152
Tzeng WC, Feng HP, Cheng WT, Lin CH, Chiang LC, Pai L, et al. Readiness of hospital nurses for disaster responses in Taiwan: A cross-sectional study. Nurse Educ Today [Internet]. 2016;47:37–42. Available from: http://dx.doi.org/10.1016/j.nedt.2016.02.025
Havwina T, Maryani E, Nandi N. Pengaruh Pengalaman Bencana Terhadap Kesiapsiagaan Peserta Didik Dalam Menghadapi Ancaman Gempabumi Dan Tsunami. J Geogr Gea. 2017;16(2):124.
Ceria M, Zebua P. Pengaruh pengetahuan terhadap implementasi sasaran keselamatan pasien. 2020;
Bachrun E. HUBUNGAN TINGKAT PENGETAHUAN PERAWAT TENTANG PATIENT SAFETY TERHADAP PENERAPAN SASARAN V (PENGURANGAN RESIKO INFEKSI TERKAIT PELAYANAN KESEHATAN). J Kesehat Masy Cendekia Utama. 2017;5(1):36.
Khariza HA. Program Jaminan Kesehatan Nasional : Studi Deskriptif Tentang Faktor-Faktor Yang Dapat Mempengaruhi Keberhasilan Implementasi Program Jaminan Kesehatan Nasional. Kebijak dan Manaj Publik. 2015;3(1):1–7.
Astuti T, Utami JNW. GAMBARAN KEPATUHAN SPO ANTENATAL CARE DI BPM WILAYAH KABUPATEN GUNUNGKIDUL TAHUN 2016. 2017;12(1):1–54.
Yusroni NH. PENGARUH PELATIHAN BHD DENGAN MEDIA SIMULASI TERHADAP KETERAMPILAN MEMBERIKAN PERTOLONGAN PERTAMA PADA KLL. Stikes Ngudia Husada Madura; 2020.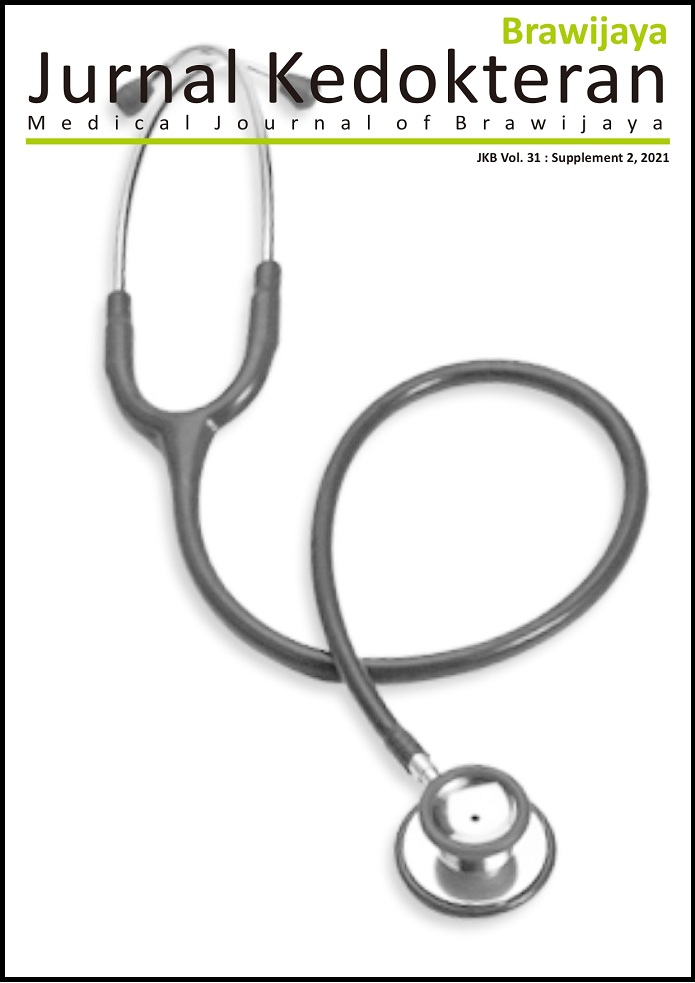 License
Authors who publish with this journal agree to the following terms:
Authors retain copyright and grant the journal right of first publication with the work simultaneously licensed under a Creative Commons Attribution License that allows others to share the work with an acknowledgement of the work's authorship and initial publication in this journal.
Authors are able to enter into separate, additional contractual arrangements for the non-exclusive distribution of the journal's published version of the work (e.g., post it to an institutional repository or publish it in a book), with an acknowledgement of its initial publication in this journal.
Authors are permitted and encouraged to post their work online (e.g., in institutional repositories or on their website) prior to and during the submission process, as it can lead to productive exchanges, as well as earlier and greater citation of published work (See The Effect of Open Access).