Kombinasi Artesunat Injeksi dan Ekstrak Brotowali (Tinospora crispa (L) Miers) Menurunkan Derajat Parasitemia serta Meningkatkan Ekspresi HSP70 dan Endoglin pada Mencit C57BL/6J yang Diinfeksi Plasmodium berghei
Keywords:
Artesunat, brotowali, endoglin, HSP70, malaria, Plasmodium berghei
Abstract
Penemuan kombinasi terapi baru untuk malaria dianggap penting karena kemampuan resistensi dari Plasmodium terhadap pengobatan terdahulu. Sebanyak 18 mencit dibagi ke dalam kelompok kontrol negatif, kontrol positif, kelompok artesunat, serta kelompok kombinasi artesunat dengan brotowali (dosis 50 mg, 60 mg dan 70 mg). Selain kontrol negatif, semua mencit diinfeksi Plasmodium berghei. Selanjutnya diamati derajat parasitemianya sampai hari ke-7, kemudian dilakukan pemeriksaaan imunohistokimia guna mengetahui ekspresi HSP70 dan endoglin pada otak mencit. Kombinasi artesunat injeksi dan ekstrak brotowali terbukti dapat menurunkan derajat parasitemia lebih baik dari pemberian terapi tunggal artesunat dan meningkatkan ekspresi HSP70 dan endoglin. Kesimpulannya, kombinasi terapi malaria menggunakan artesunat dan brotowali terbukti berpotensi sebagai terapi kombinasi yang efektif terhadap malaria karena mampu menurunkan derajat parasitemia sampai 0% dan meningkatkan ekspresi HSP70 dan endoglin pada otak mencit C57BL/6J secara signifikan. 
Downloads
Download data is not yet available.
References
Nayyar GML, BremanJG, Newton PN, and Herrington J. Poor-quality antimalarial drugs in southeast Asia and sub-Saharan Africa. The Lancet Infectious Diseases. 2012; 12(6): 488-496.
Bartoloni A and Zammarchi L. Clinical aspectsof uncomplicatedand severe malaria. Mediterranian Journal of Hematology and Infectious Diseases.2012; 4(1): e2012026.
Franke-Fayard B, Fonager J, Braks A, Khan SM, and Janse CJ. Sequestration and Tissue Accumulation of Human Malaria Parasites: Can We Learn Anything from Rodent Models of Malaria? PLoS Pathogens. 2010; 6(9): 50-65.
Cabrales P, Zanini GM, Frangos JA, and Carvalho LJ. Murine Cerebral Malaria is Associated with a Vasospasm-Like Microcirculatory Dysfunction, and Survival Upon Rescue Treatment is Markedlyincreased by Nimodipine. The American Journal of Pathology. 2010; 176(3): 1306-1315.
Hague A, Best SE, Unosson K, et al. Granzyme B Expression By CD8+ T Cells is Required for the Development of Experimental Cerebral Malaria. Journal of Immunology. 2011; 186(11): 6148-6156.
Madden J, Coward JC, Shearman CP, Grimble RF, and Calder PC. Hsp70 expression in monocytes from patients with peripheral arterial disease and healthy controls: monocyte Hsp70 in PAD. Cell Biology Toxicology. 2010; 26(3): 215-223.
Blanco FJ and Barnebeu C. Alternative Splicing Factor or Splicing Factor-2 Plays a Key Role in Intron Retention of the Endoglin Gene during Endothelial Senescence. Aging Cell Journal. 2011; 10(5): 896-907.
Barnebeu C, Lopez-Novoa JM, and Quintanila M. The Emerging Role of TGF-Beta Superfamily Coreceptors in Cancer. Biochimica et Biophysica Acta. 2009; 1792(10): 954-973.
Silver KL, Conroy AL,Leke RG, Gwanmesia P, Molyneux ME, Taylor DW, Rogerson SJ, and Kain KC. Circulating solubleendoglin levels in pregnant women in Cameroon and Malawi-associations with placental malaria and fetal growth restriction. PLoS ONE. 2011; 6(9):e24985.
Hawkes M, Conroy AL,and Kain KC. Spread of artemisinin resistance in malaria. The New England Journal of Medicine. 2014; 371: 1944-1945.
Ihwan, Rifa'i M, dan Fitri LE. Antiplasmodial test of Tinospora crispa stem extract against Plasmodium falciparum 3D7 strain in vitro. Jurnal Kedokteran Brawijaya. 2014; 28(2): 91-96.
Miranda AS, Brant F,Rocha NP,Cisalpino D, Rodrigues DH, Souza DG, Machado FS, Rachid MA, Teixeira AL Jr, and Campos AC. Further evidence for an anti-inflammatory role of artesunate in experimental cerebral malaria. Malaria Journal. 2013; 12: 388.
Okokon JE, Ettebong E, and Antia BS.In vivo antimalarial activity of ethanolic leaf extract of Stachytarpheta cayennensis. Indian Journal of Pharmacology. 2008; 40(3): 111-113.
Biolegend.Immunohistochemistry protocol for paraffin-embedded sections. (Online), 3 Mei 2008. http://www.biolegend.com/media_assets/support_protocol/BioLegend_IHC_Paraffin.pdf. [Diakses pada 15/10/2014].
Cancer Chemoprevention Research Center Fakultas Farmasi UGM.Prosedur tetap pengecatan imunohistokimia p53. (Online),4 Juni 2014.http://ccrc.farmasi.ugm.ac.id/wp-content/uploads/sop-ihc-p53-laras.pdf. [Diakses pada 15/10/2014].
Suarsana IN, Wresdiyati T, dan Suprayogi A. Respon stres oksidatif dan pemberian isoflavon terhadap aktivitas enzim superoksida dismutase dan peroksidasi lipid pada hati tikus. Indonesian Journal of Animal and Veterinary Sciences. 2013; 18(2): 146-152.
Seth SD and Seth V. Textbook of pharmacology. 3rd Ed. New Delhi: Elsevier India; 2009; pp. 80-88.
Rungruang T and Boonmars T. In Vivo Antiparasitic Activity of the Thai Traditional Medicine Plant--Tinospora Crispa--Against Plasmodium yoelii. The Southeast Asian Journal of Tropical Medicine Public Health. 2009; 40(5): 898-900.
Abood WA, Fahmi I, Abdulla MA, and Ismail S. Immunomodulatory Effect of an Isolated Fraction from Tinospora Crispa on Intracellular Expression of INF-Γ, IL-6, and IL-8. BMC Somplementary and Alternative Medicine. 2014; 14: 200-213.
Craig AG, Grau GE, Janse C, et al. The Role of Animal Models for Research on Severe Malaria. PLoS Pathogen. 2012; 8(2): 233-254
Jain K, Sood S, and Gowthamarajan K. Modulation of cerebral malaria by curcumin as an adjunctive therapy.Brazilian Journal of Infectious Diseases. 2013; 17(5): 571-591.
Tian F, Zhou AX, Smits AM, et al. Endothelial Cells are Activated During Hypoxia Via Endoglin/ALK-1/SMAD1/5 Signaling In Vivo and In Vitro. Biochemical and Biophysical Research Communications. 2010; 392(3): 283-288.
Rosman DS. Role of TGF-Beta Variant in Breast Cancer. [Dissertation]. Northwestern University, Evanston. 2008.
Dietmann A, Helbok R, Lackner P, et al. Endoglin in African Children with Plasmodium falciparum Malaria: A Novel Player in Severe Malaria Pathogenesis? The Journal of Infectious Diseases. 2009; 200(12): 1842-1848.
Nassiri F, Cusimano MD, Scheithauer BW, et al. Endoglin (CD105): A Review of its Role in Angiogenesis and Tumor Diagnosis, Progression and Therapy. Anticancer Research. 2011; 31(6): 2283-2290.
Zhao J, Mou Y, Bernstock JD, et al. Synthetic Oligodeoxynucleotides Containing Multiple Telemeric TTAGGG Motifs Suppress Inflammasome Activity in Macrophages Subjected to Oxygen and Glucose Deprivation and Reduce Ischemic Brain Injury in Stroke-Prone Spontaneously Hypertensive Rats. PloS ONE. 2015; 10(10): 1-17.
Scharpfenecker M, Floot B, Russell NS, and Stewart FA. The TGF-Î' Co-Receptor Endoglin Regulates Macrophage Infiltration and Cytokine Production in the Irradiated Mouse Kidney. Radiotherapy and Oncology. 2012; 105(3): 313-320.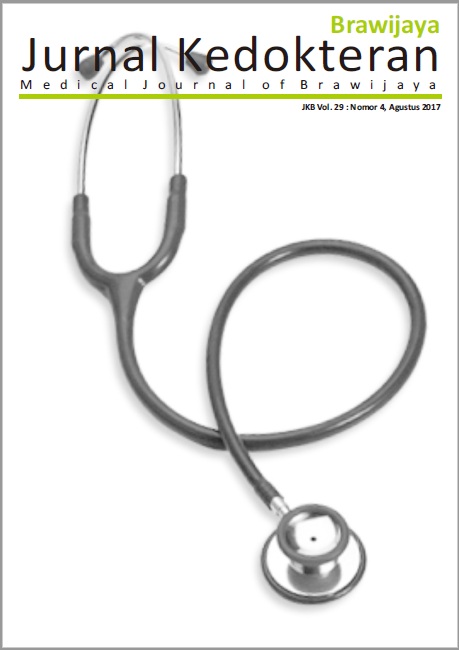 Downloads
License
Authors who publish with this journal agree to the following terms:
Authors retain copyright and grant the journal right of first publication with the work simultaneously licensed under a Creative Commons Attribution License that allows others to share the work with an acknowledgement of the work's authorship and initial publication in this journal.
Authors are able to enter into separate, additional contractual arrangements for the non-exclusive distribution of the journal's published version of the work (e.g., post it to an institutional repository or publish it in a book), with an acknowledgement of its initial publication in this journal.
Authors are permitted and encouraged to post their work online (e.g., in institutional repositories or on their website) prior to and during the submission process, as it can lead to productive exchanges, as well as earlier and greater citation of published work (See The Effect of Open Access).