Workload of the Inpatient Nurses: What are the Affecting Factors?
Keywords:
Affecting Factors , nurse, workload
Abstract
High nurse workload can impact the quality of hospital services. Nurses are the spearhead of the services, so they must obtain attention and be professionally managed to provide positive contributions to the advancement of the hospital. This study was conducted to describe the factors that influence the high workload of nurses in the Surgical and Internal Inpatient Installation (IRNA BDB) Baptis Batu Hospital. Qualitative and quantitative study methods with an explorative, descriptive approach were used. Determination of the root of the problem was using the fishbone diagram. Factors that influence the high workload of inpatient nurses are the number of nurses that do not meet the workload needs, placement of junior nurses and interns increases more workload for senior nurses, nurses carry out financial administrative tasks, blood sampling for laboratory examinations, and dispensing sterile preparations, as well as nurse call and bathroom facilities that are not supportive. In short, the causes of the high nurse workload are the lack of nurses, varied nurse qualities, non-nursing workloads, and less supportive facilities.
Downloads
Download data is not yet available.
References
Punjot P. Nurse's Role: Beyond the Bedside. International Journal of Nursing Education and Research. 2019; 7(3): 432-434.
Coventry TH, Maslin-Prothero SE, and Smith G. Organizational Impact of Nurse Supply and Workload on Nurses Continuing Professional Development Opportunities: An Integrative Review. Journal of Advanced Nursing. 2015; 71(12): 2715–2727.
Nantsupawat A, Srisuphan W, Kunaviktikul W, Wichaikhum OA, Aungsuroch Y, and Aiken LH. Impact of Nurse Work Environment and Staffing on Hospital Nurse and Quality of Care in Thailand. J Nurs Scholarsh. 2011; 43(4): 426–432.
Ningsih DS. Analisis Beban Kerja dan Kebutuhan Perawat di Ruangan Cendrawasih RSUD Arifin Provinsi Riau Tahun 2017. Menara Ilmu. 2018; 12(80): 21–26.
Noprianty R, Febianti SA, and Fikri J. Analysis of Nurses Staff Needs Using Workload Indicate Staff Need in Pediatric Ward With Time Motion Study. Jurnal Medicoeticolegal dan Manajemen Rumah Sakit. 2020; 9(1): 13–22.
Safaat H and Husnaini. Analisis Beban Kerja sebagai Dasar Penentuan Kebutuhan Tenaga Perawat di Instalasi Rawat Inap RSUD Batara Guru Kabupaten Luwu. Jurnal Fenomena Kesehatan. 2019; 2(1): 165-187.
Prihadini FA. Analisis Perhitungan Kebutuhan Tenaga Perawat di Ruang Rawat Inap Cattleya B Rumah Sakit Umum Bhakti Yudha Tahun 2012. [Thesis]. Universitas Indonesia, Jakarta. 2012.
Alotaibi J, Paliadelis PS, and Valenzuela FR. Factors that Affect the Job Satisfaction of Saudi Arabian Nurses. Journal of Nursing Management. 2016; 24(3): 275–282.
Kadar AKM, Azad AK, Hoque KE, Beh LS, Wanke P, and Arslan O. Job Satisfaction and Intention to Quit: An Empirical Analysis of Nurses in Turkey. PeerJ. 2016; 4(4): 1-23.
Chiu YL, Chung RG, Wu CS, and Ho CH. The Effects of Job Demands, Control, and Social Support on Hospital Clinical Nurses' Intention to Turn Over. Applied Nursing Research. 2009; 22(4): 258–263.
Bachri BS. Meyakinkan Validitas Data Melalui Triangulasi pada Penelitian Kualitatif. Jurnal Teknologi Pendidikan. 2010; 10(1): 46–62.
Ilie G and Ciocoiu CN. Application of Fishbone Diagram to Determine the Risk of an Event with Multiple Causes. Knowledge Management Research & Practice. 2010; 2(1): 1–20.
Setiadarma TN, Rahardjo B. An Analysis of the HRGA Department Process. International Journal of Industrial Research and Applied Engineering. 2020; 4(1): 6–12.
Karodia AM, Cassim N, and Akweenda FM. Investigating Work Related Stress and Its Impact on the Performances of Registered Nurses Employed at Katutura State Hospital in Windhoek, Namibia. Kuwait Chapter of Arabian Journal of Business and Management Review. 2016; 5(10): 50–78.
Ernawati NLAK, Nursalam, and Djuari L. Kebutuhan Riil Tenaga Perawat dengan Metode Workload Indicator Staff Need (WISN). Jurnal Ners. 2011; 6(1): 85–93.
Soesanto D and Ersyad T. Penghitungan Kebutuhan Tenaga Keperawatan Berdasarkan WISN di RS. Gotong Royong. Jurnal Ilmiah Kesehatan. 2019; 12(2): 71–79.
Tri W. Perbandingan Metode Gillies dengan Metode Workload Indicator Staff Need (WISN) dalam Menentukan Jumlah Tenaga Perawat di Instalasi Rawat Inap Rumah Sakit Haji Medan Tahun 2017. [Thesis]. Universitas Sumatera Utara, Medan. 2018.
Julia P, Rambe AJM, and Wahyuni D. Analisis Kebutuhan Tenaga Perawat Berdasarkan Beban Kerja dengan Menggunakan Metode Workload Indicator Staff Need (Wisn) dan Work Sampling. Jurnal Teknik Industri USU. 2014; 5(2): 22–25.
Ajitia MGN and Prasetya A. Efektivitas Manpower Planning dengan Menggunakan Metode Analisis Beban Kerja (Work Load Analysis) Berdasarkan Pendekatan Full Time Equivalent (Studi pada Divisi Pengembangan Karir, Organisasi, dan Kompetensi di PT. Pupuk Kalimantan Timur Tbk. Bontang, Ka. Jurnal Administrasi Bisnis. 2017; 42(1): 27–35.
Mulyaningsari R, Juhariah S, and Surjadi A. Penerapan Training Needs Analysis dalam Upaya Peningkatan Kompetensi Perawat di Rumah Sakit Wava Husada. Jurnal Kedokteran Brawijaya. 2016; 29(3): 291–299.
Retnaningsih D and Fatmawati D. Beban Kerja Perawat terhadap Implementasi Patient Safety. Jurnal Keperawatan Sudirman. 2016; 11(1): 44–52.
Vikasari C, Purwiyanto P, and Aji GM. Teknologi Aplikasi Nurse Call berbasis Client Server pada Rumah Sakit. Journal of Applied Informatics and Computing. 2018; 2(2): 1–8.
Septian PG, Arinie F, Darmono H, et al. Rancang Bangun Smart Nurse Call (Pemanggil Perawat) Berbasis Android. Jurnal JARTEL. 2019; 8(1): 128–134.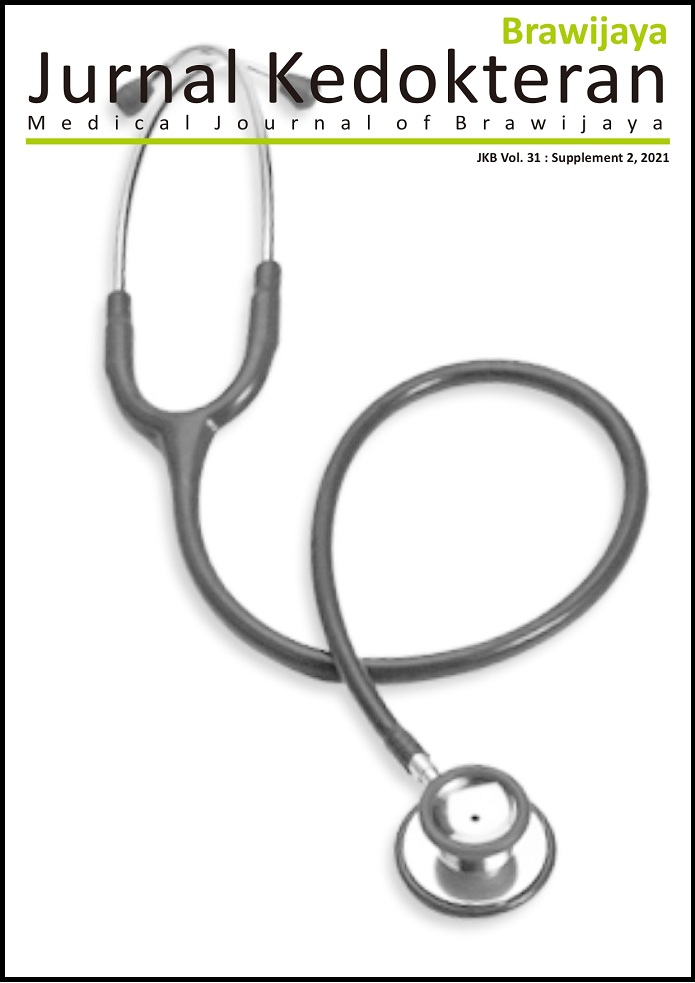 Downloads
Published
2021-09-23 — Updated on 2022-07-11
License
Authors who publish with this journal agree to the following terms:
Authors retain copyright and grant the journal right of first publication with the work simultaneously licensed under a Creative Commons Attribution License that allows others to share the work with an acknowledgement of the work's authorship and initial publication in this journal.
Authors are able to enter into separate, additional contractual arrangements for the non-exclusive distribution of the journal's published version of the work (e.g., post it to an institutional repository or publish it in a book), with an acknowledgement of its initial publication in this journal.
Authors are permitted and encouraged to post their work online (e.g., in institutional repositories or on their website) prior to and during the submission process, as it can lead to productive exchanges, as well as earlier and greater citation of published work (See The Effect of Open Access).