Unit Stroke di Rumah Sakit: Arti Penting dan Model Pelayanan
Abstract
Pentingnya pelayanan rehabilitasi medik dan tingginya kasus stroke mendorong kajian pengembangan unit stroke di rumah sakit. Tujuan studi ini adalah mengidentifikasi arti penting unit stroke dan model pelayanannya di rumah sakit. Studi ini menggunakan pendekatan deskriptif eksploratif untuk menggali pendapat stakeholder internal tentang arti penting dan alur model pelayanan unit stroke. Teknik pengumpulan data dengan wawancara tidak terstruktur pada semua komponen yang terlibat dalam pelaksanaan pelayanan di unit stroke meliputi wakil direktur pelayanan, dokter neurologi, kepala perawat intensive care unit (ICU), perawat mahir stroke, kepala perawat instalasi gawat darurat (IGD), dan dokter rehabilitasi medik RS Baptis Batu. Wawancara dilakukan selama satu minggu dari tanggal 21-25 September 2015 untuk menggali pendapat stakeholder internal mengenai rencana pengembangan unit stroke, alur pelayanannya, sumber daya yang diperlukan, dan hal lain yang terkait dengan pengembangan unit stroke di RS Baptis Batu. Berdasarkan hasil wawancara didapatkan bahwa semua staf yang terkait siap untuk mendukung rencana pengembangan unit stroke di RS Baptis Batu. Unit stroke merupakan unit pelayanan komprehensif pasien stroke yang dilakukan oleh tim multidisipliner serta kombinasi terapi untuk perawatan akut dan rehabilitasi dini. Unit stroke tersebut melayani pasien stroke fase akut. Setelah pasien melewati fase akut maka pasien stroke akan dipindahkan ke ruang perawatan biasa dan dipersiapkan juga perawatan khusus pasien stroke untuk perencanaan saat pasien pulang (discharge planning). Perlu dilakukan studi kelayakan terkait dengan manajemen, fasilitas, sumber daya manusia (perawat dan tim multidisipliner), serta pembiayaan unit stroke di RS Baptis Batu.
Kata Kunci: Alur pelayanan, tim multidisipliner, unit stroke
Downloads
Download data is not yet available.
References
Young J and Forster A. Rehabilitation after Stroke. British Medical Journal. 2007; 334(7584): 86-90.
Laksana E, Hariyanto T, dan Pusparahaju A. Positioning Unit Rehabilitasi Medik Sebagai Centre of Excellence di Rumah Sakit Baptis Batu. Jurnal Kedokteran Brawjaya. 2014; 28(1): 26-30.
Lloyd-Jones D, Adams RJ, Brown TM, et al. Heart Disease and Stroke Statistics-2010 Update: A Report from the American Heart Association. Circulation. 2010; 121(7): e46-e215.
Kementrian Kesehatan Republik Indonesia. Riset Kesehatan Dasar. Jakarta: Badan Penelitian dan Pengembangan Kesehatan Kementrian Kesehatan RI; 2013.
Sorganvi V, Kulkarni MS, Kadeli D, and Atharga S. Risk Factors for Stroke: A Case Control Study. International Journal of Current Research and Review. 2014; 6(3): 46-52.
Laloux P, Lemonnier F, and Jamart J. Risk Factors and Treatment of Stroke at the Time of Recurrence. Acta Neurologica Belgica. 2010; 110(4): 299-302.
Meschia JF, Bushnell C, Albala BB, et al. Guidelines for the Primary Prevention of Stroke. Stroke. 2011; 42: 517-584.
Arisetijono E. Peran Stroke Unit dalam Penanganan Komprehensif Penderita Stroke. (Online) 2004. http://www.scribd.com/doc/38698349/Peran- Stroke-Unit-Dalam-Penanganan-Komprehensif-PenderitaStroke# scribd.
Perdossi. Guideline Stroke Tahun 2011. Jakarta: Perdossi; 2011.
Clarke DJ. The Role of Multidisciplinary Team Care in Stroke Rehabilitation. Progress in Neurology and Psychiatry. 2013; 17(4): 5-8.
Langhorne P, Pollock A, and Stroke Unit Trialists' Collaboration. What are the the Components of Effective Stroke Unit Care? Age and Ageing. 2002; 1(5): 365-371.
Stroke Unit Trialists Collaboration. Organized Inpatient (Stroke Unit) Care for Stroke. The Cochrane Database of Systematic Reviews. 2007; (4): Cd000197.
Mulyani S dan Besral. Ketahanan Hidup Setahun Pasien Stroke di RS Cipto Mangunkusumo Jakarta. Jurnal Kesehatan Masyarakat Nasional. 2007; 2(3): 120-126.
Hanna H. Analisis Faktor-faktor Pelayanan yang Mempengaruhi Bed Occupancy Rate (BOR) Unit Stroke Center Rumah Sakit Islam Jakarta (Tahun 2000-2003). Universitas Indonesia, Jakarta. 2004.
Seenan P, Long M, and Langhorne P. Stroke Units in their Natural Habitat: Systematic Review of Observational Studies. Stroke. 2007; 38(6): 1886-1892.
Zhu H, Newcommon NN, Cooper ME, et al. Impact of a Stroke Unit on Length of Hospital Stay and In- Hospital Case Fatality. Stroke. 2009; 40(1): 18-23.
Rocha MSG, Almeida ACF, Neto OA, Porto MPR, and Brucki SMD. Impact of Stroke Unit in a Public Hospital on Length of Hospitalization and Rate of Early Mortality of Ischemic Stroke Patients. Arquivos De Neuro-Psiquiatria. 2013; 71(10): 774-779.
Schouten LMT, Hulscher MEJL, Akkermans R, Everdingen JJE, Grol RPTM, and Huijsman R. Factors that Influence the Stroke Care Team's Effectiveness in Reducing the Length of Hospital Stay. Stroke. 2008; 39: 2515-2521.
Rasyid A, Saleh M, dan Misbach J. Stroke Unit: Does It Make a Difference? Assesment of the Early Effectiveness of a Stroke Unit in Improving Functional State in Dr. Cipto Mangunkusumo Hospital. Medical Journal Indonesia. 2006; 15(1): 30-33.
Departemen Kesehatan Republik Indonesia. Keputusan Menteri Kesehatan No. 834/Menkes/SK/II/2010 tentang Pedoman Penyelenggaraan Pelayanan High Care Unit (HCU) di Rumah Sakit. Jakarta: Kementrian Kesehatan RI; 2010.
Purwanti OS dan Maliya A. Rehabilitasi Klien Pasca Stroke. Berita Ilmu Keperawatan. 2008; 1(1): 43-46.
Wirawan RP. Rehabilitasi Stroke pada Pelayanan Kesehatan Primer. Majalah Kedokteran Indonesia. 2009; 59(2): 61-71.
Hariyati TS, Afifah E, dan Handiyani H. Evaluasi Model Perencanaan Pulang yang Berbasis Teknologi Informasi. Makara Kesehatan. 2008; 12(2): 53-58.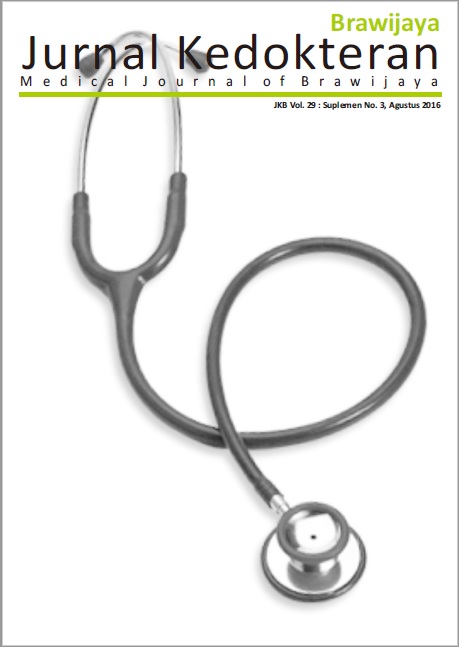 Downloads
License
Authors who publish with this journal agree to the following terms:
Authors retain copyright and grant the journal right of first publication with the work simultaneously licensed under a Creative Commons Attribution License that allows others to share the work with an acknowledgement of the work's authorship and initial publication in this journal.
Authors are able to enter into separate, additional contractual arrangements for the non-exclusive distribution of the journal's published version of the work (e.g., post it to an institutional repository or publish it in a book), with an acknowledgement of its initial publication in this journal.
Authors are permitted and encouraged to post their work online (e.g., in institutional repositories or on their website) prior to and during the submission process, as it can lead to productive exchanges, as well as earlier and greater citation of published work (See The Effect of Open Access).