Risiko Herbisida Paraquat Diklorida terhadap Ginjal Tikus Putih Spraque Dawley
Keywords:
ginjal, herbisida paraquat diklorida, tikus
Abstract
Herbisida merupakan salah satu bahan kimia yang sering digunakan oleh para petani untuk mematikan tanaman pengganggu. Disisi lain penggunaan herbisida sering tidak sesuai prosedur sehingga dapat menimbulkan efek samping terhadap manusia. Paparan herbisida paraquat diklorida berpengaruh ke organ-organ tubuh manusia. Pada organ ginjal dapat merusak glomerulus dan tubulus ginjal. Tujuan penelitian ini adalah untuk mengetahui pengaruh pemberian herbisida golongan paraquat diklorida per-oral terhadap gambaran histopatologi ginjal tikus putih (Rattus norvegicus) jantan galur Sprague Dawley. Penelitian ini merupakan penelitian eksperimental yang dilakukan di Laboratorium Patologi Anatomi FK Unila pada bulan Oktober sampai November 2014 dengan menggunakan 25 ekor tikus putih (Rattus norvegicus) jantan galur Sprague Dawley berumur 8−10 minggu. Tikus dibagi dalam 5 kelompok secara acak dan diberi perlakuan selama 2 hari. K1 diberi aquadest, K2, K3, K4, K5 diberi herbisida paraquat diklorida 25mg/kgBB/hari, 50mg/kgBB/hari, 100mg/kgBB/hari dan 200mg/kgBB/hari. Hasil penelitian menunjukan bahwa rerata skor kerusakan ginjal pada K1: 0, K2: 1,8, K3: 2,0, K4:3,6, K5; 4,4. Data yang diperoleh diuji dengan Uji Kruskal Wallis didapatkan perbedaan bermakna (p=0,001). Simpulan, pemberian herbisida golongan paraquat diklorida per−oral dapat merusak ginjal tikus putih (Rattus norvegicus) jantan galur Sprague Dawley.
Downloads
Download data is not yet available.
References
Riadi M. Bahan Ajar Kuliah: Herbisida dan Aplikasinya. Makassar: Universitas Hasanuddin; 2011.
Gawarammana IB and Buckley NA. Medical Management of Paraquat Ingestion. British Journal of Clinical Pharmacology. 2011; 72(5): 745-757.
World Health Organization. Children's Health and Environment. WHO Training Package for He Health Sector. (Online) 2008. http://www.who.int/ ceh/capacity/Lead.pdf [diakses tanggal 10 September 2014].
Ginting AW, Endang S, Marpaung S, et al. Intoksikasi herbisida (paraquat). IKAAPDA (Ikatan Keluarga Asisten Ahli Penyakit Dalam). (Online) 2012. http://www.ikaapda.com/resources/ [diakses tanggal 11 September 2014].
Halliwell B and Whiteman M. Measuring Reaction Species Andoxidative Damage in Vivo and in Cell culture: How Should You do it and What do the Result Mean. British Journal of Pharmacology. 2004; 142(2): 231-255.
Wu D and Cederbaum WI. Alcohol, Oxidative Stres, and Free Radical Damage. Alcohol Research and Health. 2003; 27(4): 277-284.
Kumar V, Cotran RS, Robbins SL. Buku Ajar Patologi. Edisi ke-7. Jakarta: EGC; 2011.
Widianto P. Pengaruh Pemberian Propoxur Dosis Bertingkat Per-oral terhadap Gambaran Histopatologi Ginjal Mencit Balb/c. [Skripsi]. Universitas Diponegoro, Semarang. 2006.
Kim SJ, Gil HW, Yang JO, Lee EY, and Hong SY. The Clinical Features of Acute Kidney Injury in Patients with Acute Paraquat Intoxication. Nephrology Dialysis Transplantation. 2009; 24(4): 1226–1232.
Juhryyah S. Gambaran Histopatologi Organ Hati dan Ginjal Tikus pada Intoksikasi Akut Insektisida (Metofluthrin, D-Phenothrin, D-Allethrin) dengan Dosis Bertingkat. [Skripsi]. Institut Pertanian Bogor, Bogor. 2008.
Wijaya I dan Miranti IP. Patologi Ginjal dan Saluran Kemih. Edisi ke-3. Semarang: Badan Penerbit Fakultas Kedokteran Universitas Diponegoro; 2005.
Assiam N, Setyawati I, dan Sudirga SK. Pengaruh Dosis dan Lama Perlakuan Ekstrak Daun Kaliandra Merah (Calliandra Calothyrsus Meissn.) terhadap Struktur Histologi Ginjal Mencit (Mus Musculus L.). Jurnal Simbiosis. 2014;2(2):236-246
Manurung RD. Manfaat Pemberian Madu terhadap Perubahan Kadar Ureum dan Kreatinin serta Makroskopik Ginjal dan Histopatologi Tubulus Proksimal Ginjal Mencit (Mus Musculus L.) Jantan yang Diberi RhodaminB. [Tesis]. Universitas Sumatera Utara, Medan. 2011.
Malekinejad H, Rezabakhsh A, Rahmani F, and Razi M. Paraquat Exposure Up-regulates Cyclooxygenase-2 in the Lungs, Liver, and Kidneys in Rats. Iranian Journal of Pharmaceutical Research. 2013; 12(4): 887-896.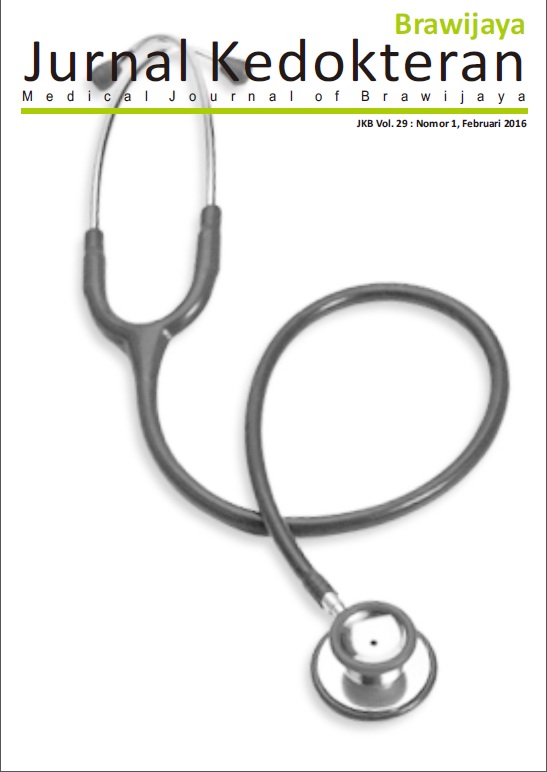 Downloads
License
Authors who publish with this journal agree to the following terms:
Authors retain copyright and grant the journal right of first publication with the work simultaneously licensed under a Creative Commons Attribution License that allows others to share the work with an acknowledgement of the work's authorship and initial publication in this journal.
Authors are able to enter into separate, additional contractual arrangements for the non-exclusive distribution of the journal's published version of the work (e.g., post it to an institutional repository or publish it in a book), with an acknowledgement of its initial publication in this journal.
Authors are permitted and encouraged to post their work online (e.g., in institutional repositories or on their website) prior to and during the submission process, as it can lead to productive exchanges, as well as earlier and greater citation of published work (See The Effect of Open Access).