Efek Ekstrak Kulit Manggis terhadap Ekspresi Protein Bcl-2 dan Jumlah Sel Mati Tubulus Ginjal Tikus yang Diinduksi Formalin
Abstract
Kulit manggis mengandung antioksidan yang melindungi terhadap kerusakan sel. Formalin masih disalahgunakan sebagai pengawet makanan yang merupakan sumber oksidan. Penelitian ini dilakukan untuk membuktikan pengaruh ekstrak kulit manggis (EKM) terhadap ekspresi protein Bcl-2 dan jumlah kematian sel tubulus ginjal tikus akibat formalin. Sebanyak 18 tikus Wistar jantan diberi formalin 200mg/kgBB/hari melalui sonde 2 minggu; dibagi 3 kelompok; K tanpa EKM; P1 dan P2 diberi EKM 200 dan 400mg/kgBB/hari seminggu. Dilakukan penilaian ekspresi protein Bcl-2 dan jumlah kematian sel tubulus ginjal tikus. Data dianalisis dengan One Way ANOVA. Analisis ANOVA menunjukkan perbedaan signifikan ekspresi protein Bcl-2 (p=0,006) dan kematian sel tubulus ginjal (p=0,005) antara ketiga kelompok. Ekspresi protein Bcl-2 dan kematian sel tubulus ginjal P2 secara signifikan lebih rendah dibanding K. Berdasarkan penelitian ini dapat disimpulkan EKM 400mg/kgBB/hari selama 1 minggu menurunkan ekspresi protein Bcl-2 dan memperbaiki kerusakan sel tubulus ginjal yang diinduksi formalin.
Kata Kunci: Bcl-2, formalin, manggis, kematian sel tubulus ginjal
 
Downloads
Download data is not yet available.
References
Sugiyanto. Peran Aktivasi Metabolik Toksikologi Biokimiawi Xenobiotik. Yogyakarta; Universitas Gadjah Mada Yogyakarta; 2006.
Telaumbanua HPS. Studi Identifikasi Kandungan Formalin pada Ikan Pindang di Pasar Tradisional dan Modern Kota Semarang. Jurnal Kesehatan Masyarakat. 2012; 1(2): 983-994.
Mahdi C, Aulaniam, Sumarno, dan Widodo MA. Suplementasi Yoghurt pada Tikus (Rattus norvegicus) yang Terpapar Formaldehid dalam Makanan terhadap Aktivitas Antioksidan Kerusakan Oksidatif Jaringan Hepar. Natural B. 2011; 1(2).
Saito Y, Nishio K, Yoshida Y, and Niki E. Cytotoxic Effect of Formaldehyde with Free Radicals via Increment of Cellular Reactive Oxygen Species. Toxicology. 2005; 210(2-3): 235-245.
Zararsiz I, Sarsilmaz M, Tas U, Kus I, Meydan S, and Ozan E. Protective Effect of Melatonin Against Formaldehyde-Induced Kidney Damage in Rats. Toxicology and Industrial Health. 2007; 23(10): 573-579.
Hildeman DA, Mitchell T, Aronow B, Wojciechowski S, Kappler J, and Marrack P. Control of Bcl-2 Expression by Reactive Oxygen Species. Proceedings of the National Academy of Sciences of the United States of America. 2003; 100(25): 15035–15040.
Sasi N, Hwang M, Jaboin J, Csiki I, and Lu B. Regulated Cell Death Pathways: New Twists in Modulation of BCL2 Family Function. Molecular Cancer Therapeutics. 2009; 8(6): 1421-1429.
Widyastuti P. Bahaya Bahan Kimia pada Kesehatan Manusia dan Lingkungan. Jakarta: EGC; 2006; hal. 67-70.
Inci M, Zararsiz I, Davarci M, and Gorur S. Toxic Effects of Formaldehyde on the Urinary System. Turkish Journal of Urology. 2013; 39(1): 48-52.
Mardiana L dan Tim Penulis PS. Ramuan dan Khasiat Kulit Manggis. Depok: Penebar Swadaya; 2011; hal. 22-28.
Nugroho AE. Manggis (Garcinia mangostana L.) dari Kulit Buah Terbuang Hingga Menjadi Kandidat Suatu Obat. Yogyakarta: Fakultas Farmasi UGM; 2012.
Pasaribu F, Sitorus P, dan Bahri S. Uji Ekstrak Etanol Kulit Buah Manggis (Garcinia mangostana L.) terhadap Penurunan Kadar Glukosa Darah. Journal of Pharmaceutics and Pharmacology. 2012; 1(1): 1-8.
Oktaviyanti IK. Efek Ekstrak Etanolik Kulit Buah Manggis (Garcinia Mangostana L.) Pada Healing Model Ulkus Lambung Tikus Wistar yang Dipapar Indometasin, Melalui Efek Anti Inflamasi dan Angiogenesis. [Disertasi]. Universitas Brawijaya, Malang. 2012.
Allred DC, Harvey JM, Berardo M, and Clark GM. Prognostic and Predictive Factors in Breast Cancer by Immunohistochemical Analysis. Modern Pathology. 1998; 11(2): 155-168.
Mitchell RN and Cotran R. Jejas, Adaptasi dan Kematian Sel. Di dalam: Kumar, Cotran, and Robbin (ed). Buku Ajar Patologi volume 1 edisi VII. Jakarta: EGC; 2007; hal. 4-31.
Sukandar EY, Suwendar, dan Ekawati E. Aktivitas Ekstrak Etanol Herba Seledri (Apium Graveolens) dan Daun Urang-Aring (Eclipta Prostate L) terhadap Pityosporum Ovale. Majalah Farmasi Indonesia. 2006; 17(1): 7-12.
Gobe G, Zhang XJ, Willgoss DA, Schoch E, Hogg NA, and Endre ZH. Relationship between Expression of Bcl-2 Genes and Growth Factors in Ischemic Acute Renal Failure in the Rat. Journal of the American Society of Nephrology. 2000; 11(3): 454–467.
Flaquer M, Romagnani P, and Cruzado JM. Growth Factors and Renal Regeneration. Nefrologia. 2010; 30(4): 385-393.
Pedraza-Chaverri J, Cárdenas-Rodríguez N, Orozco-Ibarra M, and Pérez-Rojas JM. Medicinal Properties of Mangosteen (Garcinia mangostana). Food and Chemical Toxicology. 2008; 46(10): 3227-3239.
Moongkarndi P, Kosem N, Kaslungka S, Luanratana O, Pongpan N, and Neungton N. Antiproliferation, Antioxidation and Induction of Apoptosis by Garcinia mangostana (mangosteen) on SKBR3 Human Breast Cancer Cell Line. Journal of Ethnopharmacology. 2004; 90(1): 161-166.
Devi Sampath P and Vijayaraghavan K. Cardioprotective Effect of Alphamangostin, a Xanthone Derivative from Mangosteen on Tissue Defense System against Isoproterenol-Induced Myocardial Infarction in Rats. Journal of Biochemical and Molecular Toxicology. 2007; 21(6): 336–339.
Chin YW, Jung HA, Chai H, Keller WJ, and Kinghorn AD. Xanthones with Quinone Reductase-Inducing Activity from the Fruits of Garcinia mangostana (Mangosteen). Phytochemistry. 2008; 69(3): 754–758.
IARC Working Group on the Evaluation of Carcinogenic Risks to Humans. Formaldehyde, 2-butoxyethanol and 1-tertbutoxypropan-2-ol. IARC Monographs on the Evaluation of Carcinogenic Risks to Humans. 2006; 88: 1-418.
Judarwanto W. Pengaruh Formalin Bagi Sistem Tubuh RS. Bunda Jakarta. (Online) 2006. http://puterakembara.org/arvhives8/00000066.shtl. [diakses 6 Oktober 2012].
Wibowo M, Suharto G, dan Margawati A. Pengaruh Formalin Peroral Dosis Bertingkat Selama 12 Minggu terhadap Gambaran Histopatologis Ginjal Tikus Wistar. [Skripsi]. Universitas Diponegoro, Semarang. 2012.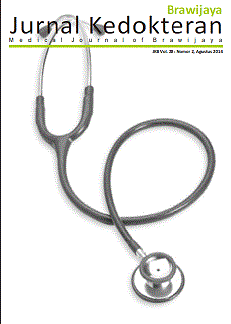 Downloads
License
Authors who publish with this journal agree to the following terms:
Authors retain copyright and grant the journal right of first publication with the work simultaneously licensed under a Creative Commons Attribution License that allows others to share the work with an acknowledgement of the work's authorship and initial publication in this journal.
Authors are able to enter into separate, additional contractual arrangements for the non-exclusive distribution of the journal's published version of the work (e.g., post it to an institutional repository or publish it in a book), with an acknowledgement of its initial publication in this journal.
Authors are permitted and encouraged to post their work online (e.g., in institutional repositories or on their website) prior to and during the submission process, as it can lead to productive exchanges, as well as earlier and greater citation of published work (See The Effect of Open Access).