Polimorfisme Gen Penyandi Reseptor Adrenergik β3 pada Remaja dengan Sindroma Metabolik
Abstract
Sindroma metabolik telah menjadi permasalahan dunia termasuk di Indonesia dengan obesitas sebagai salah satu komponennya. Obesitas pada remaja dapat mengarah pada obesitas saat dewasa, yang dapat disebabkan faktor genetik dan lingkungan. Faktor genetic yang mempengaruhi obesitas adalah gen penyandi reseptor adrenergic yang berperan dalam thermogenesis. Penelitian ini dilakukan untuk menjelaskan peran gen penyandi reseptor adrenergik β3  pada remaja dengan sindroma metabolik. Penelitian dilakukan dengan menggunakan desain case control. Kriteria sindroma metabolik menggunakan batasan dari IDF (International Diabetes Federation). Hasil penelitian mengidentifikasi adanya polimorfisme pada gen penyandi reseptor adrenergik β3 pada 13,3% remaja dengan sindroma metabolik. Polimorfisme yang terjadi adalah pada rantai basa 212 missense timin menjadi adenin, guanin dan adenin pada rantai basa 213 serta delesi rantai basa 244 pada 2 remaja dengan SM dan rantai basa 354 pada satu remaja dengan SM. Didapatkan hubungan antara adanya polimorfisme dan terjadinya sindroma metabolik. Dapat disimpulkan bahwa terjadinya polimorfisme pada gen penyandi reseptor adrenergik β3 berhubungan dengan terjadinya sindroma metabolik pada remaja.
Kata Kunci: Gen penyandi reseptor adrenergic β 3, polimorfisme, remaja, sindroma metabolik
Downloads
Download data is not yet available.
References
Umekawa T, Toshihide Y, Naoki S, Akinori K, Motoharu K, and Hideo H. Trp64Arg Mutation of β3-Adrenoceptor Gene Deteriorates Lipolysis Induced by β3-Adrenoceptor Agonist in Human Omental Adipocytes. Diabetes. 1999; 48(1): 117–120.
Duncan GE, Li SM, and Zhou XH. Prevalence and Trends of a Metabolic Syndrome Phenotype Among U.S. Adolescents 1999-2000. Diabetes Care. 2004; 27(10): 2438-2443.
Tjokroprawiro A. The Trend in Emerging Lifestyle-related Diseases in Indonesia (From Obesity-MetS and CMR- to the CMDs). Kobe Association for the Study of Food and Health. Kasfah Memorial Meeting. Kobe, 5 July 2008
Ryan D. Risk and Benefits of Weight Loss: Challenges to Obesity Research. European Heart Journal. 7(Suppl): L27-L31.
Larsen PG, Adair LS, Nelson MC, and Popkin BM. Five-Year Obesity Incidence in the Transition Period Between Adolescence and Adulthood: The National Longitudinal Study of Adolescent Health. American Journal of Clinical Nutrition. 2004; 80(3): 569-575.
Field AE, Cook NR, and Gillman MW. Weight Status in Childhood as a Predictor of becoming Over Weight or Hypertensive in Early Adulthood. Obesity Research. 2005; 13(1): 163-169.
Ogden CI, Flegal KM, Caroll MD, and Johnson CI. Prevalence and Trends in Overweight among US Children and Adolescents, 1999-2000. The Journal of the American Medical Association. 2002; 288(14): 1728-1732
Lee ZSK, Critchley JAJH, Ko GT, et al. Obesity and Cardiovascular Risk Factors in Hong Kong Chinese. Obesity Reviews. 2002; (3)3: 173-182
Tershakovec AM and Daniel JR. Disorders of Lipoprotein Metabolism and Transport. In: Behrman RE, Kliegman RM, and Jenson HB (Eds). Textbook of Pediatrics 17th edition. Tokyo: WB Saunders; 2003; p. 448.
Rankinen T, Zuberi A, Chagnon YC, et al. The Human Obesity Gene Map: The 2005 Update. Obesity (Silver Spring). 2006; 14(4): 529-644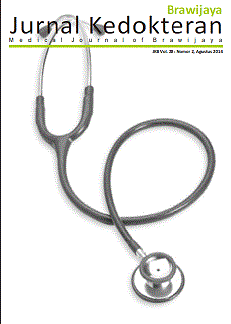 Downloads
License
Authors who publish with this journal agree to the following terms:
Authors retain copyright and grant the journal right of first publication with the work simultaneously licensed under a Creative Commons Attribution License that allows others to share the work with an acknowledgement of the work's authorship and initial publication in this journal.
Authors are able to enter into separate, additional contractual arrangements for the non-exclusive distribution of the journal's published version of the work (e.g., post it to an institutional repository or publish it in a book), with an acknowledgement of its initial publication in this journal.
Authors are permitted and encouraged to post their work online (e.g., in institutional repositories or on their website) prior to and during the submission process, as it can lead to productive exchanges, as well as earlier and greater citation of published work (See The Effect of Open Access).