Terapi Murotal Al-Qur'an Surat Arrahman Meningkatkan Kadar β-Endorphin dan Menurunkan Intensitas Nyeri pada Ibu Bersalin Kala I Fase Aktif
Abstract
Persalinan adalah proses alami dan menimbulkan nyeri, namun banyak ibu yang tidak bisa menahan rasa nyeri tersebut karena dipengaruhi oleh stres. Terapi non farmakologi yang dapat digunakan untuk mengurangi rasa nyeri adalah Murotal Al-Qur'an. Terapi ini dapat menstimulasi gelombang delta yang menyebabkan pendengar dalam keadaan tenang, tentram dan nyaman sehingga hypopfise dan hypothalamus mengeluarkan β-Endorphin sebagai analgesik alamiah. Tujuan penelitian ini membuktikan bahwa terapi murotal Al-Qur'an Surat Ar-rahman dapat meningkatkan kadar β-Endorphin dan menurunkan intensitas nyeri persalinan pada kala I fase aktif. Penelitian ini dilakukan di rumah sakit Abunawas Kendari dan Laboratorium Fakultas Kedokteran UNHAS. Desain penelitian Quasi-Experimental dengan pendekatan Pre-Experimental design One-Group Pre-test-Post-test. Pengambilan sampeldengan tehnik purposive sampling sebanyak 30 orang. Pengukuran kadar β- Endorphin dilakukan dengan  ELISA kit dan intensitas nyeri persalinan diukur dengan menggunakan Bourbannis pain scale. Analisis data  dengan Kolmogorov-Smirnov dan uji t berpasangan. Hasil penelitian menunjukkan ada penurunan signifikan intensitas nyeri sebelum (6,80±1,52) dibandingkan sesudah (3,37±1,79) pemberian terapi murotal Al-Qur,an surat Ar-rahman selama 25 menit (p=0,000). Terapi murotal Al-Qur'an juga menunjukkan peningkatan signifikan (p=0,000) kadar β-Endorphin sebelum perlakuan (1053,6±606,32ng/L) dan setelah perlakuan (1813,6±546,78ng/L). Dapat disimpulkan bahwa pemberian terapi murotal Al-Qur'an dapat menurunkan intensitas nyeri dan meningkatkan kadar β- Endorphin.Kata Kunci: β-Endorphin, intensitas nyeri, kala I fase aktif, murotal surat Arrahman 
Downloads
Download data is not yet available.
References
Larasaty IP and Wibowo A. Pengaruh Keikutsertaan Senam Hamil terhadap Kecemasan Primigravida Trimester Ketiga dalam Menghadapi Persalinan. Jurnal Biometrika dan Kependudukan. 2012; 1(1): 26-32.
Hutahuju P. Pemberian Valetamat Bromida Dibandingkan Hioscine Butil Bromida untuk Mengurangi Nyeri Persalinan. [Tesis]. Universitas Sumatra Utara, Medan. 2003.
Aprilia Y. Hipnostetri: Rileks Nyaman dan Aman Saat Hamil dan Melahirkan. Jakarta: Gagas Media; Jakarta; 2010.
Ratnaningsih MD. Perbedaan Tingkat Nyeri pada Ibu Bersalin Primipara Kala I Fase Aktif sebelum dan Setelah Diberikan Kompres Panas Kering di Rumah Bersalin Siti Khodijah. [Skripsi]. Universitas Muhammadiyah Semarang, Semarang. 2010.
Kovalitskaya YA and Navolostkaya EV. Nonopioid Effect of Î'-Endorphin. Biochemistry (Moscow). 2011; 76(4): 379-393.
Sherwood L. Human physiology: From Cells to System. 8th Edition. Canadia: International Thomson; 2011.
Nandhra TS and Carson RJ. β-Endorphin Inhibits the Production of Inter 8 by Human Chorio Decidual Cells in Culture. Molecular Human Reproduction. 2000; 6(6): 555-560.
Ghofar A and Ningsih L. The Influence of Therapy and Music Therapy: Listening Al-Qur'an Juz Amma to Anxiety Responden at Todler. Prosiding Seminar Competitive Advantage Unipdu. Jombang.
Ratnawati S, Sunarsih, dan Dharmaningrum WK. Hubungan antara Paritas dan Nyeri Persalinan pada Kala I Fase Aktif di Bidan Praktek Swasta Eny Juaniarty. Jurnal Penelitian Kesehatan Suara Forikes. 2011; 2(3): 152-160.
Permanasari I. Pengaruh Mendengarkan Ayat Suci Al- Qur'an terhadap Tingkat Nyeri Persalinan Kala I Fase Aktif pada Primipara di Puskesmas Mergangsang Yogyakarta. [Skripsi]. Universitas Muhammadiyah Yogyakarta, Yogyakarta. 2010.
Tamaroh E dan Puspitosari WA. Pengaruh Mendengarkan Bacaan Al-Qur'an terhadap Skor Depresi Lansia di Panti Sosial Trisna Werdha Budi Luhur Kasongan Bantul Yogyakarta. [Skripsi]. Universitas Muhammadiyah Yogyakarta, Yogyakarta. 2008.
Faradisi F. Efektivitas Terapi Murotal Al-Qur'an dan Terapi Musik Klasik terhadap Penurunan Tingkat Kecemasan Pasien Pra Operasi Di Pekalongan. Jurnal Ilmiah Kesehatan. 2012; 5(2): 1-11.
Dunn K. Music and the Reduction of Post Operative Pain. Nursing Standard. 2004; 18(36): 33-39.
Prasetyo EP. Peran Musik Sebagai Fasilitas dalam Praktek Dokter Gigi untuk Mengurangi Kecemasan Pasien. Dental Journal (Majalah Kedokteran Gigi). 2005; 38(1): 41-44.
Widhowati SS. Efektifitas Terapi Audio dengan Murotal Surah Arrahman untuk Menurunkan Prilaku Kekerasan di RSJD Amino Gondo Hutomo. [Tesis]. Universitas Diponegoro, Semarang. 2010.
Siswantinah. Pengaruh Terapi Murotal terhadap Kecemasan Pasien Gagal Ginjal Kronik yang Dilakukan Tindakan Hemodialisa di RSUD Kraton Kabupaten Pekalongan. [Tesis]. Universitas Muhammadiyah Semarang, Semarang. 2011.
Nastiti RKR, Rejeki S, dan Nurullita U. Pengaruh Efektivitas Teknik Back Edan Teknik Counter Presure terhadap Tingkat Nyeri Pinggang Kala I Fase Aktif Persalinan Di RSUD Ambarawa. [Skripsi]. Universitas Muhammadiyah Semarang, Semarang. 2012.
Sprouseblum-Blum AS, Smith G, Sugai D, and Parsa FD. Understanding Endorphins and their Importance in Pain Management. Hawai'i Medical Journal. 2010; 69(3): 70-71.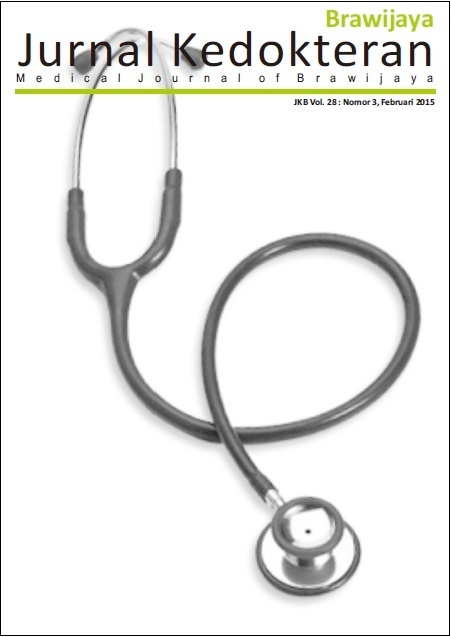 Downloads
License
Authors who publish with this journal agree to the following terms:
Authors retain copyright and grant the journal right of first publication with the work simultaneously licensed under a Creative Commons Attribution License that allows others to share the work with an acknowledgement of the work's authorship and initial publication in this journal.
Authors are able to enter into separate, additional contractual arrangements for the non-exclusive distribution of the journal's published version of the work (e.g., post it to an institutional repository or publish it in a book), with an acknowledgement of its initial publication in this journal.
Authors are permitted and encouraged to post their work online (e.g., in institutional repositories or on their website) prior to and during the submission process, as it can lead to productive exchanges, as well as earlier and greater citation of published work (See The Effect of Open Access).