Perceived Family Functionality among Elderly Patient with Covid-19 Infection: A Perspective from Developing Country
Keywords:
APGAR, Covid-19, elderly, family functionality
Abstract
Family is a basic social unit of senior citizen. Relationship among family members considered as source of emotional comfort. Meanwhile, economic, political, and social changes during pandemic has an impact on the family, the support provided can be manifested among vulnerable groups such as the elderly. Prolonged stress due to isolation care of Covid-19 infection increase psychological distress by reducing family support. This study aimed to explore perceived family function among elderly patients after Covid-19 infection. A cross sectional study was conducted among 33 elder patients with history of Covid-19 infection in Saiful Anwar General Hospital, Indonesia. Perceived family functionality was evaluated using APGAR family score. Data was analyzed using descriptive analyses, independent T test, correlation and regression. Mean total APGAR score was 9.610.70 with joint pain had significant association with APGAR score (p 0.021) indicating full family support in elder person with symptoms. Gender female was associated with 'Resolve' (p 0.038) which might correlate with bigger role of elder female in Indonesian family. Length of stay was significantly associated with 'Partnership' (p 0.012) and 'Growth' (0.043) with inverse correlation. It showed how prolonged hospital stay affected family relationship especially in terms of communication. Perceived family supports remained high in elderly during Covid-19 isolation in Indonesia. Specific symptoms such as joint pain, even strengthen the family support for elder member of family. Prolonged stay in the hospital during Covid-19 infection, might become a communication barrier between elder person and the family which affect decision sharing and emotional expression.
Downloads
Download data is not yet available.
References
Salameh P, Hajj A, Badro DA, Selwan CA, Aoun R, and Sacre H. Mental Health Outcomes of the COVID-19 Pandemic and a Collapsing Economy: Perspective from a Developing Country. Psychiatry Research. 2020; 294: 1-12.
Remuzzi A and Remuzzi G. Health Policy COVID-19 and Italy: What Next? The Lancet. 2020; 395(10231): 1225–1228.
Losada-Baltar A, Jiménez-Gonzalo L, Gallego-Alberto L, Pedroso-Chaparro MS, Fernandes-Pires J, and Márquez-González M. "We Are Staying at Home." Association of Self-perceptions of Aging, Personal and Family Resources, and Loneliness with Psychological Distress during the Lock-Down Period of COVID-19. The Journals of Gerontology. Series B, Psychological Sciences and Social Sciences. 2021; 76(2): 10–16.
Czeisler MÉ, Lane RI, Petrosky E, et al. Mental Health, Substance Use, and Suicidal Ideation during the COVID-19 Pandemic - United States, June 24-30, 2020. Morbidity and Mortality Weekly Report. 2020; 69(32): 2018–2019.
Vahia IV, Jeste DV, and Charles FR. Older Adults and the Mental Health Effects of COVID-19. Journal of the American Medical Association. 2020; 324(22): 2253–2254.
Kementerian Kesehatan Republik Indonesia. Situasi Terkini Perkembangan Coronavirus Disease (COVID-19) 25 November 2021. (Online) 2021. https://infeksiemerging.kemkes.go.id/document/situasi-terkini-perkembangan-coronavirus-disease-covid-19-25-november-2021/view [accessed 2022 July 28]
Komazawa O, Suriastini NY, Wijayanti IY, and Kharisma DD. Older People and COVID-19 in Indonesia. Jakarta: Economic Research Institute for ASEAN and East Asia (ERIA); 2021.
Lu C, Yuan L, Lin W, Zhou Y, and Pan S. Depression and Resilience Mediates the Effect of Family Function on Quality of Life of the Elderly. Archives of Gerontology and Geriatrics. 2017; 71: 34–42.
Ali S and Malik JA. Consistency of Prediction Across Generation: Explaining Quality of Life by Family Functioning and Health-Promoting Behaviors. Quality of Life Research. 2015; 24(9): 2105–2112.
Wiraini TP, Zukhra RM, and Hasneli Y. Hubungan Dukungan Keluarga dengan Kualitas Hidup Lansia pada Masa Covid-19. Jurnal Kesehatan. 2021; 10(1): 44-53.
Nurhayati S, Safitri HH, and Apriliyanti R. Dukungan Keluarga terhadap Lansia pada Era Pandemi Covid 19. Prosiding Seminar Nasional UNIMUS. 2021; 4: 1125–1136.
Ilmi N, Sutria E, and Patima P. Problem Depresi Lansia dan Solusi dengan Terapi Spritual (Literature Review: Problem Depression of Erderly and the Solution with Spiritual Therapy). Journal of Islamic Nursing. 2018; 3(1): 32–39.
Wu CST, Wong HT, Yu KF, et al. Parenting Approaches, Family Functionality, and Internet Addiction among Hong Kong Adolescents. BMC Pediatrics. 2016; 16: 1–10.
Elias HC and Marzola TS. Relation between Family Functionality and the Household Arrangements of the Elderly. BMC Pediatrics. 2018; 21(5): 562–569.
Fernandes CS, Magalhães B, Silva S, and Edra B. Perception of Family Functionality during Social Confinement by Coronavirus Disease 2019. Journal of Nursing Health. 2020; 10: 1–14.
Rahmadhani W, Herniyatun, and Chamroen P. Family Functions, Social Support and Quality of Life among Elderly during Pandemic COVID-19: A Cross-Sectional Study. International Journal of Health Sciences. 2022; 6(4): 1540–1550.
Smilkstein G, Ashworth C, and Montano D. Validity and Reliability of the Family APGAR as a Test of Family Function. The Journal of Family Practice. 1982; 15(2): 303–311.
Kurniawidjaja M, Susilowati IH, Erwandi D, Kadir A, Hasiholan BP, and Ghiffari RA. Identification of Depression among Elderly During COVID-19. Journal of Primary Care & Community Health. 2022; 13: 1–12.
Sari IWW, Warsini S, and Effendy C. Burden among Family Caregivers of Advanced-Cancer Patients in Indonesia. Belitung Nursing Journal. 2018; 4(3): 295–303.
López J, Perez-Rojo G, Noriega C, et al. Psychological Well-Being among Older Adults during the COVID-19 Outbreak: A Comparative Study of the Young – Old and the Old – Old Adults. International Psychogeriatrics. 2020; 3(11): 1365-1370.
Sumngern C, Azeredo Z, Subgranon R, Sungvorawongphana N, and Matos E. Happiness among the Elderly in Communities: A Study in Senior Clubs of Chonburi Province, Thailand. Japan Journal of Nursing Science. 2010; 7(1): 47–54.
Sacre H, Hajj A, Badro DA, et al. The Combined Outcomes of the COVID-19 Pandemic and a Collapsing Economy on Mental Well-Being: A Cross-Sectional Study. Psychological Reports. 2022; 0: 1-28.
Chaves C, Amaral O, Nelas P, Coutinho E, and Dionisio R. Assessment of Family Functionality among the Elderly with Chronic Illness. The European Journal of Counselling Psychology. 2013; 2(2): 139-144.
Prazeres F and Santiago L. Relationship between Health-Related Quality of Life, Perceived Family Support and Unmet Health Needs in Adult Patients with Multimorbidity Attending Primary Care in Portugal: A Multicentre Cross-Sectional Study. Health and Quality of Life Outcomes. 2016; 14(1): 1–12.
Takenaka H and Ban N. The Most Important Question in Family Approach: The Potential of the Resolve Item of the Family APGAR in Family Medicine. Asia Pacific Family Medicine. 2016; 15: 1–7.
Sarumi R, Alwy MK, and Arman. Hubungan antara Fungsi Keluarga dengan Metode APGAR terhadap Kualitas Hidup Lansia. Miracle Journal of Public Health. 2021; 4(1): 62–71.
Wang MW and Huang YY. Evaluating Family Function in Caring for a Geriatric Group: Family APGAR Applied for Older Adults by Home Care Nurses. Geriatrics & Gerontology International. 2016; 16(6): 716–721.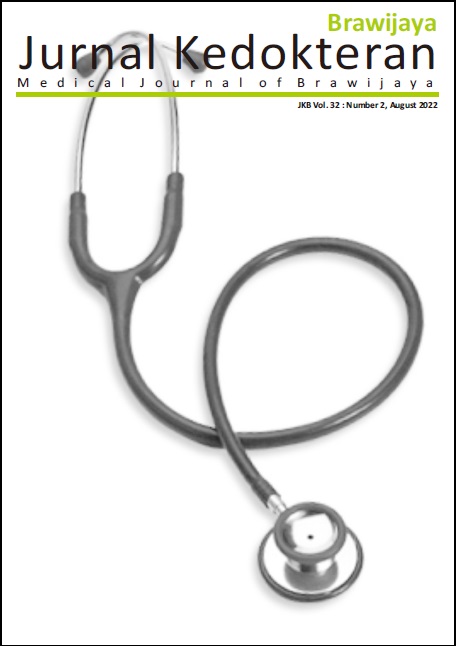 Downloads
Published
2022-08-31 — Updated on 2022-11-21
License
Authors who publish with this journal agree to the following terms:
Authors retain copyright and grant the journal right of first publication with the work simultaneously licensed under a Creative Commons Attribution License that allows others to share the work with an acknowledgement of the work's authorship and initial publication in this journal.
Authors are able to enter into separate, additional contractual arrangements for the non-exclusive distribution of the journal's published version of the work (e.g., post it to an institutional repository or publish it in a book), with an acknowledgement of its initial publication in this journal.
Authors are permitted and encouraged to post their work online (e.g., in institutional repositories or on their website) prior to and during the submission process, as it can lead to productive exchanges, as well as earlier and greater citation of published work (See The Effect of Open Access).