Nasopharyngeal Non Hodgkin Lymphoma
Keywords:
Mass, Non Hodgkin Lymphoma, nasopharyngeal carcinoma, prognostic
Abstract
Non Hodgkin lymphomas (NHL) are tumors originating from lymphoid tissue, mainly from lymph nodes. These tumors may result from chromosomal translocation, infections, environmental factors, immunodeficiency states, and chronic inflammation. In general, the incidence of NHL is slightly higher in men than in women. The incidence of NHL nasopharynx is rare. A high degree of suspicion is required to avoid unnecessary radiologic and surgical procedures since NHL can be mistakenly diagnosed as carcinoma. We reported a 16 year old male patient with gradual epistaxis, hearing impairment, decreased body weight, and multiple nodules in right forehead, right axilla, right colli posterior, and left waist. The patient also suffered from inferior paraplegic extremities. The Head CT scan result showed carcinoma nasopharynx. After biopsy of nodules was done, it revealed differential diagnoses such as blastoma, Non Hodgkin lymphoma, and small cell carcinoma. Immunohistochemistry result showed Leucocyte Common Antigen (LCA) positive, and MRI thorax showed suspect of schwannoma. Based on the data, chemotherapy with regiment CHOP (cyclophosphamide, hydroxydaunorubicin, oncovin/vincristine, and prednisone) was given. The prognosis of NHL Nasopharynx was better than nasopharyngeal squamous cell carcinoma. The prognostic of NHL depends on the age, performance status, staging, extranodal involvement, serum Lactate Dehydrogenase (LDH) and response of therapy. The prognosis in our patient was poor.
Keywords: Mass, Non Hodgkin Lymphoma, nasopharyngeal carcinoma, prognostic
Downloads
Download data is not yet available.
References
Essadi I, Ismaili N, Tazi E, et al. Primary Lymphoma of the Head and Neck: Two Case Reports and Review of the Literature. Cases Journal. 2008; 1(1): 426.
Wafa A, Nabil I, Elmajjaoui S, Elgueddari BK, Ismaili M, and Errihani H. Primary Nasopharyngeal non-Hodgkin Lymphomas: A Retrospective Review of 26 Moroccan Patients. Nose and Throat Disorders 2009; 9: 11.
Comez G, Goktepe MF, Oztuzcu S, Sevinc A, and Camci C. The Isolated Extranodal Relapse of the Isolated Extranodal Non- Hodgkin Lymphoma: A Case Report. Journal of Cancer Research and Therapeutics. 2015; 11(3): 645.
Lopes da Silva R, Fernandes T, Lopes A, et al. B Lymphoblastic Lymphoma Presenting as a Tumor of the Nasopharynx in an Adult Patient. Head and Neck Pathology. 2010; 4(4): 318–323.
Longo Dan L. Malignancies of Lymphoid Cells. In: Longo D and Fauci AS (Eds). Harrison's Principles of Internal Medicine 19 th Edition. New York: McGraw Hill Medical; 2014: pp. 695-710.
Papadakis MA, McPhee SJ, and Rabow MW. Non-Hodgkin Lymphomas. Current Medical Diagnosis & Treatment. New York: McGraw Hill Lange; 2014: pp. 524-526.
Sabatine MS. Pocket Medicine: The Massachussetts General Hospital Handbook of Internal Medicine. 4th edition. Philadelphia, USA: Wolters Kluwer, Lippincot Williams & Walkins; 2011: Hal. 5-21.
Boufettal M, Azouz M, Rhanim A, et al. Schwannoma of the Median Nerve: Diagnosis Sometimes Delayed. Clinical Medicine Insights: Case Reports. 2014; 7: 71–73.
Gark MK, Garg U, Aggrawal D, and Rana P. Schwannoma of Neck. Journal of Mahatma Gandhi Institute of Medical Sciences. 2013; 18: 74-77.
Chalastras T, Elefteriadou A, Giotakis J, et al. Non-Hodgkin's Lymphoma of Nasal Cavity and Paranasal Sinuses. A Clinicopathological and Immuno histochemical Study. Acta Otorhinolaryngologica Italica. 2007; 27(1): 6-9.
Ngo Nyethane, Patel Kaushik, Isaacson PG and Narresh KN. Leucocyte Common Antigen (CD45) and CD5 Positivity in an "Undifferentiated†Carcinoma: A Potential Diagnostic Pitfall. Journal of Clinical Pathology. 2007; 60(8): 936–938.
Bilgin E, Dizdar Y, Serilmez M, et al. Research Article: For Which Cancer Types can Neuron-Specific Enolase be Clinically Helpful in Turkish Patients? Asian Pacific Journal of Cancer Prevention. 2013; 14 (4): 2541-2544.
Liu X, Xie C, Mo Y, et al. Magnetic Resonance Imaging Features of Nasopharyngeal Carcinoma and Nasopharyngeal Non-Hodgkin's Lymphoma: Are There Differences? European Journal of Radiology. 2012; 81(6): 1146–1154.
Azarpira N, Ashraf MJ, and Khademi B. Non-Hodgkin's Lymphoma of the Tongue Presenting as an Ulcerative Lesion. Middle East Journal of Cancer. 2011; 2(3-4): 125-128.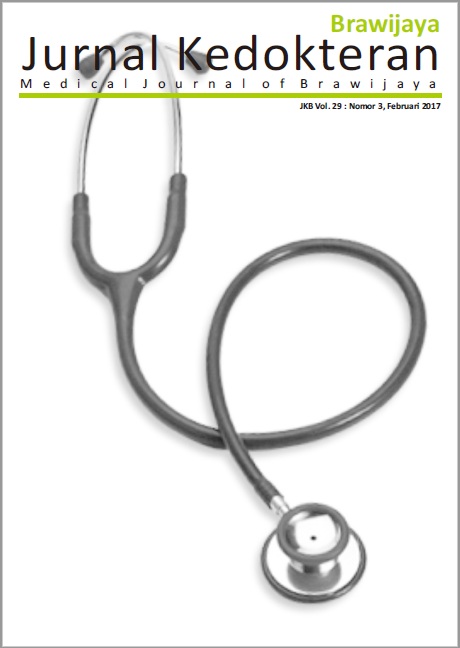 Downloads
License
Authors who publish with this journal agree to the following terms:
Authors retain copyright and grant the journal right of first publication with the work simultaneously licensed under a Creative Commons Attribution License that allows others to share the work with an acknowledgement of the work's authorship and initial publication in this journal.
Authors are able to enter into separate, additional contractual arrangements for the non-exclusive distribution of the journal's published version of the work (e.g., post it to an institutional repository or publish it in a book), with an acknowledgement of its initial publication in this journal.
Authors are permitted and encouraged to post their work online (e.g., in institutional repositories or on their website) prior to and during the submission process, as it can lead to productive exchanges, as well as earlier and greater citation of published work (See The Effect of Open Access).