Suplementasi Vitamin D3 Dosis Tinggi Menurunkan Kalsifikasi Tulang Femur pada Janin Mencit
Keywords:
Janin, kalsifikasi tulang, vitamin D3
Abstract
Kelebihan asupan vitamin D pada mencit yang bunting dapat menyebabkan penurunan massa tulang janin. Penelitian dilakukan untuk mengetahui apakah pemberian suplementasi vitamin D3 dosis tinggi dapat mengganggu kalsifikasi tulang femur janin mencit. Metode eksperimental laboratorium dengan rancangan acak lengkap dilakukan menggunakan lima ekor mencit jantan dan lima ekor mencit (Mus musculus L.) betina galur Swiss Webster berumur 8-12 minggu. Subjek penelitian adalah lima janin mencit dari hasil perkawinan yang hidup. Mencit dibagi ke dalam lima macam perlakuan yaitu KN (kontrol negatif), perlakuan A (13 IU vitamin D3), perlakuan B (13 IU vitamin D3), perlakuan C (13 IU vitamin D3), dan perlakuan D (13 IU vitamin D3). Mencit dikawinkan, kemudian diberi suplementasi sejak usia kebuntingan 11 hari. Pada usia kebuntingan 20 hari, mencit dikorbankan kemudian dilakukan pewarnaan Alizarin Red S terhadap janin. Parameter yang diuji adalah panjang tulang femur janin mencit yang mengalami kalsifikasi setelah diberi perlakuan. Analisis data menggunakan uji Analysis of Varian (ANOVA) satu arah yang dilanjutkan dengan uji Least Significance Different (LSD) dengan α=0,05. Hasil menunjukkan bahwa janin mencit yang diberi vitamin D3 dosis tinggi (kelompok C dan D) memiliki panjang kalsifikasi tulang femur yang berbeda bermakna (p≤0,05) yaitu lebih pendek dibandingkan dengan kontrol negatif, kelompok A, dan kelompok B. Simpulan penelitian adalah pemberian vitamin D3 dosis tinggi menurunkan kalsifikasi tulang femur janin mencit.
Kata Kunci: Janin, kalsifikasi tulang, vitamin D3
Downloads
Download data is not yet available.
References
de Paula FJA and Rosen CJ. Vitamin D Safety and Requirements. Archieve Biochemistry Biophysic. 2012; 523(1): 64-72.
Alshahrani F and Aljohani N. Vitamin D: Deficiency, Sufficiency and Toxicity. Nutrients. 2013; 5(9): 3605-3616.
Hewison M, Zehnder D, Bland R, and Stewart PM. 1alpha-Hydroxylase and the Action of Vitamin D. Journal of Molecular Endocrinology. 2000; 25(2): 141-148.
Holick MF, Chen TC, Lu Z, and Sauter E. Vitamin D and Skin Physiology: a D-lightful Story. Journal of Bone and Mineral Research. 2007; 22(S2): v28-33.
Hollis BW and Wagner CL. Assessment of Dietary Vitamin D Requirements during Pregnancy and Lactation. American Journal of Clinical Nutrition. 2004; 79(5): 717-726.
Ross AC, Manson JE, Abrams SA, et al. The 2011 Report on Dietary Reference Intakes for Calcium and Vitamin D from the Institute of Medicine: What Clinicians Need to Know. The Journal of Clinical Endocrinology and Metabolism. 2011; 96(1): 53-58.
Robinson S, Nelson-Piercy C, Harvey NC, Selby P, and Warner JO. Vitamin D in Pregnancy. London, England: Scientific Impact Paper No. 43. London, England: Royal College of Obstetricians and Gynaecologists: 2014.
Cannell JJ, Vieth R, Umhau JC, et al. Epidemic Influenza and Vitamin D. Epidemiology and Infection. 2006; 134(6): 1129-1140.
De-Regil LM, Palacios C, Ansary A, Kulier R, and Peña-Rosas JP. Vitamin D Supplementation for Women during Pregnancy. The Cochrane Database of Systematic Reviews. 2012; 2.
Holick MF. Vitamin D Deficiency: What a Pain It Is. Mayo Clinic Proceeding. 2003; 78(12): 1457-1459.
Lieben L, Stocksman I, Moermans K, and Carmeliet G. Maternal Hypervitaminosis D Reduces Fetal Bone Mass and Mineral Acquisition and Leads to Neonatal Lethality. Bone. 2013; 57(1): 123-131.
Deb K, Reese J, and Paria BC. Methodologies to Study Implantation in Mice. In: Soares MJ and Hunt JS (Eds). Placenta and Trophoblast: Methods and Protocols Volume 1. Totowa: Humana Press; 2006: pp. 9-34.
Paget GE and Barnes JM. Toxicity Tests in Evaluation of Drug Activities Pharmacometrics. In: Laurence DR and Bacharach AL (Eds). London: Academic Press; 1964: pp. 161.
Martin P. Tissue Patterning in the Developing Mouse Limb. The International Journal of Developmental Biology. 1990; 34(3): 323-336.
Kemas AH. Buku Metode: Dasar-dasar Ilmu Tanah. Jakarta: Rajagrafindo Persada; 2005.
Gilbert SF. Developmental Biology. 6th edition. Sunderland, England: Sinauer Associates; 2000.
Kumar A and Malhotra P. Vitamin D: Pharmacology of an Essential Micronutrient. Journal International Medical Sciences Academy. 2014; 27(4): 226-228.
Kini U and Nandeesh BN. Physiology of Bone Formation, Remodeling, and Metabolism. In: Fogelman I, Gnanasegaran G, and Van der Wall H (Eds). Radionuclide and Hybrid Bone Imaging. Verlag Berlin Heidelberg: Springer; 2012: pp. 29-57.
Kumar V, Abbas AK, Fausto N, and Aster J. Robbins & Cotran Pathologic Basis of Disease. 8th edition. Philadephia: Saunders Elsevier; 2010.
Guyton AC and Hall JE. Human Physiology. 15th edition. New York: Elsevier; 2014.
Narbaitz R and Fragiskos B. Hypervitaminosis D in the Chick Embryo: Comparative Study on the Activity of Various Vitamin D3 Metabolites. Calcified Tissue International. 1984; 36(4): 392-400.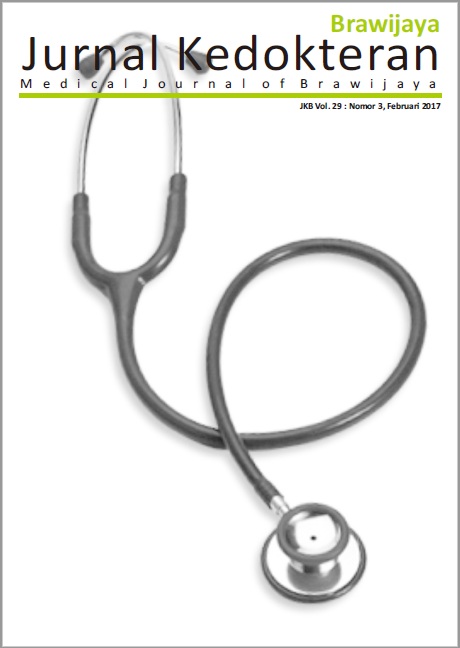 Downloads
License
Authors who publish with this journal agree to the following terms:
Authors retain copyright and grant the journal right of first publication with the work simultaneously licensed under a Creative Commons Attribution License that allows others to share the work with an acknowledgement of the work's authorship and initial publication in this journal.
Authors are able to enter into separate, additional contractual arrangements for the non-exclusive distribution of the journal's published version of the work (e.g., post it to an institutional repository or publish it in a book), with an acknowledgement of its initial publication in this journal.
Authors are permitted and encouraged to post their work online (e.g., in institutional repositories or on their website) prior to and during the submission process, as it can lead to productive exchanges, as well as earlier and greater citation of published work (See The Effect of Open Access).