Pengaruh Pemberian Susu Sapi Bubuk terhadap Kadar MDA Hepar pada Tikus Putih (Rattus Novergicus Strain Wistar) Jantan Model Diabetes Melitus Tipe 2
Abstract
Susu sapi bubuk mengandung kalsium, dan vitamin D yang dapat mencegah peningkatan kadar Malondialdehyde (MDA) pada diabetes melltus tipe 2 melalui mekanisme perbaikan sekresi dan sensitivitas insulin. Susu sapi bubuk mampu menurunkan kondisi stress oksidatif pemicu peningkatan kadar MDA. Tujuan penelitian ini untuk mengetahui pengaruh pemberian susu sapi bubuk terhadap kadar MDA hepar pada tikus wistar model diabetes melitus tipe 2. Penelitian ini adalah penelitian eksperimental post test only control group design menggunakan 30 tikus wistar model diabetes melitus tipe 2. Selama 90 hari, kelompok perlakuan diberikan susu sapi bubuk 0,9g (P1); 1,8g (P2); dan 2,7g (P3) per hari. selanjutnya pada hari ke-91 dilakukan pengukuran kadar MDA dari jaringan hepar dengan spektrofotometer. Hasil menunjukkan terdapat pengaruh pemberian susu sapi bubuk dengan berbagai dosis terhadap kadar MDA jaringan hepar tikus (p=0,003), dengan dosis efektif adalah 1,8g/hari karena dapat mencegah peningkatan kadar MDA mendekati kelompok negatif.
Kata Kunci: Diabetes melitus tipe 2, Malondialdehyde (MDA), susu sapi bubuk
Downloads
Download data is not yet available.
References
World Health Organization. Definition, Diagnosis, and Classification of Diabetes Melitus and its Complications. Geneva: Department of Noncommunicable Disease Surveillance; 1999.
International Diabetes Federation. IDF Diabetes Atlas. (Online) 2013. http://www.idf.org/ diabetsatlas/5e/the-global-burden [diakses 28 Maret 2013].
Salem M, Kholoussi S, Kholoussi N, and Fawzy R. Malondialdehyde and Trace Element Levels in Patients with Type 2 Diabetes Melitus. Helenic Medicine. 2011; 28(1): 83-88.
Winarsih H. Antioksidan Alami dan Radikal. Yogyakarta: PT Kanisius; 2007; hal. 58.
Moreira TS and Hamadeh MJ. The Role of Vitamin D Deficiency in the Pathogenesis of Type 2 Diabetes Melitus. e- SPEN, the European e-Journal of Clinical Nutrition and Metabolism. 2010; 5(4): e155-e165.
Pittas AG, Lau J, Hu FB, and Hughes BD. Review: The Role of Vitamin D and Calcium in Type 2 Diabetes. A Systematic Review and Meta-Analysis. The Journal of Clinical Endocrinology and Metabolism. 2007; 92(6): 2017-2029.
Lin AM, Chen KB, and Chao PL. Antioxidative Effect of Vitamin D3 on Zinc-Induced Oxidative Stress in CNS. Annals of the New York Academy of Sciences. 2005; 1053: 319-329.
Wulanti R, Wirakusumah ES, dan Sumarwan U. Karakteristik dan Pola Konsumsi Pangan Penderita Diabetes Melitus yang Obes pada Poliklinik Sub-bagian Metabolik Endokrin Bagian Ilmu Penyakit Dalam dan Poliklinik Gizi RSCM, DKI Jakarta. Media Gizi dan Keluarga. 1999; 23(1): 25-29.
Amirshahrokhi K, Dehpour AR, Hadjati J, Sotoudeh M, and Ghazi-Khansari M. Methadone Ameliorates Multiple-Low-Dose Streptozotocin-Induced Type. Toxicology and Applied Pharmacology. 2008; 232(1): 119-124.
Suriani N. Gangguan Metabolisme Karbohidrat pada Diabetes Melitus. [Tesis]. Universitas Brawijaya, Malang. 2012.
Puspati NKS. Anthara MS, dan Dharmayudha AAGO. Pertambahan Bobot Badan Tikus Diabetes Melitus dengan Pemberian Ekstrak Etanol Buah Naga Daging Putih. Indonesia Medicus Veterinus. 2013; 2(2): 225-234.
Subekti I. Organisasi Diabetes di Indonesia. Di dalam: Soegondo S, Soewondo P, dan Subekti I. Penatalaksanaan Diabetes Melitus Terpadu. Jakarta: Balai Penerbit FKUI; 2009; hal. 231.
Nugroho AE. Review: Hewan Percobaan Diabetes Melitus: Patologi dan Mekanisme Aksi Diabetogenik. Biodiversitas. 2006; 7(4): 378-382.
Zhang M, Lu XY, Li J, Xu ZG, and Chen L. The Characterization of High-Fat Diet and Multiple Low-Dose Streptozotocin Induced Type 2 Diabetes Rat Model. Experimental Diabetes Research. 2008; 2008: 9.
Carole M. The Role of Vitamins in the Prevention and Treatment of Type 2 Diabetes and Its Complication. Journal of Diabetes Nursing, 2013; 17(10): 376-383.
Cândido FG, Ton WT, and Alfenas Rde C. Dairy Products Consumption Versus Type 2 Diabetes Prevention and Treatment; A Review of Recent Findings from Human Studies. Nutrición Hospitalaria. 2013; 28(5): 1384-1395.
Gao D, Ning N, Wang C, Wang Y, et al. Dairy Products Consumption and Risk of Type 2 Diabetes: Systematic Review and Dose-Response Meta-Analysis. PLoS ONE. 2013; 8(9).
Mallick AK, Maradi R, Joshi VR, Shorey G, and Ahsan M. A Study on Malondialdehyde as a Marker of Lipid Peroxidation in Male and Female Patients with Type 2 Diabetes Melitus. International Journal of Pharmaceutical Sciences Review and Research. 2011; 8(2): 198-201.
Erejuwa OO. Oxidative Stress in Diabetes Melitus: Is There a Role for Hypoglycemic Drugs and/or Antioxidant? In: Lushchak VI and Gospodaryov DV (Eds). Oxidative Stress and Diseases. Croatia: In Tech Publication; 2012; p. 217-246.
Setyohadi, Baskoro AD, dan Sigit ML. Peranan Minyak Zaitun terhadap Penurunan Kadar Kolesterol LDL dalam Darah. Majalah Kesehatan FKUB. 2006; 1(2).
Tangvarasittichai S, Poonsub P, Tangvarasittichai O, and Sirigulsatien V. Serum Level of Malondialdehyde in Type 2 Diabetes Melitus Thai Subjects. Siriraj Medical Journal. 2009; 61: 20-23.
Nilsson M, Holst JJ, and Björck IM. Metabolic Effects of Amino Acid Mixtures and Whey Protein in Healthy Subjects: Studies Using Glucose-Equivalent Drinks. The American Journal of Clinical Nutrition. 2007; 85(4): 996-1004.
Kalergis M, Leung YSS, and Nedelcu R. Dairy Products and Prevention of Type 2 Diabetes: Implications for Research and Practice. Frontiers in Endocrinology. 2013; 4(90): 1-6.
Martini LA and Wood RJ. Milk Intake and the Risk of Type 2 Diabetes Melitus, Hypertension, and Prostate Cancer. Arquivos Brasileiros de Endocrinologia & Metabologia. 2009; 53(5): 688-694.
Aune D, Norat T, Romundstand P, and Vatten LJ. Dairy Products and The Risk of Type 2 Diabetes: A systematic Review and Dose-Response Meta-Analysis of Cohort Studies. America Journal Clinical Nutrition. 2013: 1-18.
Baxter AJ, Coyne T, and McClintock C. Dietary Patterns and Metabolic Syndrome-A Review of Epidemiologic Evidence. Asia Pacific Journal of Clinical Nutrition. 2006; 15(2): 134–142.
Arkhaesi N. Kadar Malondialdehyde (Mda) Serum sebagai Indikator Prognosis Keluaran pada Sepsis Neonatorum. [Tesis]. Universitas Diponegoro, Semarang. 2008
Padalkar R, Shinde AV, and Patil SM. Lipid Profile, Serum Malondialdehyde, Superoxide Dismutase in Chronic Kidney Disease and Type 2 Diabetes Melitus. Biomedical Research. 2012; 23(2): 207-210.
Manohar SM, Vaikasuvu SR, Deepthi K, Sachan A, and Narasimha SR. An Association of Hyperglicemia with Plasma Malondialdehyde and Atherogenic Lipid Risk Factor in Newly Diagnosed Type 2 Diabetic Patients. Journal of Research in Medical Sciences. 2013; 18(2): 89-93.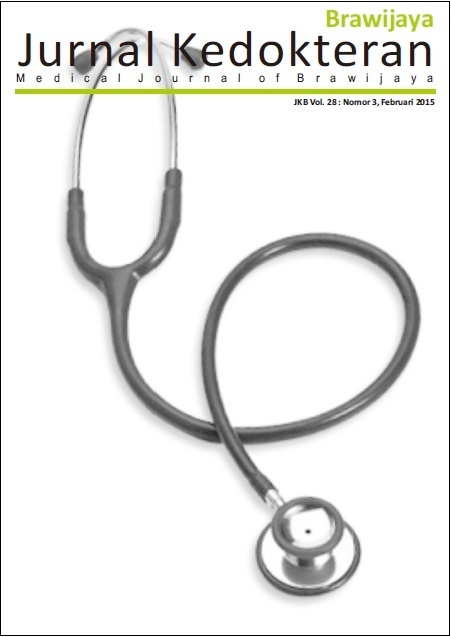 Downloads
License
Authors who publish with this journal agree to the following terms:
Authors retain copyright and grant the journal right of first publication with the work simultaneously licensed under a Creative Commons Attribution License that allows others to share the work with an acknowledgement of the work's authorship and initial publication in this journal.
Authors are able to enter into separate, additional contractual arrangements for the non-exclusive distribution of the journal's published version of the work (e.g., post it to an institutional repository or publish it in a book), with an acknowledgement of its initial publication in this journal.
Authors are permitted and encouraged to post their work online (e.g., in institutional repositories or on their website) prior to and during the submission process, as it can lead to productive exchanges, as well as earlier and greater citation of published work (See The Effect of Open Access).