Pengembangan Laboratory Information System untuk Memperbaiki Waktu Tunggu Layanan
Abstract
Penelitian ini merupakan studi observasional dengan desain cross-sectional yang bertujuan untuk mencari akar masalah dan alternatif solusi masalah pemanjangan turnaround time (TAT) layanan laboratorium di Instalasi Patologi Klinik RSUD Kabupaten Jombang. Pada penelitian ini didapatkan sejumlah subjek 103 orang yang melakukan pemeriksaan darah lengkap, kimia klinik, serta keduanya. Penentuan akar masalah dengan diagram fishbone. Identifikasi alternatif solusi masalah dilakukan melalui pohon alternatif solusi sedangkan pemilihan solusi dilakukan melalui teori tapisan Mc Namara dan pendekatan cost benefit analysis. Data kuantitatif dianalisis menggunakan uji Kolmogorov-Smirnov untuk menilai normalitas serta paired t-test untuk menentukan uji beda reratadengan taraf signifikansi p≤0,05. Dari hasil penelitian didapatkan pemanjangan waktu tunggu saat spesimen selesai dikerjakan oleh analyzer sampai hasil dilaporkan karena proses ini dilakukan secara manual. Alternatif solusi yang dipilih berdasarkan teori tapisan Mc Namara dan cost benefit analysis adalah penggunaan laboratory information system (LIS). Estimasi TAT dengan pemakaian LIS dapat memendek secara bermakna pada pasien rawat inap untuk pemeriksaan darah lengkap (103,00±77,74 menit; p<0,0001), kimia klinik (107,33±83,32 menit; p<0,0001), dan keduanya (138,43±82,65 menit; p<0,0001). Pada pasien rawat jalan hanya pada pemeriksaan kimia klinik (161,84±129,90 menit; p<0,0001) dan keduanya (94,90±34,35 menit; p<0,0001). Dapat dismpulkan laboratory information system dapat mengurangi pemanjangan TAT secara bermakna.
Kata Kunci: Laboratory information system (LIS), pelayanan laboratorium, turnaround time (TAT)
Downloads
Download data is not yet available.
References
Da Rin G. Pre-Analytical Workstations: A Tool for Reducing Laboratory Errors. Clinica Chimica Acta. 2009; 404(1): 68-74.
Goswami B, Singh B, Chawla R, Gupta VK, and Mallika V. Turn Around Time (TAT) as a Benchmark of Laboratory Performance. The Indian Journal of Clinical Biochemistry. 2010; 25(4): 376-379.
Goswami B, Singh B, Chawla R, and Mallika V. Evaluation of Error in a Clinical Laboratory: A One-Year Experience. Clinical Chemistry and Laboratory Medicine. 2010; 48(1): 63-66.
Chung H-J, Lee W, Chun S, Park H-I, and Min W-K. Analysis of Turnaround Time by Subdividing Three Phases for Outpatient Chemistry Specimens. Annals of Clinical & Laboratory Science. 2009; 39(2): 144-149.
RSUD Kabupaten Jombang. Laporan Tahunan Rumah Sakit Umum Daerah Kabupaten Jombang Tahun 2012. Jombang: RSUD Kabupaten Jombang; 2012.
Sianipar JPG dan Entang HM. Teknik-Teknik Analisis Manajemen. Di dalam: Sianipar JPG, Entang HM (Eds). Macam-macam Cara Analisis Manajemen. Jakarta: Lembaga Administrasi Negara Republik Indonesia; 2001; hal. 22-49.
Ricos C, Garcia-Victoria M, and de la Fuente B. Quality Indicators and Specifications for the Extra-Analytical Phases in Clinical Laboratory Management. Clinical Chemistry and Laboratory Medicine. 2004; 42(6): 576-577.
Piva E, Sciacovelli L, Zaninotto M, Laposata M, and Plebani M. Evaluation of Effectiveness of Computerized Notifocation System for Reporting Critical Values. American Journal of Clinical Pathology. 2009; 131(3): 432-441.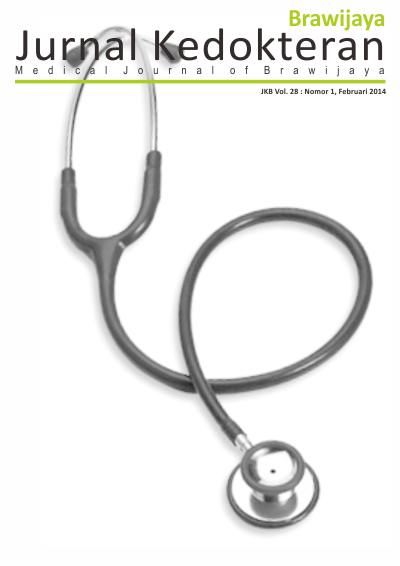 Downloads
License
Authors who publish with this journal agree to the following terms:
Authors retain copyright and grant the journal right of first publication with the work simultaneously licensed under a Creative Commons Attribution License that allows others to share the work with an acknowledgement of the work's authorship and initial publication in this journal.
Authors are able to enter into separate, additional contractual arrangements for the non-exclusive distribution of the journal's published version of the work (e.g., post it to an institutional repository or publish it in a book), with an acknowledgement of its initial publication in this journal.
Authors are permitted and encouraged to post their work online (e.g., in institutional repositories or on their website) prior to and during the submission process, as it can lead to productive exchanges, as well as earlier and greater citation of published work (See The Effect of Open Access).