Peran Magnesium Sulfat dalam Menurunkan Kadar TNF-α dan IL-1β pada Bayi Prematur
Keywords:
IL-1β, MgSO4, Prematur, TNF-α
Abstract
Prematuritas menyebabkan mortalitas dan morbiditas neonatus yaitu cerebral palsy (CP), gangguan kognitif dan gangguan tingkah laku. Sitokin proinflamasi TNF-α dan IL-1β diduga secara signifikan meningkat pada bayi prematur. Magnesium sulfat (MgSO4) diduga dapat sebagai neuroprotektor terhadap otak janin, melindungi jaringan terhadap aktivitas radikal bebas, sebagai vasodilator dari vasculature otak dan menurunkan sitokin proinflamasi. Penelitian ini bertujuan untuk mengetahui peran MgSO4 terhadap kadar TNF-α dan IL-1β pada bayi prematur, menggunakan metode observasional analitik, cross sectional yang dilakukan pada bulan Januari-Desember 2015 di RSUD Dr. Moewardi Surakarta dan laboratorium Prodia Jakarta. Subjek penelitian berjumlah 40 yang memenuhi kriteria inklusi dan eksklusi dibagi menjadi 2 kelompok yaitu 20 subjek kelompok persalinan prematur yang mendapat MgSO4 dan 20 subjek kelompok persalinan prematur tidak mendapat MgSO4. Semua subjek dilakukan pemeriksaan kadar TNF-α dan IL-1β pada serum dari darah tali pusat bayi pada saat lahir dengan menggunakan metode ELISA. Data dianalisis menggunakan uji t. Rerata kadar serum TNF-α pada kelompok persalinan prematur yang diberikan MgSO4 (2,24±0,56ng/mL) dan rerata kadar serum TNF-α pada persalinan prematur yang tidak diberikan MgSO4 (2,80±0,85ng/mL) dengan p=0,01 (p<0,05). Rerata kadar serum IL-1β pada kelompok persalinan prematur yang diberikan MgSO4 (0,49±0,22ng/mL) dan rerata kadar serum IL-1β pada persalinan prematur yang tidak diberikan MgSO4 (0,71±0,28ng/mL) dengan p=0,01 (p<0,05). Magnesium Sulfat berperan menurunkan kadar serum TNF-α dan IL-1β pada bayi prematur.
Downloads
Download data is not yet available.
References
Wiharjo SK, Respati SH, dan Bawono ABG. Kadar Heat Shock Protein 70 pada Persalinan Prematur. Jurnal Kedokteran Brawijaya. 2015; 28(4): 309-313
Himpens E, Van den Broeck C, Oostra A, Calders P, and Vanhaesebrouck P. Prevalence, Type, Distribution, and Severity of Cerebral Palsy in Relation to Gestational Age: A Meta-Analytic Review. Developmental Medicine and Child Neurology. 2008; 50(5): 334-340.
Conde-Agudelo A and Romero R. Antenatal Magnesium Sulfate for the Prevention of Cerebral Palsy in Preterm Infants Less Than 34 Weeks' Gestation: A Systematic Review and Metaanalysis. American Journal of Obstetrics and Gynecology. 2009; 200(6): 595-609.
Degos V, Loron G, Mantz J, and Gressens P. Neuroprotective Strategies for the Neonatal Brain. Anesthesia and Analgesia. 2008; 106(6): 1670-1680.
McAdams RM and Juul SE. The Role of Cytokines and Inflammatory Cells in Perinatal Brain Injury. Neurology Research International. 2012; 2012: 1-15.
Mittendorf R and Pryde PG. Magnesium Sulfate for the Prevention of Cerebral Palsy. The New England Journal of Medicine. 2009; 360: 189-190.
Tyler CP, Paneth N, Allred EN, et al. Brain Damage in Preterm Newborns and Maternal Medication: the ELGAN Study. American Journal of Obstetrics and Gynecology. 2012; 207(3): –192.e1192.e9.
Burd I, Chai J, Gonzalez J, et al. Beyond White Matter Damage: Fetal Neuronal Injury in a Mouse Model of Preterm Birth. American Journal of Obstetrics and Gynecology. 2009; 201(3): 279.e1-279.e8
Goscik E, Kulak W, Goscik J, Goscik J, Okurowska-Zawada B, and Tarasow E. The Cerebellum in Children With Spastic Cerebral Palsy: Volumetrics MRI Study. Progress in Health Sciences. 2011; 1(2): 67-75.
Sugimoto J, Romani AM, Valentin-Torres AM, et al. Magnesium Decrease Inflammatory Cytokine Production: A Innate Immunomodulatory Mechanism. The Journal of Immunology. 2012; 188(12): 6338-6346.
Berger I, Peleg O, and Ofek-Shlomai N. Inflammation and Early Brain Injury in Term and Preterm Infants. The Israel Medical Association Journal. 2012; 14(5): 318-323.
Varner MW, Marshall NE, Rouse DJ, et al. The Association of Cord Serum Cytokines with Neurodevelopmental Outcomes. American Journal of Perinatology. 2015; 30(2): 115-122.
Amash A, Weintraub AY, Sheiner E, Zeadna A, Huleihel M, and Holcberg G. Possible Therapeutic Effect of Magnesium Sulfate in Pre-Eclampsia by the Down-Regulation of Placental Tumor Necrosis Factor-Alpha Secretion. European Cytokine Network. 2010; 21(1): 58-64.
Crowther CA, Middleton PF, Wilkinson D, Ashwood P, Haslam R, and MAGENTA Study Group. Magnesium Sulphate at 30 to 34 Weeks' Gestational Age: Neuroprotection Trial (MAGENTA) - Study Protocol. BMC Pregnancy and Childbirth. 2013; 9(13): 91-99.
Zylinska L, Gulczynska E, and Kozaczuk A. Changes in Erythrocyte Glutathione and Plasma Membrane Calcium Pump in Preterm Newborns Treated Antenatally with MgSO4. Neonatology. 2008; 94(4): 272-278.
Dribben WH, Creeley CE, Wang HH, Smith DJ, Farber NB, and Olney JW. High Dose Magnesium Sulfate Exposure Induces Apoptotic Cell Death in the Developing Neonatal Mouse Brain. Neonatology. 2009; 96(1): 23-32.
Murti B. Desain dan Ukuran Sampel untuk Penelitian Kuantitatif dan Kualitatif di Bidang Kesehatan. Edisi 3. Yogyakarta: Gajah Mada University; 2013.
Dammann O and O'Shea TM. Cytokines and Perinatal Brain Damage. Clinics in Perinatology. 2008; 35(4): 643-663.
Costantine MM, Weiner SJ, and Eunice Kennedy Shriver National Institute of Child Health and Human Development Maternal-Fetal Medicine Units Network. Effects of Antenatal Exposure to Magnesium Sulfate on Neuroprotection and Mortality in Preterm Infants: a Meta-Analysis. Obstetrics and Gynecology. 2009; 114(2 Pt 1): 354-364.
Suzuki-Kakisaka H, Sugimoto J, Tetarbe M, Romani AM, Ramirez Kitchen CM, and Bernstein HB.
Magnesium Sulfate Increases Intracellular Magnesium Reducing Inflammatory Cytokine Release in Neonates. American Journal of Reproductive Immunology. 2013; 70(3): 213-220.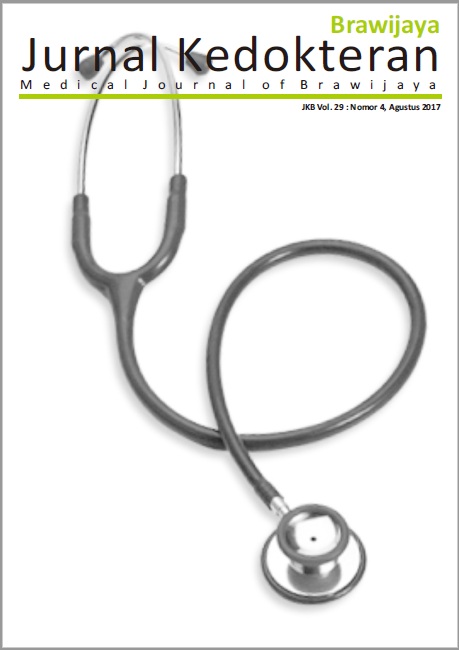 Downloads
License
Authors who publish with this journal agree to the following terms:
Authors retain copyright and grant the journal right of first publication with the work simultaneously licensed under a Creative Commons Attribution License that allows others to share the work with an acknowledgement of the work's authorship and initial publication in this journal.
Authors are able to enter into separate, additional contractual arrangements for the non-exclusive distribution of the journal's published version of the work (e.g., post it to an institutional repository or publish it in a book), with an acknowledgement of its initial publication in this journal.
Authors are permitted and encouraged to post their work online (e.g., in institutional repositories or on their website) prior to and during the submission process, as it can lead to productive exchanges, as well as earlier and greater citation of published work (See The Effect of Open Access).