Aktivitas Larvisida Ekstrak Terpurifikasi Rimpang Zingiber zerumbet(L) Smith terhadap Larva Aedes aegypti
Keywords:
Ekstrak metanol, larvisida, purifikasi, Z. zerumbet
Abstract
Saat ini ditemukan bahwa larva nyamuk telah  resisten terhadap larvisida konvensional. Oleh karena itu, penting untuk mengembangkan larvisida baru dari sumber bahan alam seperti rimpang Z. zerumbet, pada penelitian yang sebelumnya berpotensi sebagai larvisida pada Artemia salina Leach dan Anopheles nunestovary. Aktivitas larvisida ekstrak metanol rimpang Z. zerumbet yang telah dipurifikasi belum pernah diteliti. Tujuan penelitian ini adalah untuk mengkaji aktivitas larvisida ekstrak terpurifikasi rimpang Z. zerumbet terhadap larva Ae. aegypti. Penelitian ini merupakan penelitian eksplorasi laboratories dengan rancangan post test-only control group. Penelitian ini  dilakukan pada dua ekstrak yaitu  ekstrak metanol rimpang Z. zerumbet dan ekstrak metanol rimpang Z. zerumbet yang dipurifikasi dengan petroleum eter (PE). Dua puluh lima  larva instar III-IV Ae. aegypti  dipapar dengan tujuh konsentrasi yang berbeda dari ekstrak metanol rimpang Z. zerumbet. Tingkat kematian  larva dihitung dan kemudian dianalisis dengan menggunakan regresi analisa probit untuk mendapatkan LC50. Setelah mengetahui LC50 tersebut, studi dilanjutkan dengan purifikasi ekstrak metanol Z. zerumbet menggunakan PE sebagai pelarut. Hasil ekstrak yang telah dipurifikasi baik yang larut maupun tidak larut PE diperlakukan pada  larva instar III-IV Ae.aegypti menggunakan metode yang sama seperti yang  disebutkan terdahulu. Nilai LC50 ekstrak metanol, larut PE dan tidak larut PE hasil purifikasi ekstrak metanol rimpang Z. zerumbet adalah 153,57±4,01 ppm; 67,01±2,35 ppm; dan 2287±147,91 ppm. Purifikasi ekstrak metanol rimpang Z. zerumbet  yang larut PE memiliki aktivitas larvisida yang kuat terhadap larva instar III-IV  Ae. aegypti  dan mempunyai potensi untuk dikembangkan sebagai bahan larvisida  baru.
Downloads
Download data is not yet available.
References
Mulyatno KC, Yamanaka A, Ngadino, and Konish E. Resistance of Aedes aegypti (L.) Larvae to Temephos in Surabaya, Indonesia. The Southeast Asian Journal of Tropical Medicine and Public Health. 2012; 43(1): 29-33.
Prasetyowati H, Hendri J, dan Wahono T. Status Resistensi Aedes aegypti (Linn.) terhadap Organofosfat di Tiga Kotamadya DKI Jakarta. BALABA: Jurnal Litbang Pengendalian Penyakit Bersumber Binatang Banjarnegara. 2016; 12 (1): 23-30.
Grisales N, Poupardin R, Gomez S, Fonseca-Gonzalez I, Ranson H, and Lenhart A. Temephos Resistance in Aedes aegypti in Colombia Compromises Dengue Vector Control. PLoS Negleted Tropical Diseases. 2013; 7(9): e2438.
Diniz MMCSL, Henriques ADS, Leandro RS, Aguiar DL, and Beserr EB. Resistance of Aedes Aegypti to Temephos and Adaptive Disadvantages. Revista de Saúde Pública. 2014; 48(5): 775-782.
Alsheikh AA, Mohammed WS, Noureldin EM, et al. Studies on Aedes Aegypti Resistance to Some Insecticides in the Jazan District Saudi Arabia. Journal of the Egyptian Society of Parasitology. 2016; 46 (1): 209-216.
Kementrian Kesehatan Republik Indonesia. Pedoman Penggunaan Insektsida (Pestisida) dalam Pengendalian Vektor. Jakarta: Kementrian Kesehatan Republik Indonesia; 2012; p. 3-21.
Rattan RS. Mechanism of Action of Insecticidal Secondary Metabolites of Plant Origin. Crop Protection. 2010; 29: 913-920.
Chang CJ, Tzeng T, Liou S, Chang YS, and Liu I. Absence of Genotoxic and Mutagenic Effects of Zingiber zerumbet (L) Smith (Zingiberaceae) Extract. Evidence Bases Complementary Alternative Medicine 2012; 2012: 1-7.
Chien TY, Chen LG, Lee CJ, Lee FY, and Wang CC. Anti-inflamatory Constituens of Zingiber zerumbet. Food Chemistry. 2008;110 (3): 584-589.
Hashemi SR, Zulkifli I, Bejo MH, Farida A, and Somchit MN. Acute Toxicity Study and Phytochemical Screening of Selected Herbal Aqueous Extract in Broiler Chicken. International Journal of Pharmacology. 2008; 4(5): 352-360.
BückerA, Falcao-Bücker NC, Nunez CV, Pinheiro CCS, and Tadei WP. Evaluation of Larvicidal Activity and Brine Shrimp Toxicity of Rhizome Extracts of Zingiber zerumbet (L) Smith. Revista da Sociedade Brasileira de Medicina Tropical. 2013; 46(3): 377-380.
Nur LA, Djamiatun K, dan Kartasurya MI. Pengaruh Ekstrak Daun Kersen (Muntingia calabura L) terhadap Kolesterol Darah, Soluble ICAM-1 dan Pembentukan Sel Busa pada Tikus dengan Diet Tinggi Lemak dan Kolesterol. Jurnal Kedokteran Brawijaya. 2017; 29(3): 202-208.
World Health Organization. Guidelines for Laboratory and Field Testing of Mosqiuto Larvicides. (Online) 2005. http://whqlibdoc.who.int/hq/2005/ WHO CDSWHO PESGCDPP 2005.13.pdf. [diakses tanggal 10 September2011]
Jang DS, Han AR, Park G, Jhon GL, and Seo EK. Flavonoid and Aromatic Compounds from the Rhizomes of Zingiber zerumbet. Archives of Pharmacal Research. 2004; 27(4): 386-389.
Dai DN, Thang TD, Chau LTM, and Ogunwande IA. Chemical Constituents of the Root Essential Oils of Zingiber rubens Roxb., and Zingiber zerumbet (L.) Smith. American Journal of Plant Sciences; 2013; 4(1): 7-10.
Singh G and Prakash S. Study of Liquid Chromatography and Mass Spectrometry of Memnoniella echinata Metabolites against Vector of Dengue and Chikungunya. Austin Chromatography. 2014; 1(3): 1-6.
Aisyah S, Sulistyowati E, dan Sari YDA. Potensi Ekstrak Biji Bengkuang (Pachyrrhizus Erosus Urb) sebagai Larvisida Aedes aegypti Larva Instar III. Kaunia. 2013: 9(1)1: 1-11.
Ahbirami R, Zuharah WF, Thiagaletchumi M, Subramaniam S, and Sundarasekar J. Larvicidal Efficacy of Different Plant Parts of Railway Creeper, Ipomoea cairica Extract Against Dengue Vector Mosquitoes, Aedes albopictus (Diptera: Culicidae) and Aedes aegypti (Diptera: Culicidae). Journal of Insect Science. 2014; 14(180): 1-6.
Vieira JRC, Leite RMP, Lima IR, Navarro DAF, Bianco EM, and Leite SP. Oviposition and Embryotoxicity of Indigofera suffruticosa on Early Development of Aedes aegypti (Diptera: Culicidae). Evidence Based Complementary and Alternative Medicine. 2012; 2012: 1-5.
Sharma A, Kumar S, and Tripathi P. Impact of Achyranthes Aspera Leaf and Stem Extracts on the Survival, Morphology and Behaviour of an Indian Strain on Dengue Vector, Aedes aegypti L (Diptera: Culicidae). Journal of Mosquito Research. 2015; 5(7): 1-7.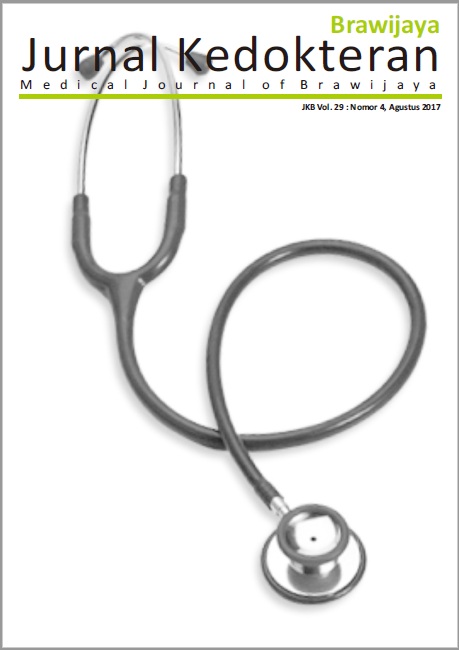 Downloads
License
Authors who publish with this journal agree to the following terms:
Authors retain copyright and grant the journal right of first publication with the work simultaneously licensed under a Creative Commons Attribution License that allows others to share the work with an acknowledgement of the work's authorship and initial publication in this journal.
Authors are able to enter into separate, additional contractual arrangements for the non-exclusive distribution of the journal's published version of the work (e.g., post it to an institutional repository or publish it in a book), with an acknowledgement of its initial publication in this journal.
Authors are permitted and encouraged to post their work online (e.g., in institutional repositories or on their website) prior to and during the submission process, as it can lead to productive exchanges, as well as earlier and greater citation of published work (See The Effect of Open Access).