Hubungan Kadar Transforming Growth Factor-Beta 1 (TGF-β1) Urin dengan Proteinuria pada Anak Sindrom Nefrotik Resisten Steroid
Abstract
 Transforming  Growth  Factor-Beta  1  (TGF-β1)  menjadi  perantara  fibrosis  interstisial,  atrofi  tubular,  dan  kerusakan gromelurus ginjal. Proteinuria menunjukkan prognosis yang buruk pada  sindroma nefrotik. Terdapat kecenderungan persisten proteinuria pada sindroma nefrotik resisten steroid. Tujuan penelitian ini untuk membuktikan hubungan kadar Transforming Growth Factor-Beta 1 (TGF-β1) urin dengan proteinuria pada anak sindrom nefrotik resisten steroid. Empat puluh  lima  sampel urin dikumpulkan  terdiri dari 15 anak dengan  sindrom nefrotik  resisten steroid, 15 anak dengan sindrom nefrotik sensitif steroid dan 15 anak sehat. Sampel tersebut diukur kadar TGF-β1 dan rasio protein-kreatinin kemudian dibandingkan.  Terdapat  perbedaan  bermakna  dalam  pengukuran  rasio protein-kreatinin  (p=0,000),  tidak terdapat perbedaan bermakna dalam pengukuran TGF-β1 dan tidak terdapat hubungan antara kadar TGF- β1 dan rasio protein-kreatinine  (r=-0,222; p=0,427).Kata Kunci: Kadar TGF-β1 urin, proteinuria,  rasio protein-kreatinin, sindrom nefrotik  resisten steroid
Downloads
Download data is not yet available.
References
Roth KS, Amaker BH, and Chan JCM. Nephrotic Sydrome: Pathogenesis and Management. Pediatrics in Review. 2002; 23(7): 237-247.
Krisni S. Pola Penyakit Ginjal pada Anak di RS Saiful Anwar Malang Tahun 2002-2006. Pertemuan Ilmiah Tahunan Ilmu Kesehatan Anak Ikatan Dokter Anak Indonesia (PIT IKA-IDAI). Yogyakarta, 2007.
ISKDC. Nephrotic Syndrome in Children: Prediction of Histopathology from Clinical and Laboratory Characteristics at Time of Diagnosis. Kidney International. 1978; 13(2): 159-165.
Gulati S, Sengupta D, Sharma RK, et al. Steroid Re s i s tant Nephrot i c S yndrome : Rol e of Histopathology. Indian Pediatrics. 2006; 43(1): 55-60.
Alatas H, Tambunan T, Trihono PP, and Pardede SO. Konsensus Tatalaksana Sindrom Nefrotik Idiopatik pada Anak. Jakarta: UKK Nefrologi IDAI; 2005.
Bagga A and Mantan M. Nephrotic Syndrome in Children. Indian Journal of Medical Research. 2005; 122:13-28.
Border WA and Noble NA. Transforming Growth Factor ß in Tissue Fibrosis. The New England of Medical Journal. 1994; 331: 1286–1292.
Border WA, Okuda S, Nakamura T, Languino LR, and Ruoslahti E. Role of TGF-ß 1 in Experimental Glomerulonephritis. Ciba Foundation Symphosium. 1991; 157: 178-189.
Schiffer M, Bitzer M, Roberts IS, et al. Apoptosis in Podocytes Induced by TGF-beta and Smad7. The Journal of Clinical Investigation. 2001; 108(6): 807–816.
Bottinger EP and Bitzer M. TGF-ß Signaling in Renal Disease. Journal of American Society of Nephrology. 2002; 139(10): 2600–2610.
Cheng J and Grande JP. Transforming Growth Factor-ß Signal Transduction and Progressive Renal Disease. Experimental Biology and Medicine. 2002; 227(11): 943-956.
Goumenos DS, Tsakas S, El Nahas AM, et al. Transforming Growth Factor-ß1 in The Kidney and Urine of Patients with Glomerular Disease and Proteinuria. Nephron Clinical Practice. 2009; 111(2): 127-132.
Alatas H, Tambunan T, Trihono PP, and Pardede SO. Buku Ajar Nefrologi Anak. Jakarta: IDAI; 2002.
Ma L and Fogo AB. Role of Angiotensin II in Glomerular Injury. Seminars in Nephrology. 2001; 21(6): 544-553.
Jerums G, Panagiotopoulos S, Tsalamandris C, Allen
TJ, Gilbert RE, and Comper WD. Why is Proteinuria Such an Important Risk Factor for Progression in Clinical Trials? Kidney International Supplement. 1997; 63: S87–S92.
Habashy D, Hodson E, and Craig J. Interventions for Idiopathic Steroid-Resistant Nephrotic Syndrome in Children. Cochrane Database of Systematic Review. 2006; 19(CD003594).
Eddy AA and Symons JM. Nephrotic Syndrome in Childhood. The Lancet. 2003; 362(9384): 629-639.
Aviles VM, Manning J, Ochoe AC, and Zea AH. Decreased Expression of T-cell NF-κB p65 Subunit in Steroid-Resistant Nephrotic Syndrome. Kidney International. 2004; 66(1): 6-7.
Neuhaus TJ, Shah V, and Callard RE. T-lymphocyte Activation in Steroid-Sensitive Nephrotic Syndrome in Childhood. Nephrology Dialysis Transplantation. 1995; 10(8): 1348–1352.
Corebima BIRV, Subandiyah K, dan Fitri LE. Ekspresi dan Aktivasi Sub Unit p65 NF-KB pada Sel Mononuklear Penderita Sindrom Nefrotik Resisten Steroid Anak. Jurnal Kedokteran Brawijaya. 2009; 25(3): 133-137.
Neuhaus TJ, Wadhwa M, Callard R, and Barrat TM. Increased IL-2, IL-4 and Interferon- (IFN- in Steroid-Sensitive Nephrotic Syndrome. Cl inical and Experimental Immunology. 1995; 100(3): 475–479.
Strehlau J, Schachter AD, Pavlakis M, Singh A, Tejani A, and Strom TB. Activated Intrarenal Transcription of CTL-effectors and TGF-β1 in Children with Focal Segmental Glomerulosclerosis. Kidney International. 2002; 61: 90-95.
Bamberger CM, Schulte HM, and Chrousos GP. Molecular Determinants of Glucocorticoid Receptor Function and Tissue Sensitivity to Glucocorticoids. Endocrine Reviews. 1996; 17(3): 245–261.
Tryggvason K, Patrakka J, and Wartiovaara J. Hereditary Proteinuria Syndromes and Mechanisms of Proteinuria. The New England Journal of Medicine. 2006; 354: 1387–1401.
Hinkes B, Wiggins RC, Gbadegesin R, et al. Positional Cloning Uncovers Mutations in PLCE1 Responsible for a Nephrotic Syndrome Variant that May be Reversible. Nature Genetics. 2006; 38(12): 1397–1405.
Tsakas S and Goumenos DS. Accurate Measurement and Clinical Significance of Urinary Transforming Growth Factor-Beta1. American Journal of Nephrology. 2006; 26(2): 186-193.
Woroniecki RP, Shatat IF, Supe K, Du Z, and Kaskel FJ. Urinary Cytokines and Steroid Responsiveness in Idiopathic Nephrotic Syndrome of Childhood. American Journal of Nephrology. 2008; 28(1): 83-90.
Scaglione R, Argano C, Corrao S, Di Chiara T, Licata A, and Licata G. Transforming Growth Factor β-1 and Additional Renoprotective Effect of Combination ACE Inhibitor and Angiotensin II Receptor Blocker in Hypertens ive Subject s wi th Minor Renal Abnormalities: A 24-Week Randomized Controlled Trial. Journal of Hypertension. 2005; 23(3): 657–664.
Hartanto J, Juffrie M, dan Ardani P. Perbandingan Rasio Protein Kreatinin Urin Sesaat pada Pagi, Siang dan Malam Hari pada Anak dengan Sindrom Nefrotik. Berkala Kesehatan Klinis. 2009; 15(1): 37-41.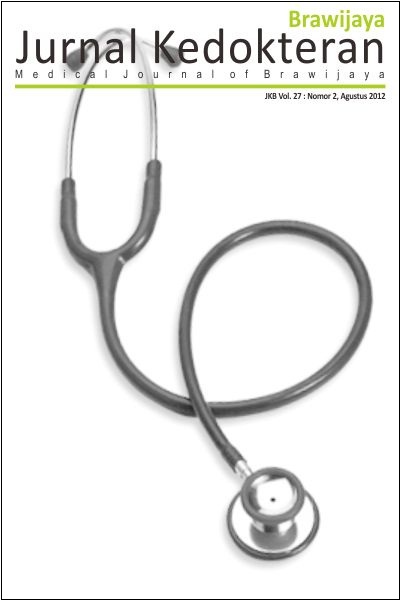 Downloads
License
Authors who publish with this journal agree to the following terms:
Authors retain copyright and grant the journal right of first publication with the work simultaneously licensed under a Creative Commons Attribution License that allows others to share the work with an acknowledgement of the work's authorship and initial publication in this journal.
Authors are able to enter into separate, additional contractual arrangements for the non-exclusive distribution of the journal's published version of the work (e.g., post it to an institutional repository or publish it in a book), with an acknowledgement of its initial publication in this journal.
Authors are permitted and encouraged to post their work online (e.g., in institutional repositories or on their website) prior to and during the submission process, as it can lead to productive exchanges, as well as earlier and greater citation of published work (See The Effect of Open Access).