Pemberian Patulin Menyebabkan Kerusakan Struktur dan Ultra Struktur Hepatosit Mencit
Abstract
Patulin ialah sejenis mikotoksin yang terutama dihasilkan oleh kapang Aspergillus clavatus dan dapat mengkontaminasi beberapa macam biji-bijian, seperti: kacang tanah, kedelai, merica, terutama biji-biji yang telah mengalami kerusakan dan bersifat nephrotoksik maupun hepatotoksik. Penelitian eksperimental ini dilakukan dengan tujuan untuk mengetahui pengaruh patulin dalam berbagai dosis terhadap kerusakan struktural dan ultra struktural hepatosit mencit dengan menggunakan 24 ekor mencit (Mus musculus) jantan var. BALB-C umur 3 bulan. Mencit kelompok eksperimen diberi patulin per oral dengan 3 macam dosis, terdiri dari dosis 1, yaitu: 1mg/kg BB; dosis 2, yaitu: 1,75mg/kg BB; dosis 3, yaitu: 2,5mg/kg BB. Kerusakan struktur hepatosit diperiksa pada zona-zona centrilobular, midzonal, dan perifer. Kerusakan struktur hepatosit diperiksa secara histopatologi dan kerusakan ultra struktur diperiksa dengan Transmission Electron Microscope (TEM). Hasil penelitian menunjukkan bahwa: 1) patulin dapat menyebabkan kerusakan struktur maupun ultra struktur hepatosit mencit; 2) ada pengaruh perbedaan dosis patulin terhadap tingkat kerusakan struktur hepatosit mencit; makin tinggi dosis patulin, makin tinggi tingkat kerusakan yang diakibatkannya;  3) dosis patulin ke III (2,5mg/kg BB) merupakan dosis tertinggi yang menyebabkan kerusakan struktur hepatosit mencit; 4) ada perbedaan pengaruh patulin terhadap kerusakan struktur hepatosit pada ketiga zona lobulus hepar mencit; 5) zona lubulus hepar mencit yang  mengalami kerusakan struktur hepatosit tertinggi ialah zona perifer.
Kata Kunci: Dosis patulin, kerusakan struktur hepatosit, kerusakan ultra struktur hepatosit, zona-zona lobulus hepar
Downloads
Download data is not yet available.
References
Hastuti US. Mikoflora pada Biji Lada Utuh dan biji Lada Rusak di Kodya Malang. Makalah disajikan pada PIT dan Seminar Nasional Mikrobiologi PERMI. Malang, 12-13 November 1996.
Pitt JI and AD Hocking. Fungi and Food Spoilage. North Ryde, Sydney: Springer; 2009.
Jimenes M, Mateo R, Querol A, Huerta T, and Hernandez E. Mycotoxins and Mycotoxigenic Moulds in Nuts and Sunflower Seeds for Human Consumption. Mycopathologia. 1991; 115(2): 121-127.
Pratiwi ST. Mikrobiologi Farmasi. Jakarta: Penerbit Erlangga; 2008; hal. 176-185.
Makfoeld D. Mikotoksin Pangan. Yogyakarta: Penerbit Kanisius; 1993.
Tortora J, Funke BR, and Case CL. Microbiology an Introduction. San Francisco. Pearson Education, Inc; 2004.
Betina V. Mycotoxins-Chemichal, Biologycal, and Enviromental Aspect. Canada: Elsevier Science; 1989; pp. 174-265.
Kogika MM, Hagiwara MK, and Mirandola RM. Experimental Citrinin Nephrotoxicosis in Dogs: Renal Function Evaluation. Veterinary & Human Toxicology. 1993; 35(2): 136-140.
Kumar V, Abbas AK, Aster JC, and Fausto N. Robins & Cotran Pathologic Basis of Disease. 8th edition. Philadelphia: WB Saunders Company; 2010.
Klaassen CD. Casarett and Doull's Toxicology: The Basic Science of Poisons. New York: McGraw-Hill Companies, Inc; 2008.
Barhoumi R and Burghardt RC. Kinetic Analysis of the Chronology of Patulin and Gossypol-Induced Cytotoxicity In Vitro. Fundamental and Applied Toxicology. 1996; 30(2): 290-297.
Hayes AW. Mycotoxin Teratogenicity and Mutagenicity. Florida: CRC Press, Inc; 1981.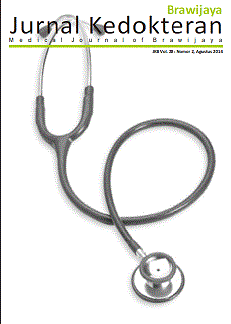 Downloads
License
Authors who publish with this journal agree to the following terms:
Authors retain copyright and grant the journal right of first publication with the work simultaneously licensed under a Creative Commons Attribution License that allows others to share the work with an acknowledgement of the work's authorship and initial publication in this journal.
Authors are able to enter into separate, additional contractual arrangements for the non-exclusive distribution of the journal's published version of the work (e.g., post it to an institutional repository or publish it in a book), with an acknowledgement of its initial publication in this journal.
Authors are permitted and encouraged to post their work online (e.g., in institutional repositories or on their website) prior to and during the submission process, as it can lead to productive exchanges, as well as earlier and greater citation of published work (See The Effect of Open Access).