Efek Pemberian Probiotik, Nigella Sativa, Imunoterapi terhadap CD4+IL-4+, CD8+IL-4+ dan Skoring Asma
Abstract
Sel CD4+IL-4+ berperan dalam inflamasi asma. Peran pro-inflamasi CD8+ dalam asma dikaitkan dengan subset Tc2 yang menghasilkan IL-4+. Imunoterapi merupakan tatalaksana asma yang bermanfaat dan imunomodulator dipertimbangkan untuk meningkatkan efektivitasnya. Sejauh ini belum ada penelitian yang mengkaji pemberian jangka panjang imunoterapi, probiotik dan Nigella sativa terhadap modulasi respon imun, khususnya CD4+IL4+, CD8+IL4+ dan skoring asma. Desain penelitian berupa eksperimental randomized clinical trial (RCT), post test control study untuk CD4+IL4+ dan CD8+IL4+ dan pre-post control study untuk skoring asma. Subjek dibagi 4 kelompok, imunoterapi+plasebo, imunoterapi+Nigella sativa, imunoterapi+probiotik, imunoterapi+Nigella sativa+probiotik, dengan perlakuan selama 56 minggu. Imunoterapi yang digunakan adalah imunoterapi house dust mite (HDM) subkutan. Probiotik yang diberikan ProBi (Medifarma) berisi 2x109 colony forming unit(cfu)/gram Lactobacillus acidophilus dan Bifidobacterium lactis. Skoring asma dinilai dengan skor Asthma Control Test (ACT), bila skor≥19 menunjukkan asma terkontrol. Jumlah CD4+IL4+ dan CD8+IL4+ diukur dengan flowcytometry. Hasil penelitian menunjukkan jumlah CD4+IL4+ dan CD8+IL4+ tidak berbeda bermakna antar kelompok. Jumlah CD4+IL4+ terendah dan jumlah CD8+IL4+ tertinggi terdapat pada kelompok imunoterapi+Nigella sativa+probiotik. Skoring asma meningkat bermakna setelah perlakuan pada kelompok imunoterapi+Nigella sativa (p=0,002), imunoterapi+probiotik (p=0,000), dan imunoterapi+Nigella sativa+probiotik (p=0,000). Kelompok imunoterapi+probiotik memiliki skoring asma lebih tinggi dibandingkan imunoterapi (p=0,04). Dapat disimpulkan pemberian imunoterapi+Nigella sativa+probiotik menurunkan jumlah CD4+IL4+ lebih rendah  dan meningkatkan jumlah CD8+IL4+ lebih tinggi meskipun tidak bermakna dibandingkan imunoterapi saja. Pemberian kombinasi imunoterapi+probiotik meningkatkan skoring asma lebih baik dibandingkan imunoterapi saja.
Kata Kunci: CD4+IL4+, CD8+IL4+, imunoterapi, Nigella sativa, probiotik, skoring asma
Downloads
Download data is not yet available.
References
Global Initiative for Asthma. Global Ashtma Strategy of Management and Prevention Update 2011. Cape Town: National Heart, Lung, and Blood Institute; 2011; p. 1-79.
Agrawal DK and Shao Z. Pathogenesis of Allergic Airway Inflammation. Current Allergy and Asthma Reports. 2010; 10(1): 39-48.
Abbas AK and Lichtman AH. Cellular and Molecular Immunology. 5th Edition. Boston: Saunders; 2005: p. 60-65.
Betts RJ and Kemeny DM. CD8+ T Cells in Asthma: Friend or Foe? Pharmacology and Therapeutic. 2009; 121(2): 123-131
Cox L, Nelson H, Lockey R, et al. Allergen Immunotherapy: A Practice Parameter Third Update. Journal of Allergy and Clinical Immunology. 2011; 127(1 Suppl): S1-55.
Lloyd CM and Hawrylowicz CM. Regulatory T Cells in Asthma. Immunity. 2009; 31(3): 438-449.
Till SJ, Francis JN, Nouri-aria K, and Durham SR. Mechanisms of Immunotherapy. Journal of Allergy and Clinical Immunology. 2004; 113(6): 1025-1034.
Nelson HS. Multiallergen Immunotherapy for Allergic Rhinitis and Asthma. Journal of Allergy and Clinical Immunology. 2009; 123(4): 763-769.
Calderón MA, Casale TB, Togias A, Bousquet J, Durham SR, and Demoly P. Allergen-Specific Immunotherapy for Respiratory Allergies: from Meta-Analysis to Registration and Beyond. Journal of Allergy and Clinical Immunology. 2011; 127(1): 30-38.
Thomas DW and Greer FR. Clinical Report Probiotics and Prebiotics in Pediatric. Paediatrics. 2010; 126(6): 1217-1231.
Falezko WJJ, Rha RD, Steinhausen S, et al. Probiotic Induced Supression of Allergic Sensitization and Airway Inflammation is Associated with Increase of T Regulatory Dependent Mechanism in Murine Model of Asthma. Clinical and Experimental Allergy. 2007; 37(4): 498-505.
Kalus U, Pruss A , Bystron J, et al. Effect of Nigella sativa (Black Seed) on Subjective Feeling in Patients with Allergic Disease. Phytotherapy Research. 2003; 17(10): 1209-1214.
Barlianto W, Kusuma CHMS, Widodo A, and Sudiarto S. Crude Extract of Black Seed (Nigella sativa) can Modulate TCD4+ and CD8+ Lymphocytes in Asthmatic Mouse Model. Paediatric Respiratory Research. 2012; 13(Suppl1): S54-S55.
Sugiono LT, Nurdiana, Olivianto E, Barlianto W, and Kusuma HMSC. The Effect of House Dust Mite Immunotherapy, Probiotic and Nigella sativa in the Number of CD4+IL-4+ Cell, Total IgE level and Asthma Control Test (ACT) Score. Journal of Dental and Medical Sciences. 2013; 7(3): 32-39.
Fujita H, Soyka MB, Akdis M, and Akdis CA. Mechanisms of Allergen-specific Immunotherapy. Clinical and Translational Allergy. 2012; 2: 1-8.
Harsono A, Subrata LA, and Endaryanto A. Immunomodulatory Effect of Probiotic and Sublingual Immunotherapy in Asthmatic Children. Folia Medica Indonesiana. 2009; 45(1): 14-21.
El Gazzar M, El Mezayen R, Marecki JC, Nicolls MR, Canastar A, and Dreskin SC. Anti-Inflammatory Effect of Thymoquinone in a Mouse Model of Allergic Lung Inflammation. International Immunopharmacology. 2006; 6(7): 1135-1142.
Shahzad M, Yang X, Raza Asim MB, et al. Black Seed Oil Ameliorates Allergic Airway Inflammation by Inhibiting T-cell Proliferation in Rats. Pulmonary Pharmacology & Therapeutics. 2009; 22(1): 37-43.
Pochard P, Gosset P, Grangette C, et al. Lactic Acid Bacteria Inhibit TH2 Cytokine Production by Mononuclear Cells from Allergic Patients. Journal of Allergy and Clinical Immunology. 2002; 110(4): 617-623.
Das RR, Naik SS, and Singh M. Probiotics as Additives on Therapy in Allergic Airway Diseases: A Systematic Review of Benefit and Risks. BioMed Research International. 2013; 2013: 10.
Holvoet S, Zuercher AW, Julien-Javaux F, Perrot M, and Mercenier A. Characterization of Candidate Anti-Allergic Probiotic Strains in a Model of Th2-Skewed Human Peripheral Blood Mononuclear Cells. International Archives of Allergy and Immunology. 2013; 161(2): 142–154.
Timmerman HM, Koning CJ, Mulder L, Rombouts FM, and Beynen A. Monostrain, Multistrain, and Multispecies Probiotics: A Comparison of Functionality and Efficacy. International Journal of Food Microbiology. 2004; 96(3): 219-233.
Douge K, Grajecki D, Zyriax BC, Detinkina E, Eulenburg C, and Buhling KJ. Meta-analysis Impact of Maternal Supplementation with Probiotics during Pregnancy on Atopic Eczema in Childhood. British Journal of Nutrition. 2012; 107: 1-6.
Suárez-Fueyo A, Ramos T, Galán A, et al. Grass Tablet Sublingual Immunotherapy Downregulates the Th2 Cytokine Response Followed by Regulatory T-cell Generation. Journal of Allergy and Clinical Immunology. 2014; 133(1): 130-138 .
Miratu N. Perbaikan Klinis serta Perubahan Jumlah Sel T CD4+ sel T CD8+ dan Rasio Sel TCD4+ dan Sel T CD8+ pada Anak Asma Ringan yang Mendapat Imunoterapi House Dust Mite, Probiotik dan Nigella sativa. [Tesis]. Universitas Brawijaya, Malang. 2013.
Işik H, Cevikbaş A, Gürer US, et al. Potential Adjuvant Effects of Nigella sativa Seeds to Improve Spesific Immunotherapy in Allergic Rhinitis Patients. Medical Principle and Practice. 2010; 19(3): 206-211.
Shi Y, Tatavoosian A, Aledia A, George S, and Galant P. Cut Points for Asthma Control Tests in Mexican Children in Orange County California. Annals of Allergy, Asthma and Immunology. 2012; 109(1): 108-113.
Lin SY, Erekosima N, Suarez-Cuervo C, et al. Allergen Specific Immunotherapy for the Treatment Allergic Rhinoconjunctivitis and/or Asthma: Comparative Effectiveness Review. Rockville, Maryland: Agency for Healthcare Research and Quality; 2013.
Taher YA, Henricks PAJ, and van Oosterhout AJM. Allergen-Specific Subcutaneous Immunotherapy in Allergic Asthma: Immunologic Mechanisms and Improvement. Libyan Journal of Medicine. 2010; 5(Suppl).
Akib A, Munasir Z, dan Kurniati N. Buku Ajar Alergi Imunologi Anak. Edisi 2. Jakarta: Balai Penerbit IDAI; 2008; hal. 252-265.
Leung DYM, Sampson H, and Geha R. Pediatric Allergy: Principles and Practice. 2nd edition. Philadelphia: 2010; hal. 688.
Boskabady MH, Javan H, Sajady M, and Rakhshandeh H. The Possible Prophylactic Effect of Nigella Sativa Seed Extract in Asthmatic Patients. Fundamental and Clinical Pharmacology. 2007; 21(5): 559-566.
Gutkowski P, Madalinski K, Grek M, Dmenska H, Syczewska M, and Michalkiewicz J. Effect of Orally Administered Probiotic Strains Lactobaciluus and Bifidobacterium in Children with Atopic Asthma. Central European Journal of Immunology. 2010; 35 (4): 233-238.
Chen YS, Jan RL, Lin YL, Chen HH, and Wang JY. Randomized Plasebo Controlled Trial of Lactobacillus on Asthmatic Children with Allergic Rhinitis. Pediatric Pulmonology. 2010; 45(11): 1111–1120.
Doganci A, Eigenbrod T, Krug N, Sanctis GTD, Hausding M, and Erpenbeck VJ. The IL-6R α Chain Controls Lung CD4+CD25+Treg Development and Function during Allergic Airway Inflammation In Vivo. The Journal of Clinical Investigation.2005; 115: 313-325.
Cho SH, Stanciu LA, Beqishivili T, Bates PJ, Holgate ST, and Johnston SL. Peripheral Blood CD4+ and CD8+ T Cell Type 1 and Type 2 Cytokine Production in Atopic Asthmatic and Normal Subjects. Clinical and Experimental Allergy. 2002; 32(3): 427-433.
Cho SH, Stanciu LA, Holgate ST, and Johnston SL. Increased Interleukin-4, Interleukin-5 and Interferon-γ in Airway CD4+ and CD8+ T Cells in Atopic Asthma. American Journal of Respiratory and Critical Care Medicine. 2005; 171(3): 224–230.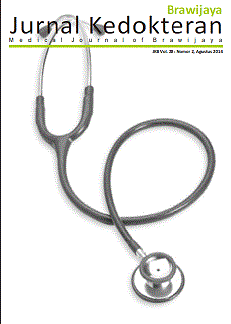 Downloads
License
Authors who publish with this journal agree to the following terms:
Authors retain copyright and grant the journal right of first publication with the work simultaneously licensed under a Creative Commons Attribution License that allows others to share the work with an acknowledgement of the work's authorship and initial publication in this journal.
Authors are able to enter into separate, additional contractual arrangements for the non-exclusive distribution of the journal's published version of the work (e.g., post it to an institutional repository or publish it in a book), with an acknowledgement of its initial publication in this journal.
Authors are permitted and encouraged to post their work online (e.g., in institutional repositories or on their website) prior to and during the submission process, as it can lead to productive exchanges, as well as earlier and greater citation of published work (See The Effect of Open Access).