Effervescent Rosela Ungu Mencegah Penurunan Nilai SOD dan Mencegah Nekrosis Hepar Tikus Wistar yang Diberi Minyak Jelantah
Abstract
Effervescent rosela ungu merupakan salah satu bentuk diversifikasi pangan lokal yang tinggi antioksidan. Antioksidan memiliki efek mencegah reaksi oksidasi sehingga tidak sampai terjadi stres oksidatif. Tujuan penelitian ini yaitu untuk mengetahui efek antioksidan effervescent rosella ungu dalam mencegah penurunan SOD dan mencegah kerusakan sel hepar tikus wistar. Penelitian ini disusun menggunakan Post-test Only Control Group Design dengan Rancangan Acak lengkap (RAL), menggunakan tikus wistar jantan sebanyak 16 ekor dan lama perlakuan selama 4 minggu. Terdapat 4 kelompok, kontrol negatif (pakan standar + 3ml aquadest), kontrol positif (pakan standar + minyak jelantah 1ml 118mek/kg + 2ml aquadest), perlakuan dosis I (pakan standar + minyak jelantah 1ml 118mek/kg + effervescent rosela ungu 3g/2ml), dan perlakuan dosis II (pakan standar + minyak jelantah 1ml 118mek/kg + effervescent rosella ungu 6 g/2 ml). Hasil pengamatan dianalisa dengan ANOVA dan dilanjutkan uji BNT dengan taraf 5%. Hasil penelitian menunjukkan perlakuan uji in vivo berpengaruh nyata (α=0,05) terhadap nilai SOD serum. Pengamatan sel hepar tikus wistar secara histopatologi menunjukkan kelompok perlakuan dosis I maupun dosis II mampu mencegah terjadinya stres oksidatif dengan indikasi sangat sedikit sel hepar yang mengalami nekrosis.
Kata Kunci: Antioksidan, effervescent, minyak jelantah, SOD, nekrosis hepar, rosela ungu
Downloads
Download data is not yet available.
References
Qauliyah A. Mekanisme Kerja Beberapa Antioksidan. (Online) Mar. 2006. http://astaqauliyah.com/blog/read/75/mekanisme-kerja-beberapa-antioksidan.html#_ [diakses tanggal 3 Maret 2011]
Rechner AR and Kroner C. Anthocyanins and Colonic Metabolites of Dietary Polyphenols Inhibit Platelet Function. Thrombosis Research. 2005; 116(4): 327-334.
Wang LS and Stoner GD. Anthocyanins and Their Role in Cancer Prevention. Cancer Letters. 2008; 269(2): 281-290.
Vargaz FD and Lopez OP. Natural Colorants for Food and Nutraceutical Uses. Canada: CRC Press; 2003.
Ansel HC. Pengantar Bentuk Sediaan Farmasi. Edisi 4. Jakarta: UI Press; 2008.
Harler. Tea Manufacturing. London: Oxford University Press; 1997.
Zachary JF and McGavin MD. Pathologic Basic of Veterinary Disease. 4th Edition. Illinois: Mosby Elsevier Publishing Company; 2007.
Giese S. Food Chemistry. 3rd edition. New York: Marcell Dekker, Inc.; 1996.
Saudah CN. Pembuatan Serbuk Effervescent Rosela (Hibiscus sabdariffa L.), Kajian Konsentrasi Maltodekstrin dan Suhu Pengeringan yang Berbeda Terhadap Sifat Fisik, Kimia, dan Organoleptik [Skripsi]. Universitas Brawijaya, Malang. 2008.
Golberg I and William R. Biotechnology and Food Ingredient. New York: Van Nostrand Reinhold; 1999.
Pokorny J, Yanishlieva N, and Gordon MH. Antioxidant in Food: Practical Application. Canada: CRC Press; 2001.
Sagita I. Kajian Keamanan Pangan Minyak Goreng Curah Akibat Penggorengan Berulang pada Pedagang Kaki Lima Penjual Lalapan Tempe, Ayam dan Lele Goreng [Skripsi]. Universitas Brawijaya, Malang. 2009
Ukeda H. Assay of Enzyme Superoxide Dismutase (SOD). (Online) Jan. 2001. http://www. biomaxkorea. com/tech/tool/review/so.htm [diakses tanggal 23 Januari 2011].
Alamsyah A. Pengaruh Antioksidan pada Tempe Kedelai Terhadap Kadar Superoksida Dismutase (SOD) dan Malonaldehid (MDA) Serum Tikus Wistar Dipapar dengan Asap Rokok Sub Akut. [Skripsi]. Universitas Brawijaya, Malang. 2000.
Christina S. Efek Ekstrak Kacang Tunggak (Vigna unguiculata) terhadap Kadar Superoxide Dismutase (SOD) Serum Tikus Putih (Rattus norvegicus) Strain Wistar yang Telah Diovarektomi. [Skripsi]. Universitas Brawijaya, Malang. 2010.
Pierce SA and Wilson LM. Patofisiologi, Konsep Klinis Proses-proses Penyakit. Edisi 6. Jakarta: EGC Press; 2006; Jakarta.
Rieger C. Genistein. (Online) Mar. 2008. http://www.phytochemicals.info/phytochemicals/genistein.php [diakses tanggal 3 Maret 2011].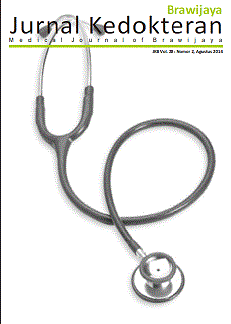 Downloads
License
Authors who publish with this journal agree to the following terms:
Authors retain copyright and grant the journal right of first publication with the work simultaneously licensed under a Creative Commons Attribution License that allows others to share the work with an acknowledgement of the work's authorship and initial publication in this journal.
Authors are able to enter into separate, additional contractual arrangements for the non-exclusive distribution of the journal's published version of the work (e.g., post it to an institutional repository or publish it in a book), with an acknowledgement of its initial publication in this journal.
Authors are permitted and encouraged to post their work online (e.g., in institutional repositories or on their website) prior to and during the submission process, as it can lead to productive exchanges, as well as earlier and greater citation of published work (See The Effect of Open Access).