Ekstrak Rosela Menurunkan Perlemakan dan Ekspresi ADMA Hepar akibat Diet Aterogenik pada Tikus
Abstract
Rosela memiliki anthocyanin sebagai antioksidan polifenol yang berpotensi mencegah progresivitas penyakit akibat stres oksidasi. Diet aterogenik dan stres oksidasi memicu serangan radikal bebas pada komponen lemak dan protein sehingga terjadi perlemakan hepar dan peningkatan ekspresi ADMA (Asymmetric dimethylarginine). Penelitian ini bertujuan mengetahui pengaruh pemberian ekstrak rosela strain Hibiscus sabdariffa terhadap perlemakan hepar dan ekspresi ADMA hepar pada tikus Rattus norvegicus yang diberi diet aterogenik. Studi eksperimental menggunakan post test only control group pada Rattus norvegicus strain Wistar jantan yang dibagi dalam empat kelompok, yaitu kelompok kontrol positif (diet aterogenik), kelompok1 (ekstrak rosela 150mg/kgBB/hari + diet aterogenik), kelompok 2 (ekstrak rosela 300mg/kgBB/hari + diet aterogenik), dan kelompok kontrol negatif (tanpa pemberian diet aterogenik dan ekstrak rosela). Hasil penelitian menunjukkan bahwa ekstrak rosela mampu menurunkan perlemakan hepar yang berdasar pemeriksaan histopatologi berupa jumlah sel yang mengalami perlemakan lebih sedikit (p=0,000). Ekspresi ADMA dari gambaran imunohistokimia menunjukkan ekspresi yang lebih sedikit pada kelompok dengan diberi ekstrak rosela (p=0,000). Dapat disimpulkan pemberian ekstrak rosela menghambat perlemakan hepar akibat diet aterogenik dan ekspresi ADMA akibat diet aterogenik pada tikus, dengan dosis optimum rosela 300 mg/kgBB/hari. 
Kata Kunci: Diet aterogenik, ekspresi ADMA hepar, perlemakan hepar, rosela
Downloads
Download data is not yet available.
References
Chang YC, Huang KX, Huang AC, and Wang CJ. Hibiscus Anthocyanins-Rich Extract Inhibited LDL Oxidation and ox-LDL Mediated Macrophages Apoptosis. Food and Chemical Toxicology. 2006; 44(7): 1015-1023.
Prijadi B. Pengaruh Pasta Tomat terhadap Jumlah Sel Busa Aorta Tikus dengan Diet Aterogenik. Jurnal Kedokeran Brawijaya. 2007; 5: 92-99.
Leone A, Vallance P, Calver A, Collier J, and Moncada S. Endogenous Dimethylarginine as an Inhibitor of Nitric Oxide Synthesis. Journal of Cardiovascular Pharmacology. 1992; 20: 60-62.
Sydow K, Schwedheim E, Arakawa N, et al. ADMA and Oxidative Stress are Responsible for Endothelial Dysfunction in Hyperhomocsyteinemia, Effects of L-Arginine and B Vitamins. Journal of Cardiovascular Research. 2003; 57: 244-252.
Mayes, PA. Transportation and Storage of Lipid. Di dalam: Murray RK, Granner DK, and Rodwell VW (Ed). Harper's Biochemistry edisi 25. Jakarta: Penerbit Buku Kedokteran EGC; 2003: hal. 254-269.
Hirunpanich V, Anocha U, Noppawan PM, et al. Hypocholesterolemic and Antioxidant Effect of Aqueos Extract from the Dried Calyx of Hibiscus sabdariffa L. in Hypercholesterolemic Rats. Journal of Etnopharmacology. 2006; 103(2): 252-260.
Murwani S, Ali M, dan Muliartha K. Diet Aterogenik pada Tikus Putih (Rattus Norvegicus Wistar) sebagai Model Hewan Ateroskleoris. Jurnal Kedokteran Brawijaya. 2006; 22: 6-9.
Tjokroprawiro A. Globesity the Time-Bomb Disease in the Future? Capita Selecta in Endocrinology. Prosiding Seminar the 22nd CME of Internal Medicine. Surabaya, 11-12 Agustus 2007; hal. 2-10.
Vallance P, Leone A, Calver A, Collier J, and Moncada S. Accumulation of an Endogenous Inhibitor of Nitric Oxide Synthesis in Chronic Renal Failure. The Lancet. 1992; 339: 572-575.
Nijveldt RJ, Teerlink T, Siroen MP, et al. Asymmetrical DImethylarginine (ADMA) in Criticallay Ill Patients: High Plasma ADMA concentration is an Independent Risk Factor of ICU Mortality. Clinical Nutrition. 2003; 22(1): 23-30.
Surdacki A, Nowicki M, Sandmann J, et al. Reduced Urinary Excretion of Nitric Oxide and Increased Plasma Levels of Asymmetrical Dimethylarginine in Men with Essential Hypertension. Journal of Cardiovascular Pharmacology. 2004; 33: 652-658.
Soemarto WD. Perlemakan Hati. Di dalam: Buku Ajar Ilmu Penyakit Dalam. Jakarta: Balai Penerbit FKUI; 1996: hal. 333-335.
Dullo AG, Antic V, and Montani JP. Preface Pathogenesis of the Worst Killer of the 21st Century. International Journal of Obesity. 2002; 26: 1-2
Cantarow A and Trumper M. Clinical Biochemistry. 9th edition. Philadelphia: WB Saunders Company; 2000; hal. 143-151.
Nijveldt RJ, Teerlink T, Siroen MP, et al. The Liver is an Important Organ in the Metabolism of Asymmetrical DImethylarginine (ADMA). Clinical Nutrition Journal. 2003; 22(1): 17-22.
Usui M, Matsuoka H, Miyazaki H, Ueda S, Okuda S, and Imaizumi T. Increased Endogenous Nitric Oxide Synthase Inhibitor in Patients with Congestive Heart Failure. Life Science Journal. 1998; 62(26): 2425-2430.
Xiong Y, Fu YF, Fu Sh, and Zhou HH. Elevated Levels of the Serum Endogenous Inhibitor of Nitric Oxide Synthase and Metabolic Control in Rats with Streptozotocin-induced Diabetes. Journal of Cardiovascular Pharmacology. 2003; 42(2): 191-196.
Vaziri ND. Roles of Oxidative Stress and Antioxidant Therapy inChronic Kidney Disease and Hypertension. Current Opinion in Nephrology and Hypertension. 2004; 13(1): 93-99.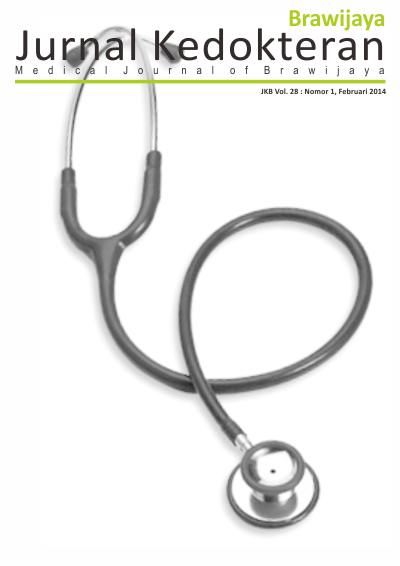 Downloads
License
Authors who publish with this journal agree to the following terms:
Authors retain copyright and grant the journal right of first publication with the work simultaneously licensed under a Creative Commons Attribution License that allows others to share the work with an acknowledgement of the work's authorship and initial publication in this journal.
Authors are able to enter into separate, additional contractual arrangements for the non-exclusive distribution of the journal's published version of the work (e.g., post it to an institutional repository or publish it in a book), with an acknowledgement of its initial publication in this journal.
Authors are permitted and encouraged to post their work online (e.g., in institutional repositories or on their website) prior to and during the submission process, as it can lead to productive exchanges, as well as earlier and greater citation of published work (See The Effect of Open Access).