Demographic, Clinical, and Laboratory Characteristics of HIV Patients with Cerebral Toxoplasmosis at Haji Adam Malik General Hospital Medan
Keywords:
Cerebral toxoplasmosis, clinical characteristics, HIV, patient characteristics
Abstract
Cerebral toxoplasmosis is one of the frequent opportunistic infections of the central nervous system of Human Immunodeficiency Virus (HIV) patients in the presence of Toxoplasma Gondii infection. In Indonesia, the incidence of HIV patients with cerebral toxoplasmosis is 45%. This study was done to determine the demographic, clinical, and laboratory characteristics of HIV patients with cerebral toxoplasmosis at Haji Adam Malik Hospital, Medan, based on medical record data in 2022. The total sample was 23 patients with time periods from January to March 2022. Demographically, the data showed that most of the HIV patients with cerebral toxoplasmosis were male (91.3%), a mean age of 36.48 ± 5.74 years, married (87%), high school graduates (69.6%), and working (91.3%). The most common clinical characteristics were headache (69.6%) and cognitive impairment (56.5%). Laboratory characteristics found were (56.5%) non-reactive (<0.8 COI) and (43.5%) reactive (≥1 COI) anti toxoplasma IgM, while reactive anti-toxoplasma IgG (≥3 IU/ml) was obtained in all research samples (100%).
Downloads
Download data is not yet available.
References
Fitri FI, Rambe AS, and Fitri A. Correlation between Lymphocyte CD4 Count, Treatment Duration, Opportunistic Infection and Cognitive Function in Human Immunodeficiency Virus-Acquired Immunodeficiency Syndrome (HIV-AIDS) Patients. Macedonian Journal of Medical Sciences. 2018; 6(4): 643-647.
Dinas Kesehatan Sumut. Profil Kesehatan Provinsi Sumatera Utara Tahun 2017. Medan. (Online) 2017. http://dinkes.sumutprov.go.id/common/upload/profilkesehatanprovinsisumaterautaratahun2017.pdf
Basavaraju A. Toxoplasmosis in HIV infection. An Overview. Tropical Parasitology. 2016; 6(2): 129–135.
Yuliawati I and Nasronudin. Pathogenesis, Diagnostic, and Management of Toxoplasmosis. Indonesian Journal of Tropical and Infectious Disease. 2015; 5(4): 101-106.
Lau A, Jain MK, Chow JYS, Kitchell E, Lazarte S, and Nijhawan A. Toxoplasmosis Encephalitis: A Cross Sectional Analysis at U.S. Safety-Net Hospital in the Late cART Era. Journal of the International Association of Providers of AIDS Care. 2021; 20: 1-7.
Sukarini NP, Sudewi AAR, and Laksmidewi AAAP. Kadar CD4 sebagai Faktor Risiko Gangguan Kognitif pada Penderita Human Immunodeficiency Virus Pra-Antiretroviral. Majalah Kedokteran Neurosains. 2017; 34(2): 73- 75.
Ismayani K, Suharjanti I, and Sugianto P. Korelasi antara Kadar CD4 Dengan Skala Karnofsky pada Penderita AIDS dengan Toksoplasmosis Serebri. Neurona. 2012; 30(1): 1-5.
Hassana DS, Hadisaputro S, and Sofro MAU. Toxoplasmosis and Cerebral Toxoplasmosis in HIV/AIDS Patients in Kariadi Hospital, Semarang. Jurnal Epidemiologi Kesehatan Komunitas. 2021; 6(1): 213-217.
Pimpalkar S, Mishra M, Kurhade A, Unakal C, Kurhade G, and Powar R. Prevalence of Toxoplasmosis among HIV/AIDS Patients and Correlation of Radiological Investigations with Laboratory Findings. Microbiology Research Journal International. 2018; 26(3): 1-10.
Firouzeh MM, Moradbeigi M, Seyedalinagi S, et al. Demographic, Clinical and Laboratory Profiles of HIV Infected Patients Admitted Into Imam Khomeini Hospital of Tehran, Iran. Infectious Disorders-Drug Target. 2016; 16(2): 113–120.
Blader IJ, Coleman BJ, Tichen C, and Gubbels MJ. Lytic Cycle of Toxoplasma gondii: 15 Years Later. Annual Review of Microbiology. 2015; 69: 463-485.
Luma HL, Tchaleu BCN, Mapoure YN, et al. Toxoplasma encephalitis in HIV/AIDS Patients Admitted to the Douala General Hospital between 2004 and 2009: A Cross Sectional Study. BioMedCentral Research Note. 2013; 6: 1–5.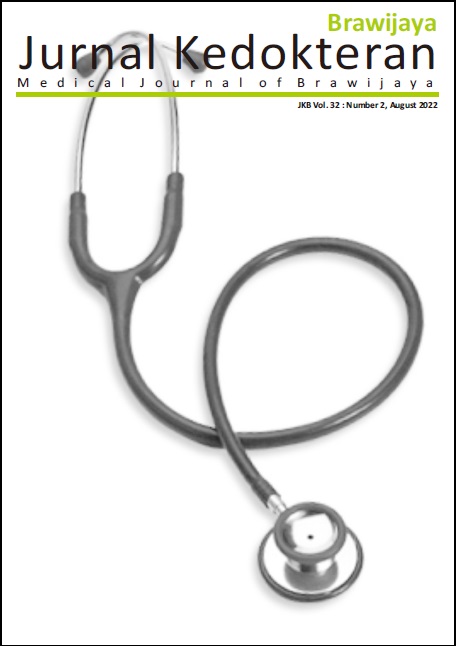 Downloads
Published
2022-08-31 — Updated on 2022-11-04
License
Authors who publish with this journal agree to the following terms:
Authors retain copyright and grant the journal right of first publication with the work simultaneously licensed under a Creative Commons Attribution License that allows others to share the work with an acknowledgement of the work's authorship and initial publication in this journal.
Authors are able to enter into separate, additional contractual arrangements for the non-exclusive distribution of the journal's published version of the work (e.g., post it to an institutional repository or publish it in a book), with an acknowledgement of its initial publication in this journal.
Authors are permitted and encouraged to post their work online (e.g., in institutional repositories or on their website) prior to and during the submission process, as it can lead to productive exchanges, as well as earlier and greater citation of published work (See The Effect of Open Access).