Effect of Simvastatin on Eosinophilic Inflammation of Bladder Tissue in Interstitial Cystitis Rat Model
Keywords:
Bladder, eosinophil, interstitial cystitis, protamine sulfate, simvastatin
Abstract
In the urogenital system, simvastatin is associated with interstitial cystitis adverse effects, but the exact mechanism is not yet clearly defined. This study aims to determine the effect of simvastatin on eosinophilic inflammation of bladder tissue in vivo. Laboratory experimental research design with the post-test only control group using 24 female Wistar rats aged 8-10 weeks were randomly divided into simvastatin 50mg/kg BW (n=12) or placebo carboxymethylcellulose 0.5% (n=12). All groups received treatment through oral gavage for thirty days. After that, each group was divided equally into three subgroups: control rat, day 0 Interstitial Cystitis (IC) rat (IC0), and day 3 IC rat (IC3). Control or IC0 rats each received intravesical instillation of buffered saline or protamine sulfate (PS), respectively, and were terminated immediately less than 3 hours after instillation. The IC3 rats received intravesical PS instillation and were terminated three days post-instillation. The bladder tissue was made in Hematoxylin-Eosin histology preparations. As in previous studies, the results showed successful desquamation of the urothelium after PS instillation. Tissue eosinophil counts were significantly higher in the simvastatin group than in the placebo group in the IC3 model (15.50±5.92 vs. 4.00±2.83, p=0.013). It can be concluded that the mechanism of the adverse effect of simvastatin on bladder tissue is through increased tissue inflammation mediated by eosinophils along with urothelial layer destruction by the protamine sulfate.
Downloads
Download data is not yet available.
References
Baigent C, Keech A, Kearney PM, Blackwell L, et al. Efficacy and Safety of Cholesterol-Lowering Treatment: Prospective Meta-Analysis of Data from 90,056 Participants in 14 Randomised Trials of Statins. The Lancet. 2005; 366(9493): 1267–1278.
Harrison TN, Scott RD, Cheetham TC, et al. Trends in Statin Use 2009–2015 in a Large Integrated Health System: Pre- and Post-2013 ACC/AHA Guideline on Treatment of Blood Cholesterol. Cardiovascular Drugs and Therapy. 2018; 32(4): 397–404.
Ward NC, Watts GF, and Eckel RH. Statin Toxicity: Mechanistic Insights and Clinical Implications. Circulation Research. 2019; 124(2): 328–350.
Keen HI, Krishnarajah J, Bates TR, and Watts GF. Statin Myopathy: The Fly in the Ointment for the Prevention of Cardiovascular Disease in the 21st Century? Expert Opinion on Drug Safety. 2014; 13(19): 1227–1239.
Laufs U, Scharnagl H, and März W. Statin Intolerance. Current Opinion in Lipidology. 2015; 26(6): 492–501.
Bitzur R, Cohen H, Kamari Y, and Harats D. Intolerance to statins: Mechanisms and Management. Diabetes Care. 2013; 36(S2): S325-S330.
Vasudevan V and Moldwin R. Adressing Quality of Life in the Patient with Interstitial Cystitis/Bladder Pain Syndrome. Asian Journal of Urology. 2017; 4(1): 50-54.
Huang CY, Chung SD, Kao LT, Lin HC, and Wang LH. Statin Use Is Associated with Bladder Pain Syndrome/Interstitial Cystitis: A Population- Based Case-Control Study. Urologi Internationalis. 2015; 95(2): 227–232.
Jhang JF and Kuo HC. Pathomechanism of Interstitial Cystitis/Bladder Pain Syndrome and Mapping the Heterogeneity of Disease. International Neurourology Journal. 2016; 20(S2): S95-S104.
Dogishi K, Okamoto K, Majima T, et al. A Rat Long-Lasting Cystitis Model Induced by Intravesical Injection of Hydrogen Peroxide. Physiological Reports. 2017; 5(4): 1-11.
Bouchelouche K, Kristensen B, Nordling J, Horn T, Bouchelouche P. Increased Urinary Leukotriene E4 and Eosinophil Protein E Excretion in Patients with Interstitial Cystitis. Journal of Urology. 2001; 166(6): 2121-2125.
Hampson J, Smith D, Cowell R, and Baker A. Hypotension and Eosinophilia with Atorvastatin. Pharmacy World & Science: PWS. 2005; 27(4): 279-280.
Gressier L, Pruvost-Balland C, Dubertret L, and Viguier M. Atorvastatin-Induced Drug Reaction with Eosinophilia and Systemic Symptoms (DRESS). Annales de Dermatologie et de Venereologie. 2009; 136(1): 50-53.
Carrascosa MF, Salcines-Caviedes JR, Lucena MI, and Andrade RJ. Acute Liver Failure Following Atorvastatin Dose Escalation: Is There a Threshold Dose for Idiosyncratic Hepatotoxicity? Journal of Hepatology. 2015; 62(3): 751-752.
Zereshkian A and Waserman S. Liver Enzyme Elevation and Eosinophilia with Atorvastatin: A Case of Probable DRESS without Cutaneous Symptoms. Allergy Asthma and Clinical Immunology. 2021; 17: 1-4.
Sparrow CP, Burton CA, Hernandez M, et al. Simvastatin has Anti-Inflammatory and Antiatherosclerotic Activities Independent of Plasma Cholesterol Lowering. Arteriosclerosis, Thrombosis, and Vascular Biology. 2001; 21(1): 115–121.
Crespo MJ and Quidgley J. Simvastatin, Atorvastatin, and Pravastatin Equally Improve the Hemodynamic Status of Diabetic Rats. World Journal of Diabetes. 2015; 6(10): 1168– 1178.
Peric D, Barragan I, Giraud-Triboult K, et al. Cytostatic Effect of Repeated Exposure to Simvastatin: A Mechanism for Chronic Myotoxicity Revealed by the Use of Mesodermal Progenitors Derived from Human Pluripotent Stem Cells: Simvastatin Repeated-Dose Toxicity In Vitro. STEM CELLS. 2015; 33(10): 2936–2948.
Khandelwal P, Abraham SN, and Apodaca G. Cell Biology and Physiology of the Uroepithelium. The American Journal of Physiology - Renal Physiology. 2009; 297(6): F1477-F1501.
Acharya P, Beckel J, Ruiz WG, L, et al. Distribution of the Tight Junction Proteins ZO-1, Occludin, and Claudin-4, -8, and -12 in Bladder Epithelium. The American Journal of Physiology - Renal Physiology. 2004; 287(2): F305-F318.
Hicks RM. The Mammalian Urinary Bladder: An Accommodating Organ. Biological Reviews of the Cambridge Philosophical Society. 1975; 50(2): 215–246.
Hurst RE, Rhodes SW, Adamson PB, Parsons C, and Roy JB. Functional and Structural Characteristics of the Glycosaminoglycans of the Bladder Luminal Surface. Journal of Urology. 1987; 138(2): 433–437.
Kreft ME, Jezernik K, Kreft M, and Romih R. Apical Plasma Membrane Traffic in Superficial Cells of Bladder Urothelium. Mechanism of Exocytosis. 2009; 1152(1): 18–29.
Spector DA, Yang Q, Liu J, and Wade JB. Expression, Localization, and Regulation of Urea Transporter B in Rat Urothelia. The American Journal of Physiology- Renal Physiology. 2004; 287(1): F102-F108.
Apodaca G, Balestreire E, and Birder LA. The Uroepithelial-Associated Sensory Web. Kidney International. 2007; 72(9): 1057–1064.
Jhang JF, Hsu YH, and Kuo HC. Possible Pathophysiology of Ketamine-Related Cystitis and Associated Treatment Strategies. International Journal of Urology. 2015; 22(9): 816-825.
Lavelle J, Meyers S, Ramage R, et al. Protamine Sulfate-Induced Cystitis: A Model of Selective Cytodestruction of the Urothelium. Urology. 2001; 57(6 Suppl 1): 113.
Izadpanah R, Schächtele DJ, Pfnür AB, et al. The Impact of Statins on Bological Characteristics of Stem Cells Provides a Novel Explanation for Their Peiotropic Beneficial and Adverse Clinical Effects. The American Journal of Physiology - Cell Physiology. 2015; 309(8): C522-C531.
Chen YT, Yang CC, Sun CK, et al. Extracorporeal Shock Wave Therapy Ameliorates Cyclophosphamide- Induced Rat Acute Interstitial Cystitis though Inhibiting Inflammation and Oxidative Stress-In Vitro and In Vivo Experiment Studies. American Journal of Translational Research. 2014; 6(6): 631–648.
Urbich C, Dernbach E, Zeiher AM, and Dimmeler S. Double-Edged Role of Statins in Angiogenesis Signaling. Circulation Research. 2002; 90(6): 737–744.
Kim YY, Jee HJ, Um JH, Kim YM, Bae SS, and Yun J. Cooperation between p21 and Akt is Required for p53-dependent Cellular Senescence. Aging Cell. 2017; 16(5): 1094–1103.
Childs BG, Durik M, Baker DJ, and van Deursen JM. Cellular Senescence in Aging and Age-Related Disease: From Mechanisms to Therapy. Nature Medicine. 2015; 21(12): 1424–1435.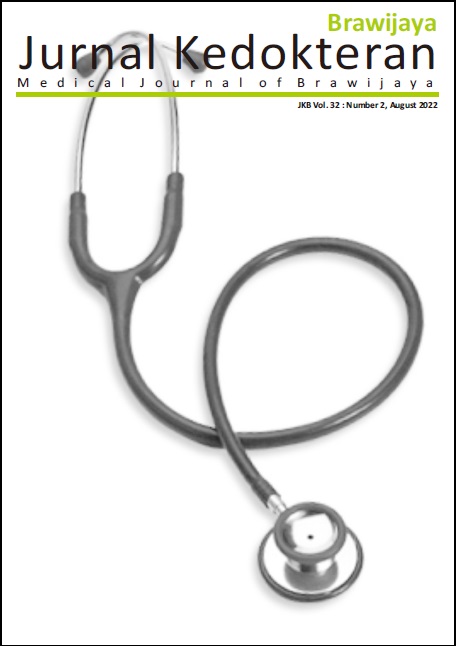 Downloads
Published
2022-08-31 — Updated on 2022-11-04
License
Authors who publish with this journal agree to the following terms:
Authors retain copyright and grant the journal right of first publication with the work simultaneously licensed under a Creative Commons Attribution License that allows others to share the work with an acknowledgement of the work's authorship and initial publication in this journal.
Authors are able to enter into separate, additional contractual arrangements for the non-exclusive distribution of the journal's published version of the work (e.g., post it to an institutional repository or publish it in a book), with an acknowledgement of its initial publication in this journal.
Authors are permitted and encouraged to post their work online (e.g., in institutional repositories or on their website) prior to and during the submission process, as it can lead to productive exchanges, as well as earlier and greater citation of published work (See The Effect of Open Access).