Dominasi Pewarisan Pola Sidik Jari Whorl dalam Keluarga Karyawan Fakultas Kedokteran Universitas Muhammadiyah Palembang
Keywords:
Dermatoglifi, pola sidik jari, radial loop, tented arch, ulnar loop, whorl
Abstract
Setiap individu memiliki sifat turunan atau sifat warisan dari kedua orangtua. Salah satu sifat yang diwariskan yaitu pola sidik jari. Tujuan penelitian adalah mengetahui bagaimana pewarisan pola sidik jari pada masyarakat kota Palembang khususnya pada karyawan Fakultas Kedokteran Universitas Muhammadiyah Palembang. Penelitian ini berjenis observasional deskriptif dengan desain potong lintang. Sampel penelitian diambil secara keseluruhan dari karyawan yang memenuhi kriteria penelitian sebanyak 22 keluarga sehingga diperoleh 85 orang responden.  Hasil penelitian didapatkan bahwa pola sidik jari pada responden adalah whorl (62,3%), ulnar loop (35,3%), tented arch (2,2%), dan radial loop (0,2%). Pewarisan pola sidik jari dari orang tua ke anak terdiri dari 4 sifat pewarisan yaitu pola sidik jari anak sama dengan pola sidik jari kedua orang tua (46,4%), pola sidik jari anak sama persis dengan pola sidik jari ibu (24,4%), pola sidik jari anak yang sama persis dengan ayah (14,6%), serta pola sidik jari anak yang sama hanya dengan salah satu orang tua (14,6%). Alel yang mengatur pola sidik jari whorl kemungkinan merupakan alel yang bersifat dominan terhadap pola sidik jari lain.
Downloads
Download data is not yet available.
References
Ho YY, Evans DM, Montgomery GW, et al. Common Genetic Variants Influence on Whorlsin Fingerprint Patterns. Journal of Investigative Dermatology. 2016; 136(4): 859-862.
Jindal G, Pandey RK, Gupta S, and Sandhu M. A Comparative Evaluation of Dermatoglyphics in Different Classes of Malocclusion. The Saudi Dental Journal. 2015; 27(2): 88–92.
Sontakke BR, Ghosh SK, and Pal AK. Dermatoglyphics of Fingers and Palm in Klinefelter's Syndrome. Nepal Medical College Journal. 2010; 12(3): 142-144.
Wijerathne BTB, Rathnayake GK, Adikari SC, Amarasinghe S, Abhayarathna PL, and Jayasena AS. Sexual Dimorphism in Digital Dermatoglyphic Traits among Sinhalese People in Sri Lanka. Journal of Physiological Anthropology. 2013; 32(27): 1-9.
Eboh DEO. Fingerprint Patterns in Relation to Gender and Blood Group Among Students of Delta State University, Abraka, Nigeria. Journal of Experimental and Clinical Anatomy. 2013; 12(2): 82-86.
Prawestiningtyas E dan Algozi AM. Identifikasi Forensik Berdasarkan Pemeriksaan Primer dan Sekunder Sebagai Penentu Identitas Korban pada Dua Kasus Bencana Massal. Jurnal Kedokteran Brawijaya. 2009; 25(2): 87-94.
Medland SE, Loesch DZ, Mdzewski B, Zhu G, Montgomery GW, and Martin NG. Linkage Analysis of a Model Quantitative Trait in Humans: Finger Ridge Count Shows Significant Multivariate Linkage to 5q14.1. PloS Genetics. 2007; 3(9): 1736-1744.
Beatrice E. Perbandingan Pola Multifaktor Sidik Jari Narapidana di Lembaga Pemasyarakatan Tanjung Gusta Medan dengan Pria Normal di Luar Lembaga Pemasyarakatan. [Skripsi]. Universitas Sumatera Utara, Medan. 2009.
Hsieh CT, Shyu SR, dan Hung KM. An Effective Method for Fingerprint Classification. Tamkang Journal of Science and Engineering. 2009; 12(2): 169-182.
Thompson MB, Tangen JM, and Duncan DJ. Expertise in Fingerprint Identification. Journal of Forensic Sciences. 2013; 58(6): 1519-1530.
Zhang HG, Chen YF, Ding M, et al. Dermatoglyphics from All Chinese Ethnic Groups Reveal Geographic Patterning. PLoS ONE. 2010; 5(1): e8783.
Dhall JK and Kapoor AK. Fingerprint Ridge Density as a Potential Forensic Anthropological Tool for Sex Identification. Journal of Forensic Sciences. 2016; 61(2): 424-429.
Sun L, Xue W, Li J, Zhou Z, and Han W. Palm Dermatoglyphs and Interleukin-4 Receptor Polymorphisms in Asthma. Biomedical Reports. 2017; 6 (1): 21-26.
Singh E, Saha S, Jagannath GV, Singh S, Saha S, dan Garg N. Association of Dermatoglyphic Peculiarities with Dental Caries in Preschool Children of Lucknow, India. International Journal of Clinical Pediatric Dentistry. 2016; 9(1): 39-44.
Lu H, Qian W, Geng Z, et. al. Dermatoglyphs in Coronary Artery Disease Among Ningxia Population of North China. Journal of Clinical and Diagnostic Research. 2015; 9(12): AC01-AC04.
Sufitni. Perbandingan Garis Simian dan Pola Sidik Jari Pada Kelompok Retardasi Mental dan Kelompok Normal. Majalah Kedokteran Nusantara. 2007; 40(3): 180-191.
Suryo. Genetika Manusia. Yogyakarta: UGM Press; 2010.
Yang X, Xiaojun J, Yixuan Z, and Hui L. Genetics Rules for the Dermatoglyphics of Human Fingertips and Their Role in Spouse Selection: A Preliminary Study. Springer Plus. 2016; 5(1): 1396.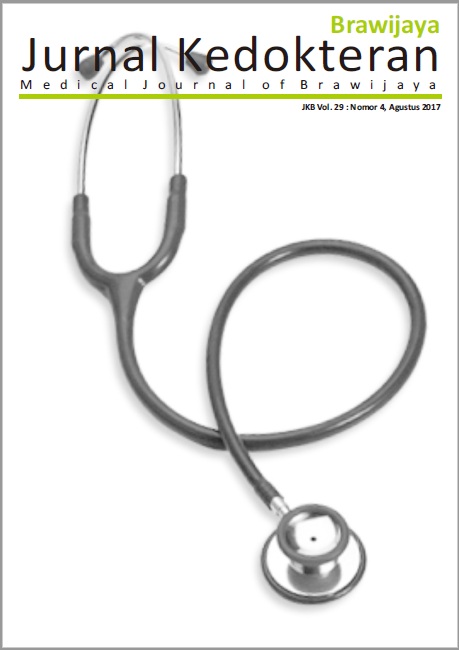 Downloads
License
Authors who publish with this journal agree to the following terms:
Authors retain copyright and grant the journal right of first publication with the work simultaneously licensed under a Creative Commons Attribution License that allows others to share the work with an acknowledgement of the work's authorship and initial publication in this journal.
Authors are able to enter into separate, additional contractual arrangements for the non-exclusive distribution of the journal's published version of the work (e.g., post it to an institutional repository or publish it in a book), with an acknowledgement of its initial publication in this journal.
Authors are permitted and encouraged to post their work online (e.g., in institutional repositories or on their website) prior to and during the submission process, as it can lead to productive exchanges, as well as earlier and greater citation of published work (See The Effect of Open Access).