Hubungan Faktor Risiko Malnutrisi dan Kadar Albumin Serum terhadap Lama Rawat Inap Pasien Kanker Ginekologi
Keywords:
Albumin, faktor risiko malnutrisi, lama rawat inap
Abstract
Skrining gizi menjadi tahapan awal penentuan risiko malnutrisi dan albumin sebagai salah satu parameter malnutrisi. Keduanya dapat mengidentifikasi status gizi dan menentukan intervensi gizi dalam mencegah komplikasi dan memperpendek masa lama rawat inap. Tujuan penelitian untuk menganalisis hubungan risiko malnutrisi yang diukur menggunakan Malnutrition Screening Tool (MST) dan kadar albumin serum terhadap lama rawat inap pasien kanker ginekologi. Penelitian observasional dengan rancangan kohort prospektif dilakukan pada bulan Februari s.d April 2016. Sebanyak 64 pasien dilakukan skrining risiko malnutrisi menggunakan MST dengan wawancara. Kadar albumin serum dan lama rawat inap dilihat dari catatan medis pasien. MST mampu mendeteksi risiko malnutrisi pada 33 orang (51,6%) dan tidak berisiko manlutrisi pada 31 orang (48,4%). Meskipun secara statistik tidak signifikan subjek berisiko malnutrisi meningkatkan lama rawat inap 0,66 kali (95% CI=0,29-1,51) dan hipoalbumin 1,31 kali (95% CI=0,47-3,66). Tindakan pembedahan dan status bekerja menjadi faktor yang berperan pada lama rawat inap pasien kanker ginekologi.
Downloads
Download data is not yet available.
References
Mercadal-Orfila G, Lluch-Taltavull J, Campillo-Artero C, and Torrent-Quetglas M. Association between Nutritional Risk Based on the NRS-2002 Test and Hospital Morbidity and Mortality. Nutricion Hospitalaria. 2012; 27(4): 1248-1254.
Dent E, Chapman IM, Piantadosi C, and Visvanathan R. Performance of Nutritional Screening Tools in Predicting Poor Six-Month Outcome in Hospitalised Older Patients. Asia Pacific Journal of Clinical Nutrition. 2014; 23(3): 394-399.
Burgos R, Sarto B, Elio I, et al. Prevalence of Malnutrition and its Etiological Factors in Hospitals. Nutricion Hospitalaria. 2012; 27(2): 469-476.
Neelemaat F, Meijers J, Kruizenga H, van Ballegooijen H, and van Bokhorst-de van der Schueren M. Comparison of Five Malnutrition Screening Tools in One Hospital Inpatient Sample. Journal of Clinical Nursing. 2011; 20(15-16): 2144-2152.
Rasmussen HH, Holst M, and Kondrup J. Measuring Nutritional Risk in Hospitals. Clinical Epidemiology. 2010; 2: 209-216.
Huang TH, Chi CC, Liu CH, Chang CC, Kuo LM, and Hsieh CC. Nutritional Status Assessed by Scored Patient Generated Subjective Global Assessment Associated with Length of Hospital Stay in Adult Patients Receiving an Appendectomy. Biomedical Journal. 2014; 37(2): 71-77.
Gupta D, Vashi PG, Lammersfeld CA, and Braun DP. Role of Nutritional Status in Predicting the Length of Stay in Cancer: A Systematic Review of the Epidemiological Literature. Annals of Nutrition and Metabolism. 2011; 59(2-4): 96-106.
Chen ZY, Gao C, Ye T, et al. Association between Nutritional Risk and Routine Clinical Laboratory Measurements and Adverse Outcomes: A Prospective Study in Hospitalized Patients of Wuhan Tongji Hospital. European Journal of Clinical Nutrition. 2015; 69(5): 552-557.
Badia-Tahull MB, Cobo-Sacristán S, Leiva-Badosa E, et al. Use of Subjective Global Assessment, Patient-Generated Subjective Global Assessment and Nutritional Risk Screening 2002 to Evaluate the Nutritional Status of Non-Critically Ill Patients on Parenteral Nutrition. Nutricion Hospitalaria. 2014; 29(2): 411-419.
Mueller C, Compher C, Ellen DM, and the American Society for Parenteral and Enteral Nutrition (A.S.P.E.N.) Board of Directors. Nutrition Screening, Assessment, and Intervention in Adults. Journal of Parenteral and Enteral Nutrition. 2011: 35(1); 16-24.
Small SR. Dietitian's Use and Perceptions of Nutrition Screening Tools for the Older Adult. [Thesis]. University of Kentucky, Lexington. 2010.
Meilyana F, Djais J, dan Garna H. Status Gizi Berdasarkan Subjective Global Assessment sebagai Faktor yang Mempengaruhi Lama Perawatan Pasien Rawat Inap Anak. Sari Pediatri. 2010; 12(3): 162-167.
Beghetto MG, Luft VC, Mello ED, and Pollanczyk CA. Accuracy of Nutritional Assessment Tools for Predicting Adverse Hospital Outcomes. Nutricion Hospitalaria. 2009; 24(1): 56-62.
Kementerian Kesehatan Republik Indonesia. Pedoman Proses Asuhan Gizi Terstandar (PAGT). Jakarta: Direktorat Jenderal Bina Gizi dan Kesehatan Ibu dan Anak Kementerian Kesehatan RI; 2014; 15-16.
Madrono AG, Mancha A, Rodriguez FJ, Ulibarri JL, and Culebras J. The Use of Biochemical and Immunological Parameters in Nutritional Screening and Assessment. Nutricion Hospitalaria. 2011; 26(3): 594-601.
Cabrerizo S, Cuadas D, Gomez-Busto F, Artaza-Artabe I, Marín-Ciancas F, and Malafarina V. Serum Albumin and Health in Older People: Review and Meta Analysis. Maturitas. 2015; 81(1): 17-27.
Laky B, Janda M, Cleghorn G, and Obermair A. Comparison of Different Nutritional Assessments and Body Composition Measurements in Detecting Malnutrition among Gynecologic Cancer Patients. The American Journal of Clinical Nutrition. 2008; 87(6): 1678-1685.
Hernandez JA, Vila MP, Sanz ML, et al. Prevalence and Cost of Malnutrition in Hospitalized Patients: the PREDyCES Study. Nutricion Hospitalaria. 2012; 27(4): 1049-1059.
Pereira MAC, Santos CA, Barito JA and Fonseca J. Scored Patient-Generated Subjective Global Assessment, Albumin and Transferrin for Nutritional Assessment of Gastrostomy Fed Head or Neck Cancer Patients. Nutricion Hospitalaria. 2014; 29(2): 420-426.
Susetyowati. Pengaruh Proses Asuhan Gizi Terstandar Berbasis Skrining terhadap Outcome Pasien di Rumah Sakit. [Disertasi]. Fakultas Kedokteran Universitas Gajah Mada, Yogyakarta. 2013.
Harimawan AIW, Hadi H dan Susetyowati. Kajian Metode Subjective Global Assessment (SGA) dan Nutrition Services Screening Assessment (NSSA) sebagai Prediktor Lama Rawat Inap dan Status Pulang. Jurnal Gizi Klinik Indonesia. 2011; 7(3): 99-106.
Herawati, Triwahyu dan Alamsyah A. Metode Skrining Gizi di Rumah Sakit dengan MST Lebih Efektif dibandingkan SGA. Jurnal Kedokteran Brawijaya. 2014; 28(1): 68-71.
Barker LA, Gout BS, and Crowe TC. Hospital Malnutrition: Prevalence, Identification and Impact on Patients and the Healthcare System. International Journal of Environmental Research and Public Health. 2011; 8(2): 514-527.
Nourissat A, Mille D, Delaroche G, et al. Estimation of the Risk for Nutritional State Degradation in Patients with Cancer: Development of a Screening Tool Based on Results from a Cross-Sectional Survey. Annals of Oncology. 2007; 18(11): 1882-1886.
Shaw C, Fleuret C, Pickard JM, Mohammed K, Black G, and Wedlake L. Comparison of a Novel, Simple Nutrition Screening Tool for Adult Oncology Inpatients and the Malnutrition Screening Tool (MST) against the Patient-Generated Subjective Global Assessment (PG-SGA). Support Care Cancer. 2015; 23(1): 47-54.
Demir MV, Tamer A, Cinemre H, Uslan I, Yaylaci S, and Erkorkmaz U. Nutritional Status and Laboratory Parameters among Internal Medicine Inpatient. Nigerian Journal of Clinical Practice. 2015; 18(6): 757-761.
Ordonez AM, Schieferdecker MEM, Cestonaro T, Netto JC and Campos ACL. Nutritional Status Influences the Length of Stay and Clinical Outcomes in Hospitalized Patients in Internal Medicine Wards. Nutricion Hospitalaria. 2013; 28(4): 1313-1320.
Tsaousi G, Panidis S, Stavron G, Tsouskas J, Panagiotou D, and Katzampassi K. Prognostic Indices of Poor Nutritional Status and Their Impact on Prolonged Hospital Stay in a Greek University Hospital. Hindawi Publishing Corporation BioMed Research International. 2014; 2014: 1-8.
Gupta D, Lammersfeld C, Vashi PG, Dahlk S, Grutsch JF, and Lis CG. Is Serum Albumin an Independent Predictor of Survival in Ovarian Cancer? Clinical Ovarian Cancer. 2009; 2(1): 52-56.
Virtuoso-Junior JS, Tribess S, Romo-Perez V, and Oliveira-Guerra R. Factors Associated to Risk Malnutrition amongst Elderly Women in Low Income Communities. Colombia Medica. 2012; 43(1): 54-62.
Ishida S, Hashimoto I, Seike T, Abe Y, Nakaya Y, and Nakanishi H. Serum Albumin Levels Correlate with Inflammation rather than Nutrition Supply in Burns Patients: A Retrospective Study. The Journal of Medical Investigation. 2014; 61(3-4): 361-368.
Basu I, Subramanian P, Prime M, Jowett C, and Levack B. The Use of Biochemical Parameters as Nutritional Screening Tools in Surgical Patients. Surgical Science. 2011; 2: 89-94.
Gupta D and Lis CG. Pretreatment Serum Albumin as a Predictor of Cancer Survival: A Systematic Review of the Epidemiological Literature. Nutrition Journal. 2010; 9(69): 1-16.
Laky B, Janda M, Chennakesavan SK, Cleghorn G, and Obermair A. Pretreatment Malnutrition and Quality of Life-Association with Prolonged Length of Hospital Stay among Patients with Gynecological Cancer: A Cohort Study. BioMed Central Cancer. 2010; 10(232): 1-6.
Menteri Kesehatan Republik Indonesia. Peraturan Menteri Kesehatan Republik Indonesia Nomor 28 Tahun 2014 tentang Pedoman Pelaksanaan Program Jaminan Kesehatan Nasional. Jakarta: Berita Negara Republik Indonesia: 2014.
Prasetiyo WH. Pengaruh Hasil Skrining berdasarkan Metode MNA terhadap Lama Rawat Inap dan Status Pulang Pasien Lansia di RSUP Dr. Sardjito Yogyakarta. [Tesis]. Universitas Gajah Mada, Yogyakarta. 2010.
Lim SL, Lee CJ, and Chan YH. Prognostic validity of 3-Minute Nutrition Screening (3-MinNS) in Predicting Length of Hospital Stay, Readmission, Cost of Hospitalisation and Mortality: a Cohort Study. Asia Pacific Journal Clinical Nutrition. 2014; 23(4): 560-566.
De Luis DA, Terroba MC, Cuellar L, et al. Association of Anthropometric and Biochemical Markers with Length of Stay and Mortality in the Hospital. European Review for Medical and Pharmacological Sciences. 2013; 17(10): 1321-1325.
Arques S, Roux E, Stolidi P, Gelisse R, and Ambrosi P. Usefulness of Serum Albumin and Serum Total Cholesterol in the Prediction of Hospital Death in Older Patients with Severe, Acute Heart Failure. Archives of Cardiovascular Disease. 2011; 104(10): 502-508.
Wartawan IW. Analisis Lama Hari Rawat Pasien yang Menjalani Pembedahan di Ruang Rawat Inap Bedah Kelas III RSUP Sanglah Denpasar Tahun 2011. [Tesis]. Universitas Indonesia, Depok. 2012.
Anggraini D. Perbandingan Kepuasan Pasien Gakin dan Pasien Umum di Unit Rawat Inap RSUD Budi Asih Tahun 2008. [Tesis]. Universitas Indonesia, Depok. 2008.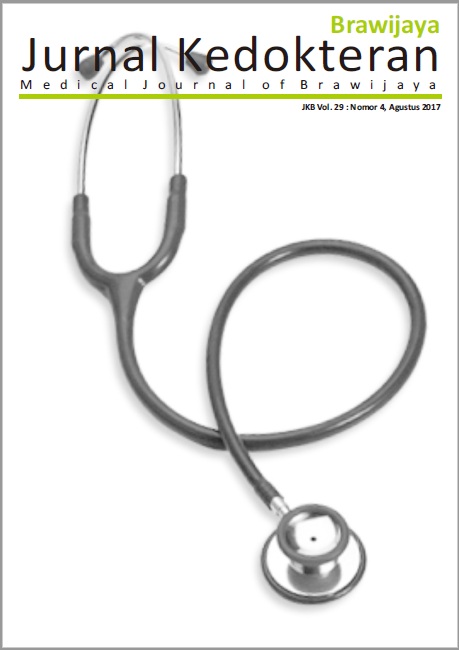 Downloads
License
Authors who publish with this journal agree to the following terms:
Authors retain copyright and grant the journal right of first publication with the work simultaneously licensed under a Creative Commons Attribution License that allows others to share the work with an acknowledgement of the work's authorship and initial publication in this journal.
Authors are able to enter into separate, additional contractual arrangements for the non-exclusive distribution of the journal's published version of the work (e.g., post it to an institutional repository or publish it in a book), with an acknowledgement of its initial publication in this journal.
Authors are permitted and encouraged to post their work online (e.g., in institutional repositories or on their website) prior to and during the submission process, as it can lead to productive exchanges, as well as earlier and greater citation of published work (See The Effect of Open Access).