Model Matematika pada Proses Hematopoiesis dengan Perlambatan Proses Proliferasi
Abstract
Proses produksi sel darah (hematopoiesis) pada kondisi normal diformulasikan dalam bentuk sistem persamaan diferensial nonlinier dengan waktu perlambatan. Waktu perlambatan menunjukkan durasi atau waktu yang diperlukan sel punca berada pada fase proliferasi. Penelitian ini bertujuan untuk menganalisis model matematika pada proses  produksi sel darah meliputi analisis titik tetap dan perilaku populasi sel punca hematopoietik. Untuk mempelajari perilaku dinamik model, dilakukan dengan mempelajari persamaan karakteristik dari model tersebut. Hasil simulasi numerik menunjukkan bahwa untuk titik tetap nontrivial model mengalami osilasi. Osilasi pada model matematika proses hematopoiesis mengindikasikan bahwa hematopoiesis yang terjadi tidak stabil sehingga nantinya dapat diimplementasikan pada analisa adanya penyakit-penyakit yang mempengaruhi sel darah.
Kata Kunci: Hematopoiesis, osilasi, model matematika, waktu perlambatan
Downloads
Download data is not yet available.
References
Williams L. Comprehensive Review of Hematopoiesis and Immunology: Imaplications for Hematopoietic Stem Cell Transplant Recipients. In: Ezzone S (Ed). Hematopoietic Stem Cell Transplantation: A Manual for Nursing Practice. Pittsburg: Oncology Nursing Society; 2004; p. 1-13.
Adimy M, Crauste F, and Ruan S. A Mathematical Study of the Hematopoiesis Process with Application to Chronic Myelogenous Leukemia. [Thesis]. University of Miami, Miami. 2004.
Mackey MC. Unified Hypothesis of the Origin of Aplastic Anemia and Periodic Hematopoiesis. Blood. 1978; 51(5): 941-956.
Crauste F. Global Asymptotic Stability and Hopf Bifurcation for a Blood Cells Production Model. Mathematical Bioscience and Engineering. 2006; 3(2): 325-346.
Pujo-Menjouet L and Mackey MC. Contribution to the Study of Periodic Chronic Myelogenous Leukemia. Comptes Rendus Biologies. 2004; 327(3): 235-244.
Howard A dan Chris R. Aljabar Linear Elementer: Versi Aplikasi Jilid 1. Jakarta: Erlangga; 2004.
Ayres F dan Ault JC. Theory and Problem of Differential Equations SI (Metric) Edition (Schaum Series). Jakarta: Erlangga; 1984.
Cain JW and Reynolds AM. Ordinary and Partial Differential Equation: An Introduction to Dynamical System. Virginia: Center for Teaching Excellence; 2010.
Finizio N and Ladas G. An Introduction to Differential Equation with Difference Equation, Fourier Analysis, and Partial Differential Equations. California: Wadsworth; 1982.
Pagalay U. Mathematical Modeling (Aplikasi Pada Kedokteran, Imunologi, Biologi,Ekonomi, Perikanan). Malang: UIN Press; 2009.
Robinson RC. An Introduction to Dynamical Systems Continuous and Discrete. New Jersey: Pearson Education Inc; 2004.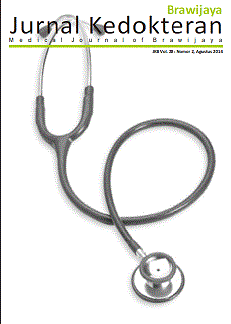 Downloads
License
Authors who publish with this journal agree to the following terms:
Authors retain copyright and grant the journal right of first publication with the work simultaneously licensed under a Creative Commons Attribution License that allows others to share the work with an acknowledgement of the work's authorship and initial publication in this journal.
Authors are able to enter into separate, additional contractual arrangements for the non-exclusive distribution of the journal's published version of the work (e.g., post it to an institutional repository or publish it in a book), with an acknowledgement of its initial publication in this journal.
Authors are permitted and encouraged to post their work online (e.g., in institutional repositories or on their website) prior to and during the submission process, as it can lead to productive exchanges, as well as earlier and greater citation of published work (See The Effect of Open Access).