Ekstrak Metanol Daun Kelor Menurunkan Kadar TNF-α dan IL-6 Serum, serta MDA Kolon Tikus yang Diinduksi DMBA
Keywords:
daun kelor, DMBA, IL-6, MDA, TNF-α
Abstract
Ekstrak daun kelor (Moringa oleifera) dapat berfungsi sebagai anti oksidan, anti radang, dan anti kanker.TNF-α dan IL-6 merupakan sitokin proinflamasi yang berperan penting pada patogenesis kanker, sedangkan pada jaringan kanker sering ditemukan peningkatan kadar MDA. Penelitian ini bertujuan untuk membuktikan pengaruh pemberian ekstrak metanol daun kelor terhadap kadar TNF-α dan IL-6 serum serta MDA jaringan  kolon  tikus Wistar  yang diinduksi DMBA. Penelitian eksperimental post test group design dilakukan pada 20 ekor tikus yang dipilih secara acak. Semua tikus dibagi dalam 5 kelompok yaitu kontrol negatif, kontrol positif, dan kelompok perlakuan ekstrak daun kelor. Tikus diinduksi DMBA 10mg/kgBB/hari peroral selama 44 hari, kemudian ekstrak metanol daun kelor dosis 20mg/kgBB/hari, 40mg/kgBB/hari, dan 80mg/kgBB/hari selama 60 hari dan selanjutnya diperiksa. Pemeriksaan kadar TNF-α dan IL-6 dengan metode ELISA sedangkan pemeriksaan kadar MDA dengan metode kolorimetrik. Data dianalisis dengan uji Anova, uji Tuckey,uji Kruskal-Wallis, uji Mann-Whitney, dan uji korelasi. Hasil penelitian menunjukkan dosis efektif dalam menurunkan kadar TNF-α dan MDA didapatkan pada pemberian ekstrak metanol daun kelor dosis 20mg/kgBB/hari (p=0,000; 0,019), sedangkan penurunan kadar IL-6terhadap IL-6 ditunjukkan pada dosis 20mg/kgBB/hari (p=0,019), tetapi belum mencapai dosis efektif. Pada pemberian dosis 80mg/kgBB/hari didapatkan peningkatan TNF-α, IL-6, dan MDA yang bermakna (p=0,000; 0,000; 0,020). Dapat disimpulkan bahwa pemberian ekstrak metanol daun kelor dapat menurunkan kadar TNF-α, IL-6, dan MDA dengan dosis efektif adalah 20mg/kgBB/hari.
Downloads
Download data is not yet available.
References
Alteri R,Bandi P, Brooks D, et al. Colorectal Cancer Facts and Figures: 2011-2013, American Cancer Society. (Online) 2013. http://www.cancer.org/acs/ groups/content/@epidemiologysurveilance/documents/ document/acspc-028323.pdf
Zahari A. Deteksi Dini, Diagnosa, dan Penatalaksonoon Kanker Kolon dan Rektum. Di dalam: Supplemen Majalah Kedokteran Andalas, Dalam Rangka Dies Natalis 53 FK Unand. Padang: Universitas Andalas: 2008; hal. 98-121.
Waldner MJ, Foersch S, and Neurath MF. Interleukin 6 – A Key Regulator of Colorectal Cancer Development. International Journal of Biological Sciences. 2012: 8(9); 1248-1253.
Egberts JH, Cloosters V, Noack A, et al. Anti Tumor Necrosis Factor Therapy Inhibits Pancreatic Tumor Growth and Metastasis. Cancer Research. 2008: 68(5); 1443-1450.
Popivanova BK, Kitamura K, Wu Y, et al. Blocking TNF-alpha in Mice Reduces Colorectal Carcinogenesis Associated with Chronic Colitis. The Journal of Clinical Investigation. 2008: 118(2); 560-570.
Upadhya S, Upadhya S, Mohan SK, Vanajakshamma K, Kunder M, and Mathias S. Oxidant-Antioxidant Status in Colorectal Cancer Patients Before and After Treatment. Indian Journal of Clinical Biochemistry. 2004: 19(2); 80-83.
Manoharan S, Balakrishnan S, Menon VP, Alias LM, and Reena AR. Chemopreventive Efficacy of Curcumin and Piperine during 7,12-Dimethylbenz [a] anthracene- nduced Hamster Buccal Pouch Carcinogenesis. Singapore Medical Journal. 2009; 50(2): 139-146.
Therik and Johannis WD. Pemanfaatan Moringa oleifera Varietas Lokal (Dalam Upaya Peningkatan Status Gizi Balita, Anak Usia Sekolah, dan Ibu Hamil). (Online) 2009. http://www.timorexpress.com [diakses tanggal 02 Desember 2014].
Chumark P, Khunawat P, Sanvarinda Y, et al. The In Vitro and Ex Vivo Antioxidant Properties, Hypolipidaemic, and Antiatherosclerotic Activities of Water Extract of Moringa oleifera Lam Leaves. Journal of Ethnopharmacology. 2008; 116(3):439-446.
Sreelatha S, Jeyachitra A, and Padma PR. Antiproliferation and Induction of Apoptosis by Moringa oleifera Leaf Extract on Human Cancer Cells. 2011: 49(6); 1270-1275.
Khalil WKB, Ghaly IS, Diab KAE, and Elmakawy AI. Antitumor Activity of Moringa oleifera Leaf Extract Against Ehrlich Solid Tumor. 2014: 4(3); 68-82.
McLellan EA and Bird RP. Specificity Study to Evaluate Induction of Aberrant Crypts in Murine Colon. Cancer Research. 1988; 48(21): 6183-6186.
Rosenberg DW, Giardina C, and Tanaka T. Mouse Models for the Study of Colon Carcinogenesis. Carcinogenesis. 2009; 30(2): 183-196.
Izumi K, Otsuka H, Furuya K, and Akagi A. Carcinogenecity of 1,2-dimethylhydrazine Dihydrochloride in BALB/c Mice, Influence of the Route of Administration and Dosage. Virchows Arch. A, Pathology Anatomy and Histology. 1979; 384(3): 263-267.
Woo YT, Arcos JC, and Lai DY. Structural and Functional Criteria for Suspecting Chemical Compound of Carcinogenic Activity: State of the Art of Predictive Formalism. In: Hilman HA and Weisburger (Ed). Handbook of Carcinogen Testing 2nd edition. New Jersey: Noyes Publication; 1994; 617-630.
Flesher JW and Sydnor KL. Carcinogenicity of Derivatives of 7,12-Dimethylbenz(a)-anthracene. Cancer Research. 1971; 31: 1951-1954.
Pandey A, Pandey RD, Tripathi P, et al. Moringa oleifera Lam- A Plant with a Plethora of Diverse Therapeutic Benefits: An Updated Retrospection. Medical & Aromatic Plants. 2012; 1(1): 1-8.
Nikiteas NI, Tzanakis N, Gazouli M, et al. Serum IL-6, TNF-α and CRP Levels in Greek Colorectal Cancer Patients: Prognostic Implications. World Journal of Gastroenterology. 2005; 11(11): 1639-1643.
Hopkins MH, Fedirko V, Jones DP, Terry PD, and Bostick RM. Antioxidant Micronutrients and Biomarkers of Oxidative Stress and Inflammation in Colorectal Adenoma Patients: Results from a Randomized, Controlled Clinical Trial. Cancer, Epidemiology, Biomarkers & Prevention. 2010; 19(3): 850-858.
Kooltheat N, Sranujit RP, Chumark P, Potup P, Lewin NL, and Usuwanthim K. An Ethyl Acetate Fraction of Moringa oleifera Lam. Inhibits Human Macrophage Cytokine Production Induced by Cigarette Smoke. Nutrients. 2014; 6(2): 697-710.
Wihastuti TA, Sargowo D, dan Rohman MS. The Effect of Moringa Oleifera Leaf Extract in Inhibition of NF-κB Activation, TNF-αand ICAM-1 Expression in Oxydized LDL treated HUVECS. Jurnal Kardiologi Indonesia. 2007: 28; 181-188.
Nakagawa K, Kawagoe M, Yoshimura M, et al. Differential Effects of Flavonoid Quercetin on Oxidative Damages Induced by Hydrophilic and Lipophilic Radical Generators in Hepatic Lysosomal Fractions of Mice. Journal of Health Science. 2000: 46(6); 509-512
Tak PP and Firestein GS. NF-κB: A Key Role In Inflammatory Diseases. The Journal of Clinical Investigation. 2001: 107(1); 7-11.
Del Rio D, Stewart AJ, and Pellegrini N. A Review of Recent Studies on Malondialdehyde as Toxic Molecule and Biological Marker of Oxidative Stress. Nutrition, Metabolism, and Cardiovascular Disease. 2005: 15(4); 316-328.
Hussain SP, Hofseth LJ, and Harris CC. Radical Causes of Cancer. Nature Reviews Cancer. 2003: 3(4); 276-285.
Bahorun T, Soobrattee MA, Luximon-Ramma V, and Aruoma OI. Free Radicals and Antioxidants in Cardiovascular Health and Disease. Internet Journal of Medical Update. 2006: 1(2); 25-41.
Sudha P, Asdaq SM, Dhamingi SS, and Chandrakala GK. Immunomodulatory Activity of Methanolic Leaf Extract of Moringa Oleifera in Animals. Indian Journal of Physiology and Pharmacology. 2010; 54(2): 133–140.
Chang YF, Chi CW, and Wang JJ. Reactive Oxygen Species Production is Involved in Quercetin-Induced Apoptosis in Human Hepatoma Cells. Nutrition and Cancer. 2006; 55(2): 201–209.
Tourino S, Lizarraga D, Carreras a, et al. Antioxidant/Prooxidant Effects of Bioactive Polyphenolics. Electronic Journal of Environmental, Agricultural, and Food Chemistry. 2008; 7(8): 3348-3352.
Hadi AF. Gambaran Histopatologik Kolon Tikus Sprague Dawley yang Diberi Ekstrak Etanol Akar Pasak Bumi (Eurycoma Longifolia Jack) dan 7,12-dimetilbenz(a)antrasen (DMBA). [Skripsi]. Universitas Ahmad Dahlan, Yogyakarta. 2009.
Suputro E. Pengaruh Pemberian Ekstrak Metanol Daun Moringa oleifera terhadap Kadar IL-6 Serum pada Tikus Wistar yang Diinduksi DMBA. [Skripsi]. Universitas Brawijaya, Malang. 2011.
Mirayanthi NL. Pengaruh Ekstrak Metanol Daun Moringa oleifera terhadap Jumlah Mitosis Sel pada Jaringan Kolon Tikus Wistar yang Diinduksi DMBA. [Skripsi]. Universitas Brawijaya, Malang. 2012.
Sihite BA dan Hernowaty TE. Ekstrak Metanol Daun Kelor Menurunkan Ekspresi BCL-2, TRAIL-R1, dan Kadar Caspase-3 Jaringan Kolon Tikus yang Diinduksi DMBA. Jurnal Kedokteran Brawijaya. 2013; 7(4): 201-206.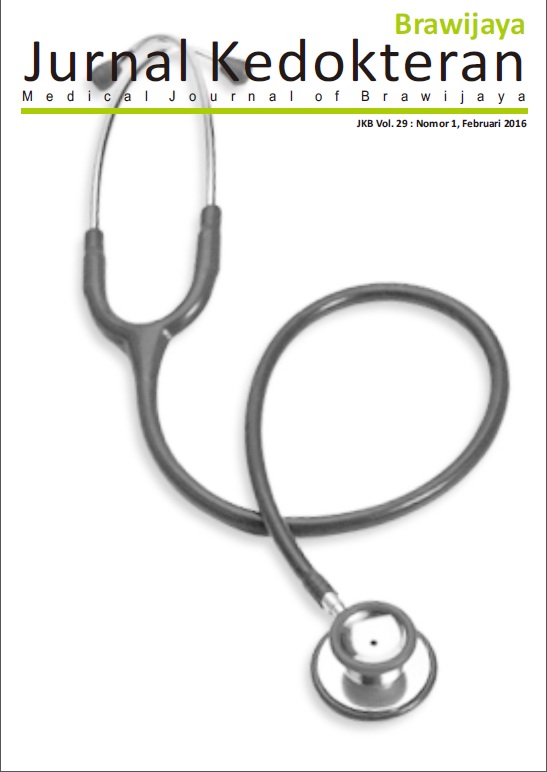 Downloads
License
Authors who publish with this journal agree to the following terms:
Authors retain copyright and grant the journal right of first publication with the work simultaneously licensed under a Creative Commons Attribution License that allows others to share the work with an acknowledgement of the work's authorship and initial publication in this journal.
Authors are able to enter into separate, additional contractual arrangements for the non-exclusive distribution of the journal's published version of the work (e.g., post it to an institutional repository or publish it in a book), with an acknowledgement of its initial publication in this journal.
Authors are permitted and encouraged to post their work online (e.g., in institutional repositories or on their website) prior to and during the submission process, as it can lead to productive exchanges, as well as earlier and greater citation of published work (See The Effect of Open Access).