Implementasi Komunikasi Efektif Perawat-Dokter dengan Telepon di Ruang ICU Rumah Sakit Wava Husada
Abstract
Komunikasi antara perawat dengan dokter melalui telepon di ruang ICU cenderung lebih berisiko terjadi kasus-kasus sentinel. Penelitian ini bertujuan untuk memberikan gambaran implementasi komunikasi efektif perawat-dokter melalui telepon dan pengalaman perawat berkomunikasi dengan dokter. Penelitian dilakukan dengan pendekatan studi observasional deskriptif terhadap perawat di ruang ICU. Pengukuran frekuensi implementasi komunikasi perawat dengan dokter melalui telepon dilakukan menggunakan lembar audit teknik komunikasi SBAR dan TBAK, dan survey menggunakan kuesioner. Hasil penelitian ini ditemukan komponen A (Assessment) merupakan komponen komunikasi SBAR dengan frekuensi terendah (21%). Audit teknik komunikasi TBAK menemukan perawat tidak melakukan konfirmasi kembali (0%) ketika berkomunikasi dengan dokter melalui telepon. Permasalahan yang dialami perawat ketika berkomunikasi dengan dokter diantaranya perawat sulit menghubungi dokter (50%), dan perawat merasa mengganggu dokter sebelum berkomunikasi (50%). Kebiasaan dokter berkomunikasi dan pembatasan waktu telepon ruangan merupakan situasi sulit yang sering dialami perawat saat berkomunikasi. Lemahnya kemampuan perawat berkomunikasi dan belum adanya pembakuan teknik komunikasi adalah faktor penghambat komunikasi efektif. Pengembangan standar komunikasi efektif dengan telepon (n=8) dan pelatihan komunikasi bagi tenaga kesehatan (n=7) merupakan dua solusi terpilih. Penelitian ini mengidentifikasi lemahnya komunikasi telepon terutama dalam aspek penilaiaan dan konfirmasi kembali yang dapat meningkatkan risiko insiden keselamatan. Ketiadaan teknik komunikasi yang baku dan kelemahan kemampuan perawat untuk berkomunikasi merupakan akar pemasalahan komunikasi telepon yang tidak efektif yang dapat dikelola dengan standar komunikasi dan pelatihan.Kata Kunci: Dokter, ICU, komunikasi efektif, perawat, telepon
Downloads
Download data is not yet available.
References
Alvarado K, Lee R, Christoffersen E, et al.Transfer of Acountability: Transforming Shift Handover to Enhance Patient Safety. Health Care Quarterly. 2006; 9:75-79.
Angood P. Why The Joint Comission Cares About Handoffs Strategy. (Online) 2007. https://www.rmf. harvard.edu/~/media/Files/_Global/KC/Forums/2007/forumMar2007.pdf.
Haig KM, Sutton S, and Whittington J. SBAR: A Shared Mental Model for Improving Communication between Clinicians. The Joint Commission Journal on Quality and Patient Safety. 2006;32(3):167-175.
De Meester K, Verspuy M, Monsieurs KG, and Van Bogaert P. SBAR Improves Nurse–Physician Communication and Reduces Unexpected Death: A Pre and Post Intervention Study. Resuscitation. 2013;84(9):1192-1196.
Tjia J, Mazor KM, Field T, Meterko V, Spenard A, and Gurwitz JH. Nurse-Physician Communication in the Long-Term Care Setting: Perceived Barriers and Impact on Patient Safety. Journal of Patient Safety. 2009; 5(3): 145-152.
Rosenstein AH and O'Daniel M. A Survey of the Impact of Disruptive Behaviors and Communication Defects on Patient Safety.The Joint Commission Journal on Quality and Patient Safety. 2008; 34(8): 464-471.
Rosenstein AH and O'Daniel M. Disruptive Behavior and Clinical Outcomes: Perceptions of Nurses and Physicians. American Journal of Nursing. 2005; 105: 54-64.
Cadogan MP , Franzi C, Osterweil D, and Hill T. Barriers to Effective Communication in Skilled Nursing Facilities: Differences in Perception between Nurses and Physicians. Journal of the American Geriatrics Society. 1999; 47(1): 71-75.
McMahan EM, Hoffman K, and McGee GW. Physician-Nurse Relationships in Clinical Settings: A Review and Critique of the Literature, 1966-1992.Medical Care Research and Review. 1994; 51(1): 83-112.
McKnight LK, Stetson PD, Bakken S, Curran C, and Cimino JJ. Perceived Information Needs and Communication Difficulties of Inpatient Physicians and Nurses.Journal of the American Medical Informatics Association. 2002; 9(6): S64-S69.
Kayser-Jones JS, Wiener CL, and Barbaccia JC. Factors Contributing to the Hospitalization of Nursing Home Residents. The Gerontologist. 1989; 29(4): 502-510.
Miller DB, Brimigion J, Keller D, and Woodruff S. Nurse-Physician Communication in a Nursing Home Setting. The Gerontologist. 1972; 12(3): 225-229.
Prescott PA and Bowen SA. Physician-Nurse Relationships. Annals of Internal Medicine. 1985; 103(1): 127-133.
Thomas EJ, Sexton JB, and Helmreich RL. Discrepant Attitudes about Teamwork among Critical Care Nurses and Physicians. Critical Care Medicine. 2003; 31(3): 956-959.
Komisi Akreditasi Rumah Sakit. Standar Akreditasi Rumah Sakit. Jakarta: KARS;2011.
Woodhall LJ, Vertacnik L, and McLaughlin M. Implementation of the SBAR Communication Technique in a Tertiary Center. Journal of Emergency Nursing. 2008;34(4):314-317.
Rabøl LI, Andersen ML, Østergaard D, Bjørn B, Lilja B, and Mogensen T. Descriptions of Verbal Communication Errors between Staff. An Analysis of 84 Root Cause Analysis-Reports from Danish Hospitals. British Medical Journal Quality & Safety. 2011; 20(3): 268-274.
World Health Organization. Communication During Patient Hand-Over. Patient Safety Solution. (Online) 2007. http://www.who.int/patientsafety/ solutions/patientsafety/PS-Solution3.pdf
Institute for Health Care Improvement. SBAR Technique for Communication: A Situational Briefing Model. (Online). http://www.ihi.org/resources/ Pages/Tools/SBARTechniqueforCommunicationASituationalBriefingModel.aspx.
Ouslander JG, Lamb G, Tappen R, et al. Interventions to Reduce Hospitalizations from Nursing Homes: Evaluation of the INTERACT II Collaborative Quality Improvement Project. Journal of the American Geriatrics Society. 2011;59(4):745-753.
Ishikawa K. Guide to Quality Control. Tokyo: Asian Productivity Organization; 1976.
Zhu H, McCrea N, and Kelsall W. G188 Improving the Paediatric Handover: Quality, Safety and SBAR. Archives of Disease in Childhood. 2014;99(Suppl 1): A82.
Barenfanger J, Sautter RL, Lang DL, Collins SM, Hacek DM, and Peterson LR. Improving Patient Safety by Repeating (Read-Back) Telephone Reports of Critical Information. American Journal of Clinical Pathology. 2004; 121(6):801-803.
Parker J and Coiera E. Improving Clinical Communication: A View From Psychology.Journal of the American Medical Informatics Association. 2000;7(5):453-461.
Zimmer JG and Watson NM. Physician Response to Notification of Acute Problems in Nursing Homes. Journal of the American Geriatrics Society. 1991;39(4):348-352.
Brixey JJ, Robinson DJ, Turley JP, and Zhang J. The Roles of MDs and RNs as Initiators and Recipients of Interruptions in Workflow. International Journal of Medical Informatics. 2010;79(6):109-115.
Coiera E and Tombs V. Communication Behaviours in a Hospital Setting: An Obser-Vational Study. British Medical Journal. 1998;316(7132):673-676.
Coiera EW, Jayasuriya RA, Hardy J, Bannan A, and Thorpe ME. Communication Loads on Clinical Staff in the Emergency Department. The Medical Journal of Australia. 2002;176(9):415-418.
Westbrook JI, Coiera E, Dunsmuir WT, et al. The Impact of Interruptions on Clinical Task Completion.British Medical Journal Quality & Safety. 2010;19(4):284-289.
Alvarez G and Coiera E. Interruptive Communication Patterns in the Intensive Care Unit Ward Round.International Journal of Medical Informatics. 2005;74(10):791-796.
Grundgeiger T and Sanderson P. Interruptions in Healthcare: Theoretical Views. International Journal of Medical Informatics. 2009;78(5):293-307.
Komisi Akreditasi Rumah Sakit. Panduan Penyusunan Dokumen Akreditasi. Jakarta: KARS; 2012: hal. 14.
Whitson HE, Hastings SN, Lekan DA, Sloane R, White HK, and McConnell ES. A Quality Improvement Program to Enhance After-Hours Telephone Communication between Nurses and Physicians in a Long-Term Care Facility. Journal of the American Geriatrics Society. 2008; 56(6): 1080-1086.
Dunsford J. Structured Communication: Improving Patient Safety with SBAR. Nursing for Women's Health. 2009;13(5):384-390.
Marshall S, Harrison J, and Flanagan B. The Teaching of a Structured Tool Improves the Clarity and Content of Interprofessional Clinical Communication. British Medical Journal Quality & Safety. 2009;18(2):137-140.
Renz SM, Boltz MP, Wagner LM, Capezuti EA, and Lawrence TE. Examining the Feasibility and Utility of an SBAR Protocol in Long-Term Care. Geriatric Nursing. 2013; 34(4): 295-301.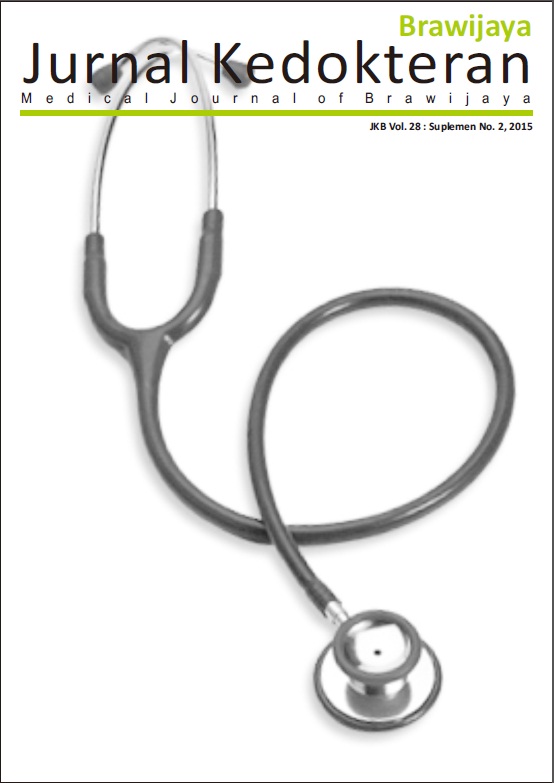 Downloads
License
Authors who publish with this journal agree to the following terms:
Authors retain copyright and grant the journal right of first publication with the work simultaneously licensed under a Creative Commons Attribution License that allows others to share the work with an acknowledgement of the work's authorship and initial publication in this journal.
Authors are able to enter into separate, additional contractual arrangements for the non-exclusive distribution of the journal's published version of the work (e.g., post it to an institutional repository or publish it in a book), with an acknowledgement of its initial publication in this journal.
Authors are permitted and encouraged to post their work online (e.g., in institutional repositories or on their website) prior to and during the submission process, as it can lead to productive exchanges, as well as earlier and greater citation of published work (See The Effect of Open Access).